SURVEY PEMAHAMAN DAN KETERLIBATAN MAHASISWA DAN DOSEN DALAM PROGRAM KEBIJAKAN MERDEKA BELAJAR KAMPUS MERDEKA DI PROGRAM STUDI PENDIDIKAN EKONOMI FKIP UNIVERSITAS PASUNDAN
Leni Maryani

Universitas Pasundan

Saiful Almujab

Universitas Pasundan

Yudho Ramafrizal

Universitas Pasundan

Veri Aryanto Sopiansah

Universitas Pasundan
Abstract
The objectives of the final report of this research are (1) to determine the understanding of students and lecturers in the Merdeka Learning policy program at the Merdeka Campus at the Economic Education Study Program, FKIP, Pasundan University; (2) to find out the involvement of students and lecturers in the Independent Learning Policy Program at the Independent Campus at the Economics Education Study Program, FKIP, Pasundan University.
The implementation method in the research program on the implementation of the Independent Learning Policy-Independent Campus (MBKM) is in the form of a population survey (total sampling) involving students, and lecturers at the Pasundan University economic education study program.
The survey results show that in general students understand the independent campus learning policy program in the economic education study program FKIP Pasundan University, this is indicated by the average student answers about each question item in the survey showing a response according to the answer indicators provided.
Some of the author's suggestions are input as a form of concern for the study program in implementing the MBKM program so that it can be even better, of course the consistency of all human resources involved is very necessary in optimizing the implementation of this MBKM activity.
Downloads
Download data is not yet available.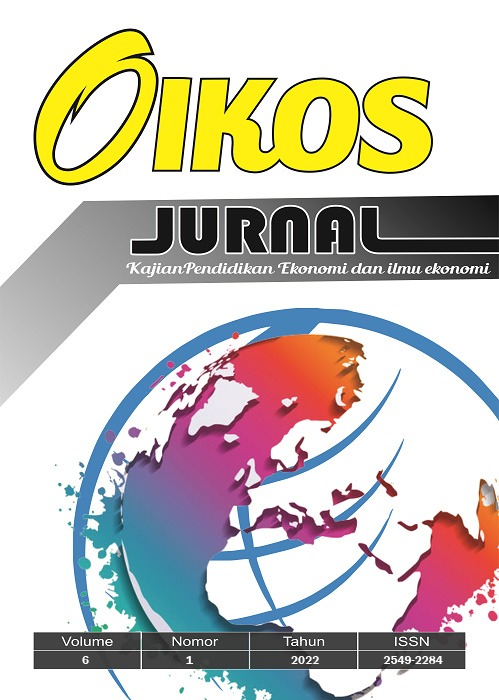 This work is licensed under a Creative Commons Attribution 4.0 International License.