KNOWLEDGE IMPROVEMENT OF NEW HABITS ADAPTATION TOWARDS A PRODUCTIVE SOCIETY AND SAFE COVID-19
Keywords:
Adapt to New Habits, Productive Societ, Safe Covid-19
Abstract
Public fear of the Covid-19 virus has resulted in social restrictions. This has an impact on determining the productivity and economy of society. For this reason, it is necessary to adapt new habits so that people can be productive again in breaking the chain of spreading the Covid-19 Virus. This service aims to provide knowledge to the public about the Adaptation of New Habits Towards a Productive and Safe Covid-19 Society. Community service activities were carried out on September 4, 2020 with a total of 25 participants from the people Mojo Agung Hamlet, Seputih Jaya Village in the form of socialization and discussion. The assessment was carried out using quantitative methods by distributing the pre-test and post-test. The results of this service concluded that there was an increase in participants' knowledge about the adaptation of new habits during the Covid-19 pandemic. This is shown by the increase in the value of the participants' knowledge after being given some materials and simulations as much as 38%.
Downloads
Download data is not yet available.
References
Baihaki, et al, 2020 : " Implementation of pentahelixin in Synergy acceleration of covid Handling 19", PICS: Pasundan International Community Service, Vol II No 01, 01 June, 2020.
Kiswantoro Amin et al, 2020 : "Alat Pencegahan dan Sosialisasi Protokoler Kesehatan untuk Pelayanan Kunjungan Wisatawan dalam menghadapi New Normal Pasca Pandemi Covid -19", Jurnal Abdimas Pariswisara Vol 1 No 2 Tahun 2020.
http://lipi.go.id/berita/Dampak-Darurat-Virus-Corona-terhadap-Tenaga-Kerja-Indonesia/22034 accessed on September 1, 2020, at 13.00 WIB
Governor of Lampung Government Regulation No. 45/2020 concerning Guidelines for Adaptation of New Habits Towards a Productive and Safe Covid-19 Society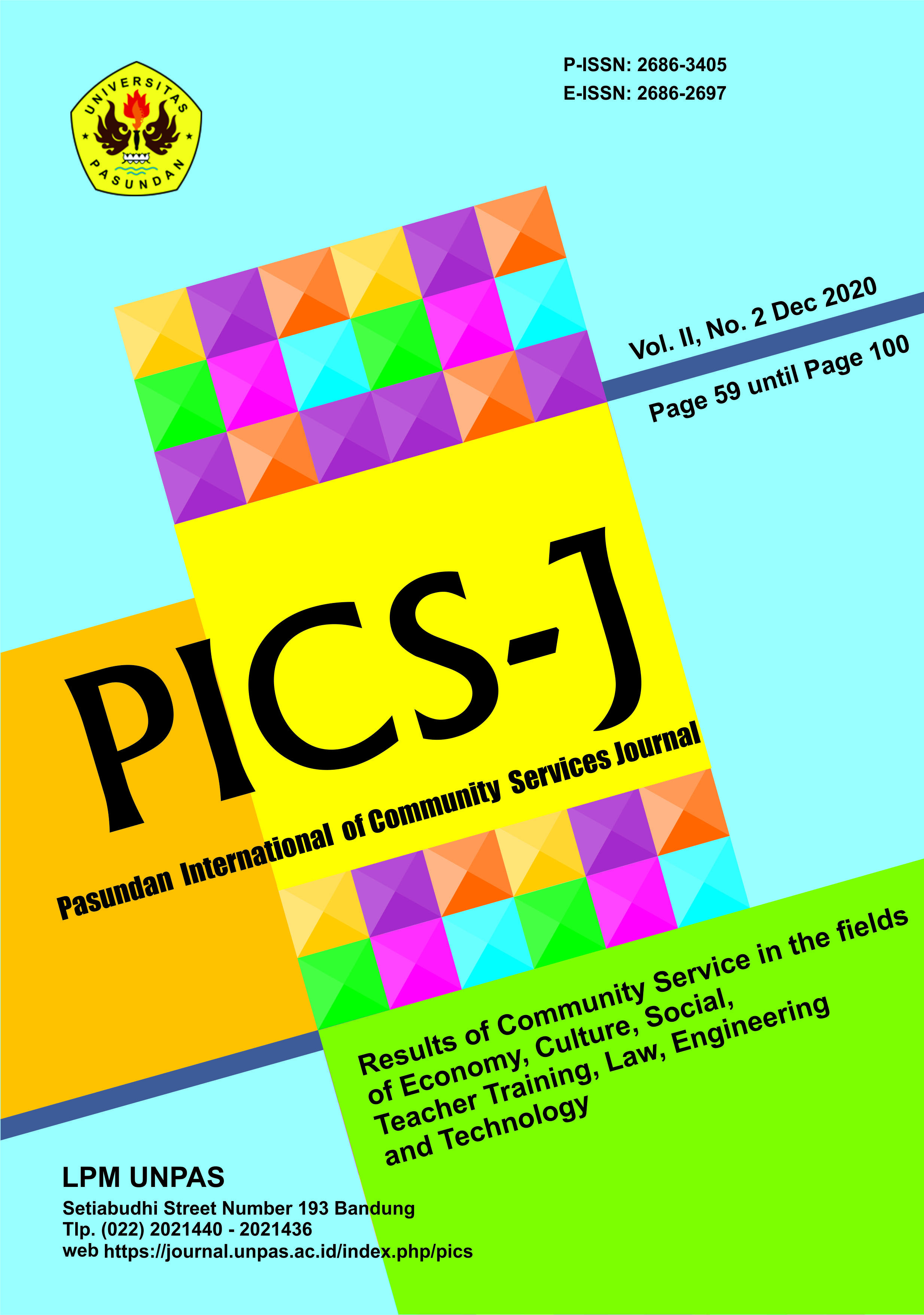 Downloads