DINAMIKA KONFLIK INTERNAL DI SURIAH DIBAWAH KEPEMIMPINAN HAFEZ AL-ASSAD YANG BERDIMENSI INTERNASIONAL
DINAMIKA KONFLIK INTERNAL DI SURIAH DIBAWAH KEPEMIMPINAN HAFEZ AL-ASSAD YANG BERDIMENSI INTERNASIONAL
Keywords:
Keywords: Institutional Balancing, Regional Coorporation, Asia-Pacific
Abstract
The Asia-Pacific region is a very strategic region for cooperation in the economic and security fields. This makes this region very contested by the two countries of hegemony in the economic field, namely, China and the United States. To achieve these interests, China and the United States must contribute to the region, one of which is conducting Institutional balancing with institutions that are quite influential in the Asia-Pacific region such as the ASEAN Regional Forum (ARF), ASEAN Plus Three (APT), East Asia Summit (EAS). And this paper will discuss why the United States changed its foreign policy from the Middle East to Asia-Pacific region. The dynamic of the region shows that China plays an important role along with its national capability improvement. The increase in China's national capability is seen as a challenge to national interests, as well as security for the United States alliance states in the Asia-Pacific region. Using an analytical framework based on the Balance of Threat theory, the author concludes that there is a strong relation between China's national capability improvements with the implementation of US rebalancing strategy to the Asia-Pacific region.
Downloads
Download data is not yet available.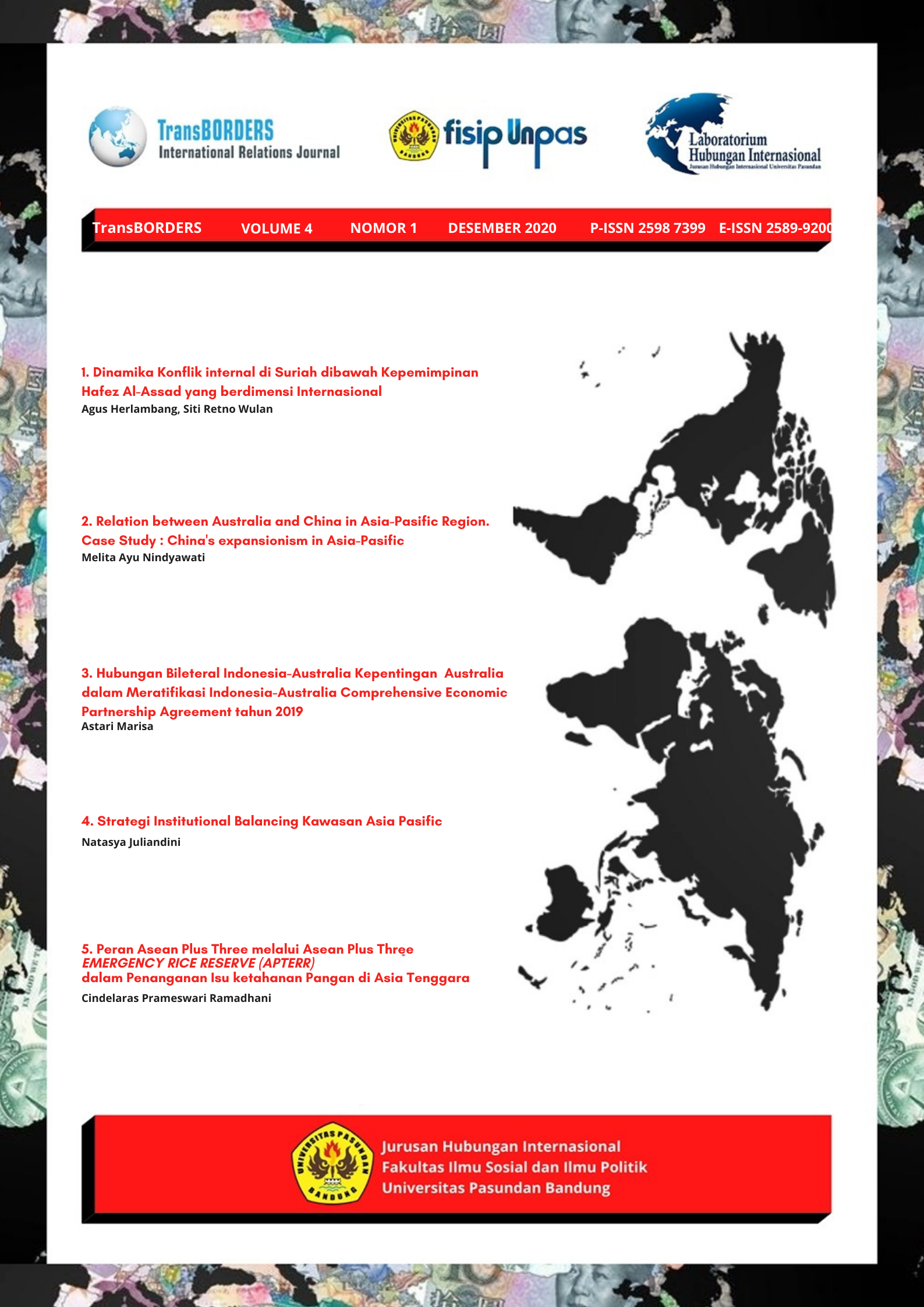 Downloads