A HUBUNGAN BILATERAL INDONESIA-AUSTRALIA: KEPENTINGAN AUSTRALIA DALAM MERATIFIKASI INDONESIA-AUSTRALIA COMPREHENSIVE ECONOMIC PARTNERSHIP AGREEMENT TAHUN 2019
Keywords:
Ratification, IA-CEPA, Bilateral Relations
Abstract
Recently, the global economy is faced with the challenges of a trade war. It makes all countries interdependent with other countries. one example of them is bilateral relations between Indonesia and Australia. Beginning in 1971 the establishment of the Indonesian embassy for Australia in Yarralumla, Canberra. Indonesia and Australia have good neighborly commitments in the form of developing mutually beneficial cooperation. In 2013 there were tensions between the two countries which resulted in the suspension of IA-CEPA activities and Indonesia recalled Ambassador Nadjib Riphat from Canberra. In 2016, Australia initiated the IA-CEPA to be reactivated. Through the visit of the Indonesian finance minister to Australia. 2019 is the beginning of relations between Indonesia and Australia getting stronger. Australia has a dominant role in this relationship so that Australia's interests are very visible. This bilateral cooperation was strengthened by the existence of an agreement namely the Indonesia-Australia Comprehensive Economic Partnership Agreement (IA-CEPA) The main focus of this bilateral cooperation was in the fields of economy and security. When talking about economic interests and dependencies, Neoliberalism and Interdependence of Liberalism can be used in discussing the problem.
Downloads
Download data is not yet available.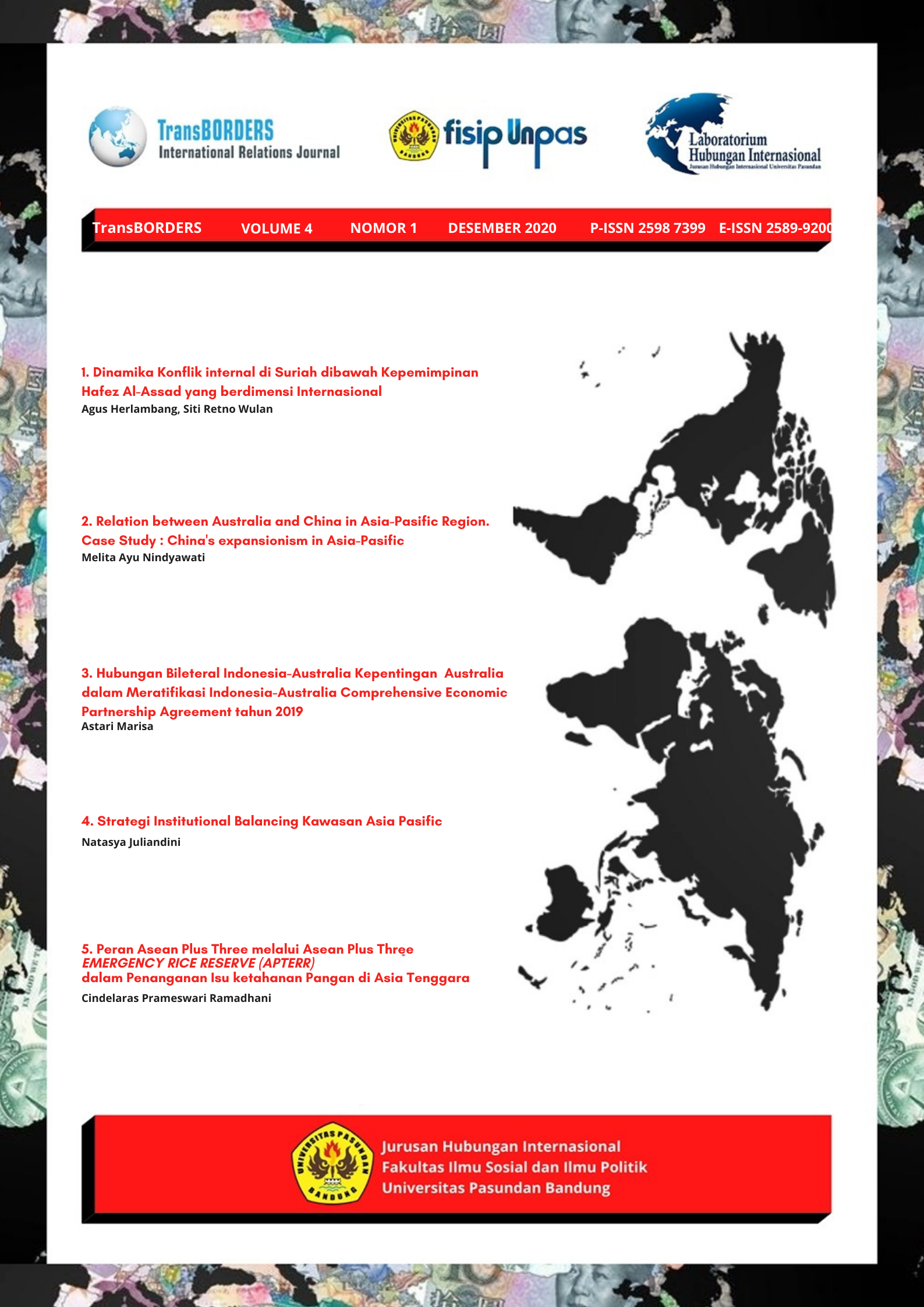 Downloads