STRENGTHENING COMMUNITY AND BUSINESS ACTORS' UNDERSTANDING ABOUT OFFICEless FINANCIAL SERVICES IN THE FRAMEWORK OF INCLUSIVE FINANCE POLICY DURING THE COVID-19 PANDEMIC
Keywords:
Laku Pandai policy, Community and business actors, Covid19 Pandemic
Abstract
With the implementation of physical distancing by the government during the Covid-19 pandemic, it has had a major impact on the community and business actors in Indonesia. This situation causes a decline in the productivity and economy of the Indonesian people. However, the public and business actors should not be complacent with conditions like this. The government has issued a policy on financial inclusion in Indonesia as outlined in the Presidential Regulation of the Republic of Indonesia Number 82 of 2016 concerning the National Strategy for Financial Inclusion (SNKI). This regulation is the basis for the relevant agencies in this case the Financial Services Authority (OJK) to improve financial access for the public with the Officeless Financial Services policy in the Context of Financial Inclusion (Laku Pandai) as stipulated in OJK Regulation Number 19/POJK.03/2014 concerning Officeless Financial Services for Financial Inclusion. There are still many people who have not used and know about this program, one of which is the community in Mojopahit Village, Punggur District. The purpose of this activity is to provide a strengthening of understanding to the public and business actors regarding the Policies of Laku Pandai in the Covid-19 Pandemic Period. This service activity was carried out on June 31, 2021 in the Mojopahit Village Hall, Punggur District, Central Lampung Regency in the form of socialization and discussion. The result of this activity is the achievement of goals and benefits in community service activities.
Downloads
Download data is not yet available.
References
Rakhmadani, Syeni. (2020). Knowledge Improvement of New Habits Adaptation towards a Productive Society and Safe Covid-19. PICS-J : Pasundan International Community Service Journal 2, 91-97.
Sastiono, P & Nuryakin, C. (2019). Commentary: Inklusi Keuangan Melalui Program Layanan Keuangan Digital dan Laku Pandai. Jurnal Ekonomi dan Pengembangan Indonesia, doi:https//doi.org/110.21002/jepi.v119i2.1228
Wardhana, Yuditya. (2020). Socialization of policy alternative models in effots of handle COVID-19 pandemic problems in yosorejo village, Metro City. PICS-J : Pasundan International Community Service Journal 2, 91-97.
Peraturan Presiden Republik Indonesia Nomor 82 Tahun 2016 tentang Strategi Nasional Keuangan Insklusi (SNKI)
Peraturan Otoritas Jasa Keuangan Nomor 19/POJK.03/2014 tentang Layanan Keuangan Tanpa Kantor dalam Rangka Keuangan Inklusif.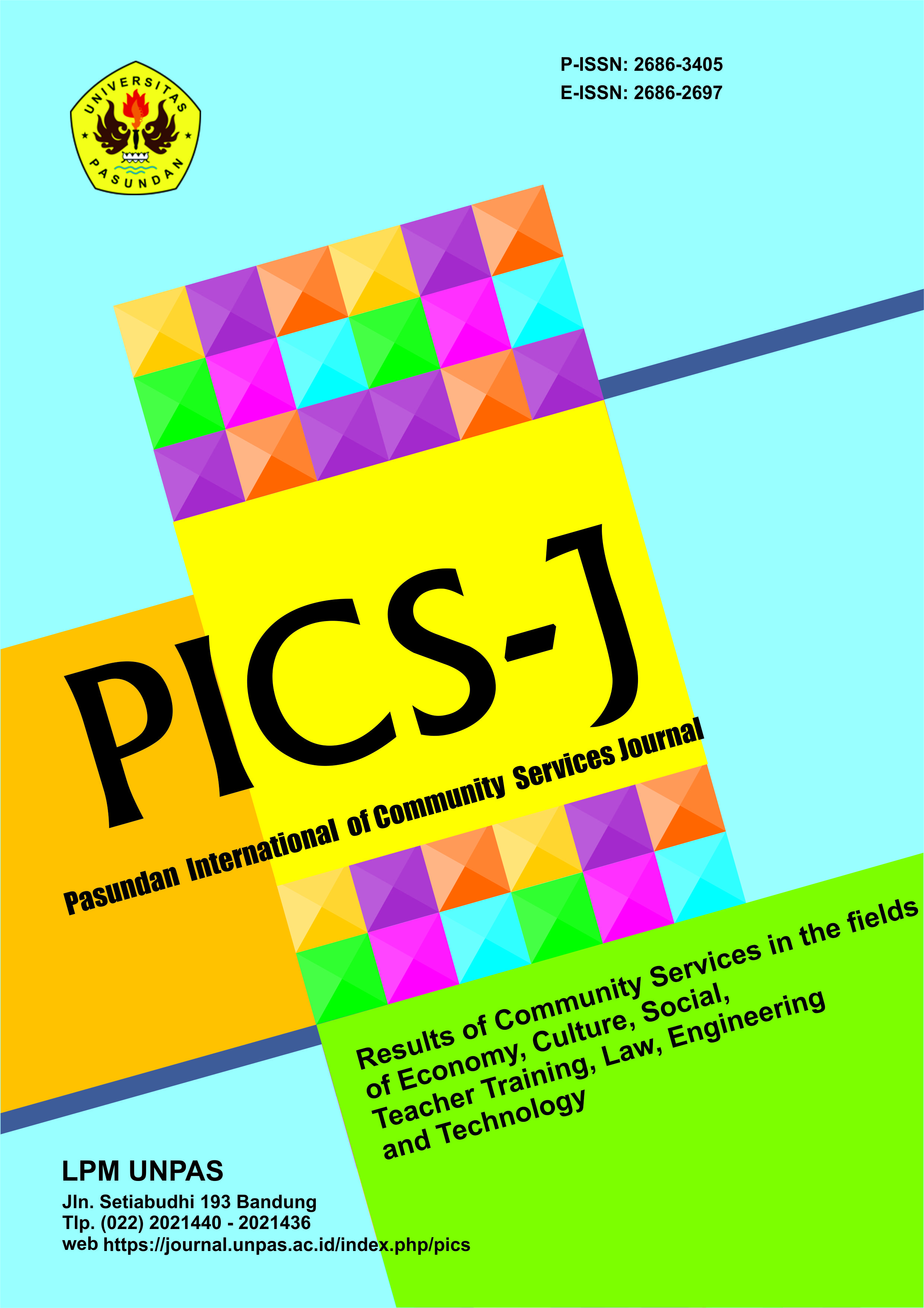 Downloads