PENGEMBANGAN BAHAN AJAR TEMATIK SD KELAS IV BERORIENTASI ETHNO-STEM
Keywords:
teaching materials, ethno-STEM
Abstract
The purpose of this research is to produce a product in the form of ethno-STEM-oriented elementary thematic teaching materials for class IV that are valid and practical. This study uses a modified 4D model development research method, namely define, design, and development. The data collection instrument used was a questionnaire or questionnaire given to material expert validators and teaching materials expert validators to see the validity of the product, and student response questionnaires to see the practicality of the product. The research was conducted at SD YPPK Santo Johanes Don Bosco Onggari with a trial run of 12 students.The results of this study are products in the form of thematic teaching materials for ethno-STEM-oriented elementary school grades with the results of a feasibility assessment from material experts after validating a score of 82% with very valid criteria and from teaching materials experts a score of 85% with very valid criteria. The results of the practicality assessment by students in product trials with 12 students as subjects obtained a score of 97,5% with very practical criteria, the resulting teaching material products have met the very valid and practical criteria, then this teaching material product is feasible to use for learning.
Downloads
Download data is not yet available.
References
Arfi Novianggy Hidayat. 2021. Pengengbangan Media Pembelajaran Matematika Berbasis Android Pada Materi Pengukuran Sudut Kelas IV MI Integral AL-Hikmah Hidayatullah Merauke. Skripsi. Merauke: Universitas Musamus Merauke.
Anis Ratnaningrum. 2020. Pengembangan Bahan Ajar Tematik Berbasis Kearifan Lokal Untuk Membaca Pemahaman Siswa Kelas III SD NeferiI Caruban.Sekripsi. Semarang: Universitas Negeri Semarang.
Aza Nuralita. 2020. Analisis Penerapan Model Pembelajaran berbasis Etnosains dalam Pembelajaran Tematik SD. Jurnal Mimbar PGSD Undiksha.4(1):2-3.
Depdiknas.(2003). Undang-undang Nomor 20 Tahun 2003.Tentang Sistem Pendidikan Nasional. Jakarta: Depdiknas.
Dyah Nurdiana S. 2019. Pengembangan Bahan Ajar Teamatik Berbasis Kearifan Lokal Subtema Keunikan Daerah Tempat Tinggalku Untuk Meningkatkan Hasil Belajar Siswa Kelas IV di SDN 1 Ngenep Kabupaten Malang. Sekripsi. Malang: Universitas Islam Negeri Maulana Malik Ibrahim.
Fitriani, D., Karniawati, I & Suwarna, I. R. (2017).Pengaruh Pembelajaran dengan Pendekatan STEM pada Konsep Tekanan Hidrostatis terhadap Causal Reasoning Siswa SMP.Prosiding Seminar Nasional Fisika.
Fitri Indriani, Kompetensi Pedagogik Mahasiswa Dalam Mengelola Pembelajaran Tematik Integratif Kurikulum 2013 Pada Pengajaran Micro Di Pgsd Uad Yogyakarta, Jurnal Kependidikan, Vol. 2, No. 2, Hal. 88.
Hannover Research. (2011). Succesful K-12 STEM Education: Identifying Effective Approaches in Science, Technology, Engineering, and Mathematics. National Academies Press. NW, Suite 300, P 202.756.2971 F 866.808.6585]. Washington, DC: U.S.
Kemendikbud. 2013. Kerangka Dasar Kurikulum 2013. Jakarta: Kementerian Pendidikan dan Kebudayaan tahun 2013 Badan Standar Nasional Pendidikan.
Kennedy, T. J., & Odell, M. R. L. (2014).Engaging Students in STEM Education.International Council of Association for Science Education. 25(3): 246-258
Naela K. &Faela S. 2018.Pembelajaran Berbasis Kearifan Lokal Di Sekolah Dasar.Jurnal Ilmiah Kependidikan.1:50.
Nafia W. & Siti N. 2018. Model Pembelajaran Tematik Berbasis Kearifan Lokal. Jurnal Pendidikan Dasar Islam. 10(2):257.
Painpraset, N., & Jeerungsuwan, N. (2015). Factors Supporting the STEM Education Learning Management of Leader Teachers in the STEM Education Network of Thailand. Proceedings of The Twelfth Internasional Conference on eLearning for Knowledge-Based Society, Thailand: 11-12 Desember 2015.
Pangesti, K. I., Yulianti, D., & Sugianto.(2017). Bahan Ajar Berbasis STEM untuk Meningkatkan Penguasaan Konsep Siswa SMA.Unnes Physics Education Journal. 6(3): 53-58.
Rahayu, D.P., Lieung, K.W.,& Purwanty R. (2020). Pengembangan Bahan Ajar Membaca Berbasis Pendekatan Kontekstual. Jurnal keguruan dan Ilmu Pendidikan. 7(1), 23-33
Supryadi, & Nurvitasari E. 2019. Inventarisasi Sains Asli Suku Malind: Upaya Dalam Pengembangan Kurikulum IPA Kontekstual Papua Berbasis Etnosains. Jurnal Pendidikan Sains dan Matematika, Vol.7, No.1.
Suryosubroto, B. 2009. Proses Belajar Mengajar di Sekolah. PT Rineka Cipta. Jakarta.
Triyanto. 2011. Desain Pengembangan Pembelajaran Temati Bagi Anak Usia Dini TK/RA & Anak Usia Kelas Awal SD/MI. Kencana Prenada Media Group. Jakarta.
Udin Saud dkk. 2013. Konsep Dasar Pembelajaran Tematik. wordpres.com. Jakarta.
Utari, Unga. (2016). Pembelajaran Tematik Berbasis Kearifan Lokal di Sekolah Dasar dalam Menghadapi Masyarakat Ekonomi Asean (MEA). Jurnal Teori Dan Praksis Pembelajaran IPS. Vol. 1 No. 1 April 2016, Issn 2503 – 1201
Yuliati, L. (2013). Efektivitas Bahan Ajar IPA Terpadu terhadap Kemampuan Berpikir Tingkat Tinggi Siswa SMP.Jurnal Pendidikan Fisika Indonesia. 9(2013): 53-57.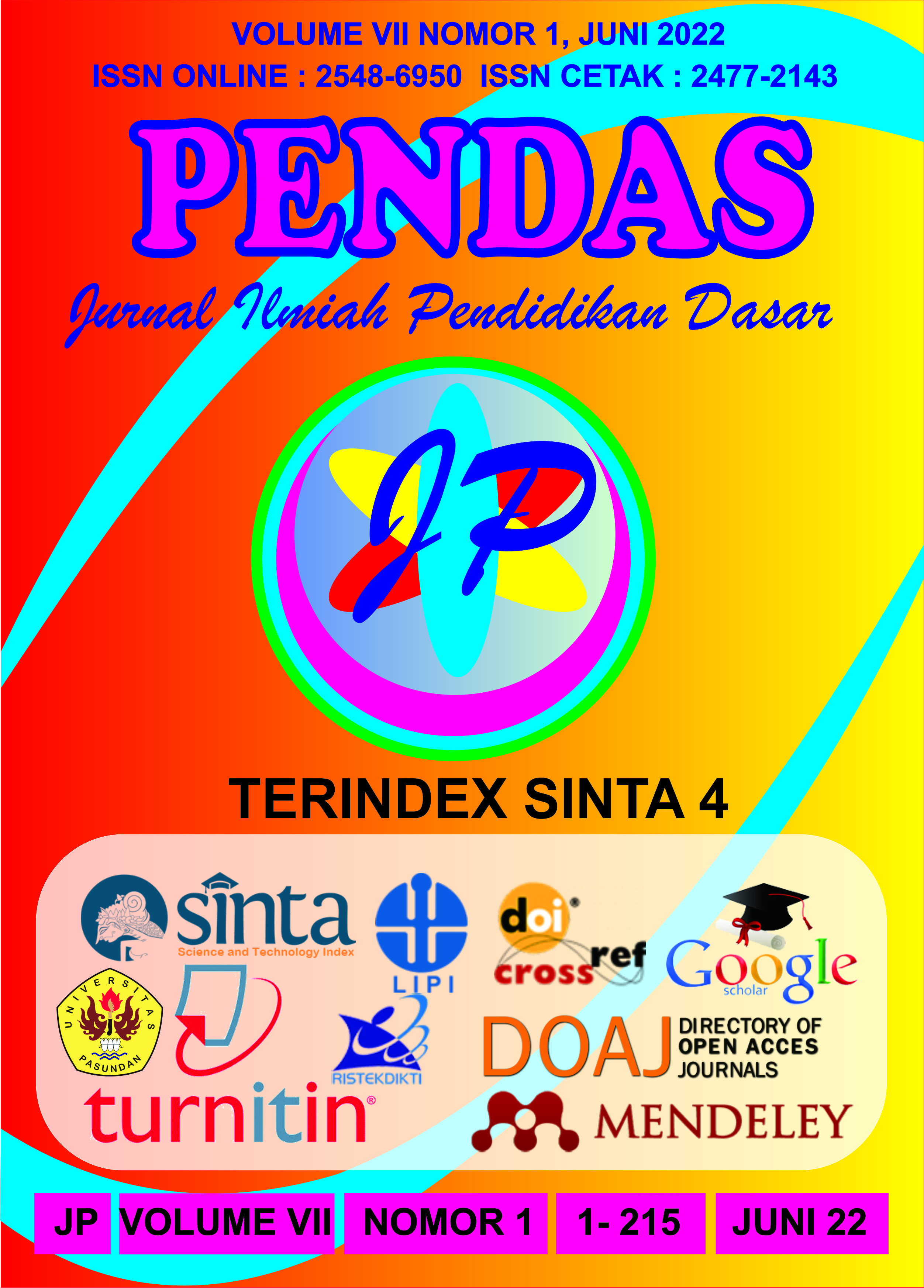 Downloads