PENERAPAN PEMBELAJARAN JARAK JAUH UNTUK MENINGKATKAN PEMAHAMAN KONSEP MATEMATIS SISWA SMP-IT ALAMY SUBANG
Keywords:
Distance Learning, Students Mathematical Concept Understanding Ability
Abstract
This research is about learning mathematics by distance learning which is intended as an effort to improve the ability to understand concepts in mathematics learning. The purpose of this study was to determine the increase in the conceptual understanding of students who received mathematics learning by distance learning, and to determine students' attitudes towards learning mathematics by distance learning. The research method used was Expo Facto research. The independent variable in this study is distance learning and the dependent variable is the students' ability to understand mathematical concepts. The research subjects were students of SMP-IT Alamy Subang. The instruments used in this study were test and non-test instruments. The test instrument for students' ability to understand mathematical concepts is in the form of descriptions and non-tests in the form of an attitude scale questionnaire. The data analysis technique used is quantitative data and qualitative data using SPSS 20 for Windows and Microsoft Excel software. By using inferential statistics with a significance level of 5% shows an increase in students' ability to understand mathematical concepts by distance learning. To see students' attitudes towards distance learning, a Likert scale is used. The results of qualitative data concluded that almost all students gave negative responses to learning mathematics by distance learning.
Downloads
Download data is not yet available.
References
Afrilianto, M. (2012). Peningkatan Pemahaman Konsep Dan Kompetensi Strategis Matematis Siswa Smp Dengan Pendekatan Metaphorical Thinking. Infinity Journal, 1(2), 192. https://doi.org/10.22460/infinity.v1i2.19
Faizah, S. N. (2020). Hakikat Belajar Dan Pembelajaran. At-Thullab : Jurnal Pendidikan Guru Madrasah Ibtidaiyah, 1(2), 175. https://doi.org/10.30736/atl.v1i2.85
Khalistin, & Hidayanto. (2013). Penerapan Pendekatan Pembelajaran Open Ended untuk Meningkatkan Pemahaman Siswa Kelas VII-A SMP Negeri 1 Batu pada Materi Segi Empat. Jurnal-Online.Um.Ac.Id, 1(1), 1–11.
Munir. (2009). Pembelajaran Jarak Jauh berbasis Teknologi Informasi dan Komunikasi (TIK). Bandung:Alfabeta,CV.
Riduwan., Adun Rusyana., & Enas. (2011). Cara Mudah Belajar SPSS 17.0 dan Aplikasi Statistik Penelitian. Bandung:Alfabeta.
Ruseffendi, (2005). Dasar-Dasar Penelitian & Bidang Non-Eksakta Lainnya. Bandung:TARSITO.
Siagian, M. D. (2017). Pembelajaran Matematika Dalam Persfektif Konstruktivisme. NIZHAMIYAH: Jurnal Pendidikan Islam Dan Teknologi Pendidikan, VII(2), 61–73.
Sugiono, (2012). Statistik Nonparametris untuk Penelitian. Bandung:CV.Alfabeta.
Sugiyono, (2016). Metode Penelitian Kuantitatif, Kualitatif, Dan R&D. Bandung:ALFABETA.
Syaodih Sukmadinata, Nana. (2017). Metode Penelitian Pendidikan.Bandung:PT Remaja Rosdakarya Offset.
Sri Apriyani, Dede (2016). Penerapan Model Pembelajaran Problem Based Learning untuk Meningkatkan Kemampuan Pemahaman Konsep Matematis Siswa. Skripsi STKIP Subang. Tidak diterbitkan.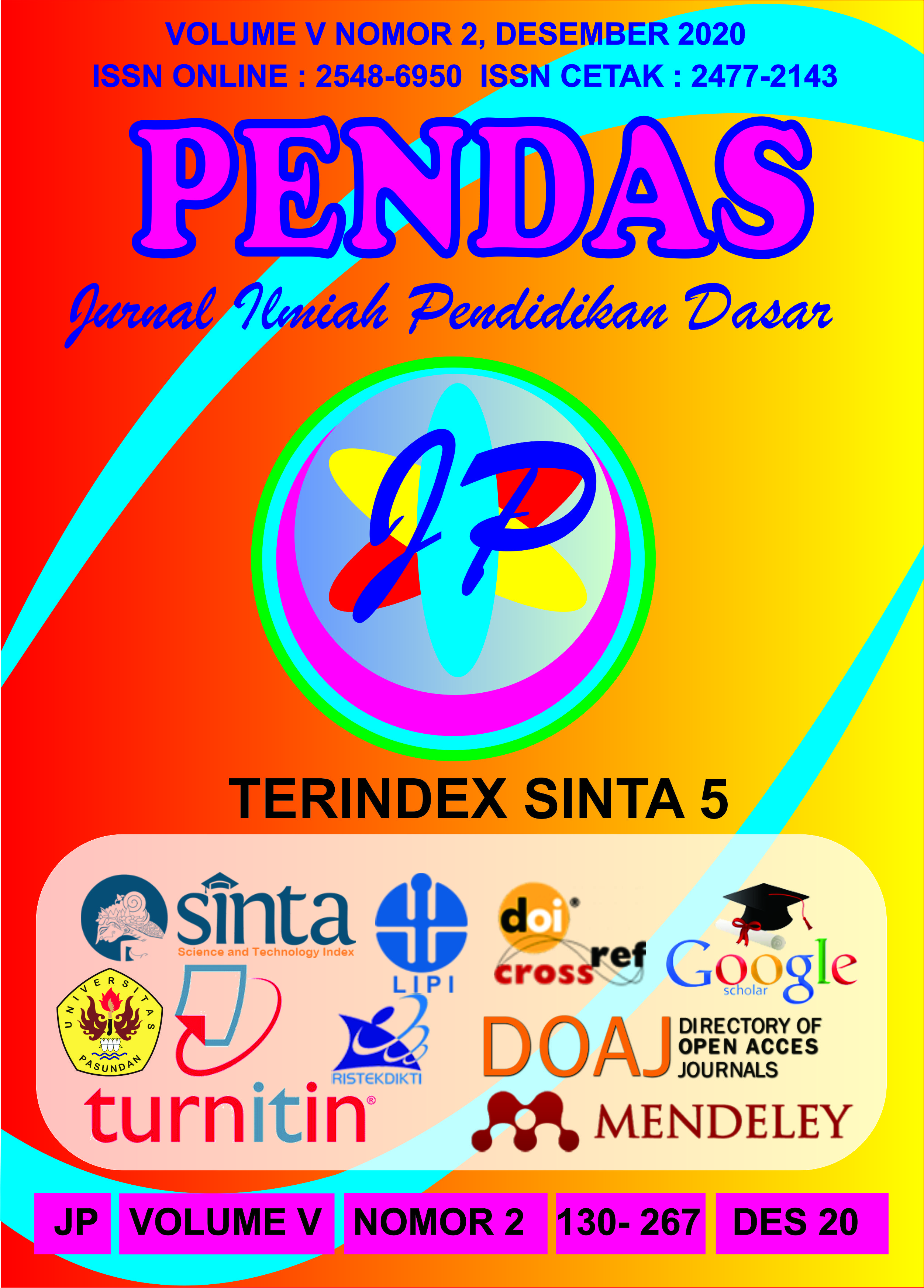 Downloads