PERAN PEMERINTAH DALAM PEMBERDAYAAN MASYARAKAT DI KAWASAN BANDARA INTERNASIONAL JAWA BARAT
Keywords:
BIJB, aerocity, aerotropolis, strategy, community empowerment.
Abstract
Abstract The West Java Provincial Government has set out to develop the West Java International Airport (BIJB) in Kertajati Subdistrict, Majalengka Regency and to become the spatial layout of the surrounding area integrated into an airport city (aeorocity). This study discusses the development of an airport city or aerotropolis based on the literature study research method (meta analysis) which is then associated with the Kertajati spatial concept. In community empowerment (people empowerment) to increase the ability to choose and open opportunities to choose meaningful means is to increase the ability to make decisions and open opportunities to participate in decision making. The community empowerment strategy, in the Majalengka District Medium-Term Development Plan (RPJMD), has made several efforts to develop the regions and communities in the BIJB region by making policies or regulations that are in line with plans and policies related to BIJB development and Kertajati Aerocity, the RTRW and RDTR which is still a legal process.
Downloads
Download data is not yet available.
References
DAFTAR PUSTAKA
Peraturan Daerah Kabupaten Majalengka No 1 Tahun 2014 tentang Rencana Pembangunan Jangka Menengah Daerah Kabupaten Majalengka tahun 2014-2018, Bappeda Jawa Barat.
Syarifuddin., Pnematica, N., Juniarsih N., Rasyidi, M. (2016). Pemberdayaan Masyarakat Desa Terdampak Pembangunan Bandara Internasional Lombok Praya. Jurnal Sosiologi Pendidikan Humanis, 1, 57-70.
Zuliyah, S. (2010). Strategi Pemberdayaan Masyarakat Desa Dalam Menunjang Pembangunan Daerah. Journal of Rural and Development, 1, 155-160.
Misbakh. (2014). Efektivitas Pelaksanaan Program Nasional Pemberdayaan Masyarakat (PNPM) Mandiri Perkotaan Di Kecamatan Leuwimunding Kabupaten Majalengka. Jurnal Logika, 12, 134-155.
Tjahjono, T., Yuliawaty, E,. (2017). Bandar Udara Internasional Jawa Barat (BIJB) dan Potensi Kertajati Sebagai Aerocity, Jurnal Perhubungan Udara, 43, 43-50.
Damaryanti, Y,. Krisnani, H,. Budiarti, M. Keberadaan Masyarakat Pendatang di Desa Sukakerta ( Perubahan Sosial Budaya Masyarakat terkait Pembangunan Bandara Internasional Jawa Barat di Kecamatan Kertajati, Kabupaten Majalengka). Prosiding KS : Riset & PKM, 3, 1-154
https://bijb.co.id/
http://bappeda.jabarprov.go.id/documents/rpjmd-kabupaten-majalengka-tahun-2014-2018/
http://jdih.majalengkakab.go.id/wp-content/uploads/2015/09/Peraturan-Daerah-Nomor-1-Tahun-2014-tentang-RPJMD.pdf
https://www.jawapos.com/jpg-today/15/04/2018/bukan-bandung-ini-alasan-bijb-dibangun-di-kertajati-majalengka/
https://www.pikiran-rakyat.com/jawa-barat/2017/04/24/warga-terdampak-bijb-diberi-pelatihan-basic-cargo-399737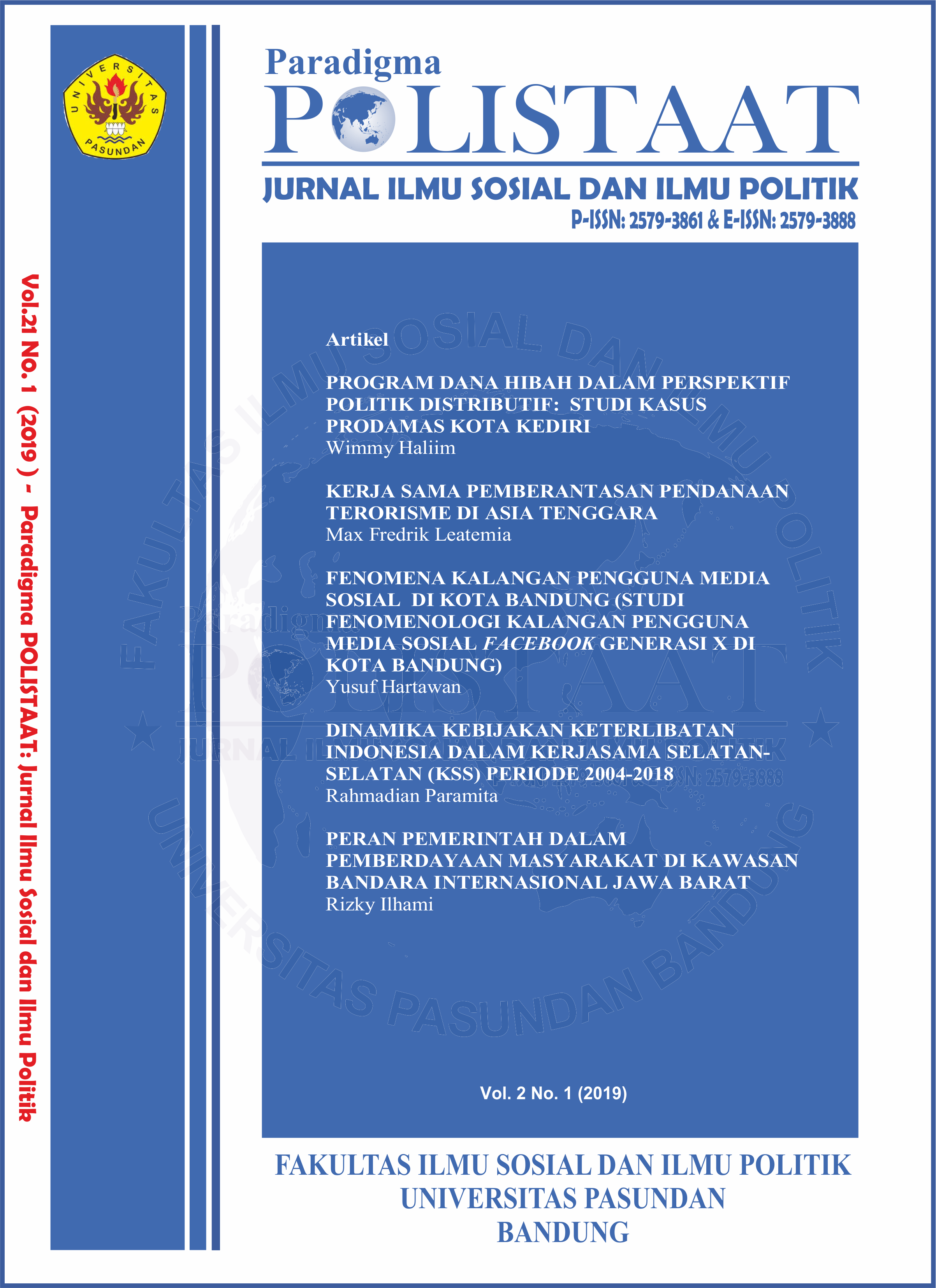 Downloads