The Application Of Blended Learning to Student's Perception and Satisfaction Review by Gender
Quasi-Experimental Class XI at Madrasah Aliyah Negeri 1 Pekanbaru with Basic Competence in Analyzing International Trade Concepts and Policies
Keywords:
Blended Learning, Student Perception, Student Satisfaction, Gender
Abstract
This research aims to find out how students' perceptions and satisfaction with the application of Blended Learning in the Social Studies Department at Madrasah Aliyah Negeri (MAN) 1 and Madrasah Aliyah Negeri (MAN) 2 Pekanbaru model based on gender. This type of research is Quantitative Research. Proportional Stratified Random Sampling technique was used to take samples in this study. The data used are 114 respondents from students of MAN 1 Pekanbaru and 50 respondents from students of MAN 2 Pekanbaru Model. This research method uses quantitative descriptive analysis. The data used are interviews and questionnaires. Validity Test and Reliability Test were used before the research instrument was distributed to the respondents. Data Analysis Techniques using t test. The results of the Perception and Satisfaction research of students are positively and significantly influenced by the application of Blended Learning to students of MAN 1 and MAN 2 Pekanbaru Model, and there is a significant difference between Perception and Satisfaction of Students and Students. Satisfaction with the implementation of BL in MAN 1 Pekanbaru and MAN 2 Pekanbaru model by utilizing the CSI calculation, it can be seen that satisfaction with the implementation of BL shows the category of being satisfied with the range of 66-80% and quite satisfied which is in the range of 51%-65%.
Downloads
Download data is not yet available.
References
Akpan, E. T. (2015). Blended Learning Opportunities and Challenges in Mathematics Education : Perspective in Higher Education. South American Journal of Academic Research, Volume 2(Issue 1).
Berkman, H. W., & Gilson, C. (1986). Consumer Behavior: Concepts and Strategies Subsequent Edition (xxv). Kent Publishing Company.
Budiman, H. (2017). Peran Teknologi Informasi Dan Komunikasi Dalam Pendidikan. Al-Tadzkiyyah: Jurnal Pendidikan Islam, 8(1), 31. https://doi.org/10.24042/atjpi.v8i1.2095
Carter, L. (2013). The Other Blended Learning: A Classroom-centered Approach. In Canadian Journal of University Continuing Education (Vol. 33, Issue 1). https://doi.org/10.21225/d5ds3w
Chang, V., & Fisher, D. (2003). The Validation and Application of a New Learning Environment Instrument to Evaluate Online Learning in Higher Education.
Dusick, D. M. (1998). FacoDIr Computer Use and Training : Idenrifqing Disrinct Needs forDitffereor Popularions. 27(4), 33–47.
Dwiyogo, W. D. (2018). Pembelajaran Berbasis Blended Learning (Edisi Pert). Rajawali Pers.
Echols, J. M., & Shadily, H. (2006). Kamus Inggris - Indonesia : An English - Indonesian dictionary / oleh John M. Echols dan Hassan Shadily (xiv). Gramedia Pustaka Utama.
Garrison, D. R., & Kanuka, H. (2017). Blended Learning : Uncovering Its Transformative Potential in Higher Blended learning : Uncovering its transformative potential in higher education. Jurnal The Internet and Higher Education, 7(April 2004), 95–105. https://doi.org/10.1016/j.iheduc.2004.02.001
Gede, I. D., Raditya, N., Luh, N., & Widhiyani, S. (2018). Pengaruh Budaya Organisasi, Dukungan Manajemen Puncak, dan Pemanfaatan Teknologi Informasi pada Kinerja Sistem Informasi Akuntansi. E-Jurnal Akuntansi, 24(2), 845–870. https://doi.org/10.24843/EJA.2018.v24.i02.p02
Heckman, R., Østerlund, C. S., & Saltz, J. (n.d.). Blended Learning at the Boundary : Designing a New Internship. 111–127.
Heinze, A. (2004). Reflections on the use of blended learning. http://usir.salford.ac.uk/id/eprint/1658/
Hidayat, M. T., Junaidi, T., & Yakob, M. (2020). Pengembangan Model Pembelajaran Blended Learning dalam Meningkatkan Pemahaman Siswa Terhadap Tradisi Lisan Aceh. 25(3), 401–410.
Husna, S., & Syukri, A. (2014). PENERAPAN CUSTOMER SATISFACTION INDEX ( CSI ) DAN ANALISIS GAP PADA KUALITAS PELAYANAN. 1, 103–111.
Imron, A. (2018). Hubungan persepsi tentang kualitas dan pelayanan pendidikan dengan kepuasan orang tua siswa sekolah menengah kejuruan negeri. 1, 245–254.
Jamey Fitzpatrickk. (2011). Planning Guide for Online and Blended Learning. In Creating New Models For Student Success (pp. 1–40). Michigan Virtual University.
Kotler, P., & Susanto, A. B. (2000). Manajemen Pemasaran di Indonesia; Analisis, Perencanaan, Implementasi dan Pengendalian. Salemba Empat. http://ucs.sulsellib.net//index.php?p=show_detail&id=53400
Lim, D. H., & Morris, M. L. (2009). Learner and Instructional Factors Influencing Learning Outcomes within a Blended Learning Environment. 12, 282–293.
Lin, Y. (2017). The Effect of Blended Learning in Mathematics Course. 8223(415), 741–770. https://doi.org/10.12973/eurasia.2017.00641a
Mangkunegara, A. A. A. P. (2008). Manajemen Sumber Daya Manusia Perusahaan (8th ed.). PT. Remaja Rosdakarya Bandung.
Martin, F., Stamper, B., & Flowers, C. (n.d.). Examining Student Perception of Readiness for Online Learning : Importance and Confidence. 24(2), 38–58.
Melton, B. F., Bland, H. W., & Chopak-foss, J. (2009). Achievement and Satisfaction in Blended Learning versus Traditional General Health Course Designs. 3(1).
Nugroho, S. (n.d.). PROFESIONALISME GURU SD NEGERI SE-KECAMATAN. 135–146.
Oktaria, S. D., Budiningsih, A., & Risdianto, E. (2018). Model Blended Learning Berbasis Moodle (1st ed.). Halaman Moeka.
Oktarina, R., Ambiyar, & Fhadillah. (2020). EFEKTIVITAS KOMUNIKASI DUA ARAH PADA BLENDED LEARNING BERORIENTASI FLIPPED CLASSROOM PADA MASA NEW NORMAL COVID 19. 26(2013), 483–492.
Pavlovic, M. (n.d.). The Use of Social Networks for Elearning Improvement.
Riasari, D. (2018). Peranan Model Pembelajaran Matematika Berbasis Blended Learning Terhadap Komunikasi Matematis Siswa Dalam Materi Statistik Pada Sman 1 Tapung. Jurnal Pendidikan Tambusai, 2, 813–820.
Rogers, P. L. (2001). Traditions to Transformations 1. 1–24.
Sadeghi, R., Sedaghat, M. M., & Ahmadi, F. S. (2014). Comparison of the effect of lecture and blended teaching methods on students' learning and satisfaction. 2(4), 1–5.
Saif, N. I. (2014). The Effect of Service Quality on Student Satisfaction : A Field Study for Health Services Administration Students. 4(8), 172–181.
Sajid, M. R., Laheji, A. F., Abothenain, F., Salam, Y., & Aljayar, D. (2016). Can blended learning and the flipped classroom improve student learning and satisfaction in Saudi Arabia ? 281–285. https://doi.org/10.5116/ijme.57a7.83d4
Sang, G., Valcke, M., Braak, J. Van, Tondeur, J., & Zhu, C. (2011). Predicting ICT integration into classroom teaching in Chinese primary schools : exploring the complex interplay of teacher-related variables. June 2010, 160–172. https://doi.org/10.1111/j.1365-2729.2010.00383.x
Schacter, D. L., Gilbert, D. T., & Wegner, D. M. (2011). Psychology (2nd ed.). Worth Publishers.
Sjukur, S. B. (2013). Pengaruh blended learning terhadap motivasi belajar dan hasil belajar siswa di tingkat SMK. Jurnal Pendidikan Vokasi, 2(3), 368–378. https://doi.org/10.21831/jpv.v2i3.1043
So, H., & Brush, T. A. (2008). Student perceptions of collaborative learning , social presence and satisfaction in a blended learning environment : Relationships and critical factors. 51, 318–336. https://doi.org/10.1016/j.compedu.2007.05.009
Sopiatin, P., & Sikumbang, R. (2010). Manajeman Belajar Berbasis Kepuasan Siswa (R. Sikumbang (ed.); 1st ed.). Ghalia Indonesia.
Sugiono. (2017). Metode Penelitian Kuantitatif, Kualitatif, dan R & D. Alfabeta.
Sulistyowati, Y. (2020). Kesetaraan Gender Dalam Lingkup Pendidikan dan Tata Sosial. Ijougs: Indonesian Journal of Gender Studies | Volume 1 No. 2 Tahun 2020, 1(2), 1–14.
Sumanto. (2014). Psikologi Umum. CAPS.
Swasono, B., & Diah, T. W. (2021). Hubungan Pelayanan dan Kepuasan Siswa terhadap Optimalisasi Pendapatan pada Lembaga Pendidikan Primagama Wisma Asri Bekasi. 6(1), 120–134.
Thoha, M. (2010). Kepemimpinan Dalam Manajemen. Rajawali Pers. http://opac-perpusbunghatta.perpusnas.go.id/detail-opac?id=10542
Tjiptono, F. (2011). Strategi Pemasaran (xiii). Andi Offset.
Ullah, Z., & Ahmad, N. (2020). Critical Factors of Student Satisfaction in Private Universities of Pakistan. XII(Viii), 773–793.
Vernadakis, N., Giannousi, M., Tsitskari, E., Antoniou, & Kioumourtzoglou. (2012). A COMPARISON OF STUDENT SATISFACTION BETWEEN TRADITIONAL AND BLENDED TECHNOLOGY COURSE. January, 137–147.
Wu, J., Tennyson, R. D., & Hsia, T. (2010). A study of student satisfaction in a blended e-learning system environment. Computers & Education, 55(1), 155–164. https://doi.org/10.1016/j.compedu.2009.12.012
Zeqiri, J. (2020). The Impact of Blended Learning on Students' Performance and Satisfaction in South East European University. Vol. 6, pp, 233–244.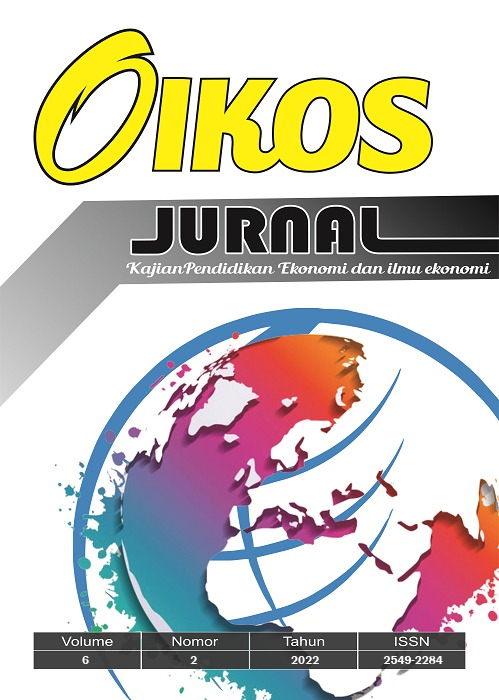 Downloads