The Uncovering Cultural Capital in Indonesia's Underground Music Scene: A Discourse
A discourse
Keywords:
Cultural Capital, Underground Music, History of Music, Musicology
Abstract
Underground music is considered to have a very strong context in terms of cultural capital. Pluralism and musical concepts can precipitate the ruling regime. So that it raises a reaction to freedom in voicing certain class ideologies. The role of music was finally able to represent the voices of the politicized or oppressed people overpowering, one of which occurred in the New Order. Underground music emerged as a cultural capital which Bourdieu called an artifact in dissecting the problems of the social field. The purpose of this research is to uncover the cultural capital possessed by Underground Music which creates views that open the minds and hearts of representatives of certain classes. This research is carried out by reviewing literature, musicology, and historical records of Underground music, which will be presented and dialogued with the concept of Modal theory from Bourdieu and popular music analysis from David Machin. This research tries to answer the image anxiety that emerges from the dark and loud Underground Music Scene but instead has a sacred context in the development of the socio-cultural situation in Indonesia.
Downloads
Download data is not yet available.
References
Alexander, A., & Sugiono, S. (2021). Musik Protes di Indonesia Pada Era Reformasi: Sebuah Kajian Historis. Jurnal Kajian Seni, 8(1), 67-83.
Bourdieu, P. (1987). Distinction: A social critique of the judgement of taste. Harvard university press.
Bryson, B. (1996). " Anything but heavy metal": Symbolic exclusion and musical dislikes. American sociological review, 884-899.
Cahyawati, U. D. MENDISKUSIKAN KEMBALI GENERASI METALHEAD 1980-AN DALAM KANCAH SUBKULTUR DI INDONESIA. Jurnal Kawistara, 8(3), 307-309.
Golding, P., & Murdock, G. (1991). Culture, communications and political economy. Mass media and society, 2(1), 15-32.
Hujatnikajennong, A. (2015). Kurasi dan kuasa: kekuratoran dalam medan seni rupa kontemporer di Indonesia. Marjin Kiri.
Lidskog, R. (2016). The role of music in ethnic identity formation in diaspora: a research review. International Social Science Journal, 66(219-220), 23-38.
Machin, D. (2010). Analysing popular music: Image, sound and text. SAGE publications.
Mangoenkoesoemo, Y. D. N., & Soerjoatmodjo, G. W. L. (2018). Heavy metal parents: identitas kultural metalhead Indonesia 1980-an. Octopus.
Piliang, Y. A. (2011). Dunia yang dilipat: Tamasya melampaui batas-batas kebudayaan. Matahari.
Rakhman, A. S. (2022). Pertumbuhan Musik Metal di Indonesia Akhir 1980-an. HEURISTIK: Jurnal Pendidikan Sejarah, 2(1), 18-28.
Resmadi, I. (2021). Jurnalisme musik dan selingkar wilayahnya. Kepustakaan Populer Gramedia.
Robbyansyah, M. (2012). Sebuah kajian cultural criminology atas moshing di dalam konser underground. Jurnal Kriminologi Indonesia, 7(3).
Sri Hayati, E. (2002). DINAMIKA KEPRIBADIANPENGGEMAR MUSIK UNDERGROUND.
Teguh Vicky, A., Riama Maslan, S., & Hafiz Aziz, A. (2017, 2017/6//). Musik, Media, dan Karya : Perkembangan Infrastruktur Musik Bawah Tanah (Underground) di Bandung (1967-1990). Patanjala, 9(2). https://doi.org/10.30959/patanjala.v9i2.18
Thornton, S. (1996). Club cultures: Music, media, and subcultural capital. Wesleyan University Press.
Wallach, J. (2005). Underground and Democratization in Indonesia. World Literature Today, 17.
Wallach, J., & Clinton, E. (2013). History, Modernity, and Music Genre in Indonesia: Introduction to the Special Issue. Asian music, 3-23.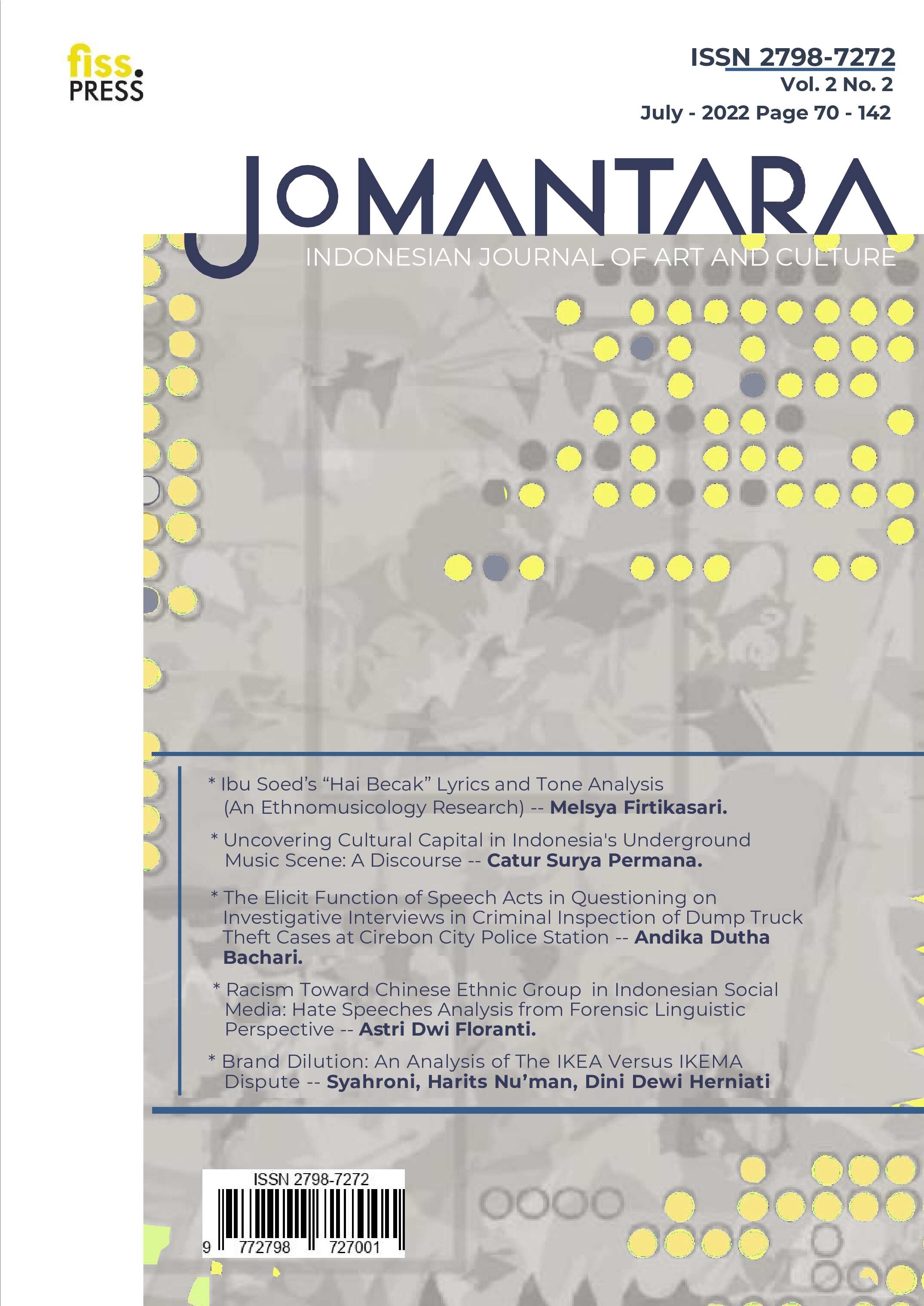 Downloads
License
Copyright Notice

This work is licensed under a Creative Commons Attribution 4.0 International License.