Binaural Beat of Bringbrung Music
Keywords:
music therapy, psychology of music, psychoacoustic
Abstract
Bringbrung is a ritual music in the tradition of society in the Kampung Cidadap Hilir, Ledeng, Kota Bandung. In each of Bringbrung performances, there is always a trance from the player and the audience. This phenomenon becomes the background in this research. One of the musical elements that is thought to be highly influential stimulates trance is binaural sensation. This article explains how music of Bringbrung can produce binaural sensation so that it can stimulate trance on the players and the audience. The research methods used in this article use qualitative methods with phenomenological approach. The data was collected through observation, interview, notes taking, triangulation, and focus group discussion. The analyses of this research were taken through analysis of reduction data, data presentation, and conclusion. The results of the research that has been done show that binaural sensation has a significant contribution in stimulating trance during the show Bringbrung. Binaural sensation generated from the frequency difference of each Bringbrung instrument that has a range of 0 - 25 Hz. The binaural sensation produced by Bringbrung music is certainly one of the proofs that ritual music in Indonesia has a therapeutic effect. Advanced research in the field is very important for the development of music therapy based on the music traditions of Indonesia
Downloads
Download data is not yet available.
References
A. Gilbert Rouget. (1985). Music and Trance: A Theory of the Relations between Music and Possession. Chicago: The University Of Chicago Press.
B. Joshua Leeds. (2010). The Power of Sound: How to Be Healthy and Productive Using Music and Sound. Healing Arts Press
C. Martin Wooward. (2014). Brainwave Entertainment Plus: Make Binaural Beats & Isochronic Tones On Your Pc for Hypnosis, Relaxation, Meditation & More!. Lulu.com publisher.
D. Made Bagus Permadi Putra. (2016). Tesis Fenomena Kesurupan Dalam Kesenian Bringbrung di Kampung Cidadap Hilir- Ledeng Kota Bandung, Bandung: Institut Seni Budaya Indonesia Bandung.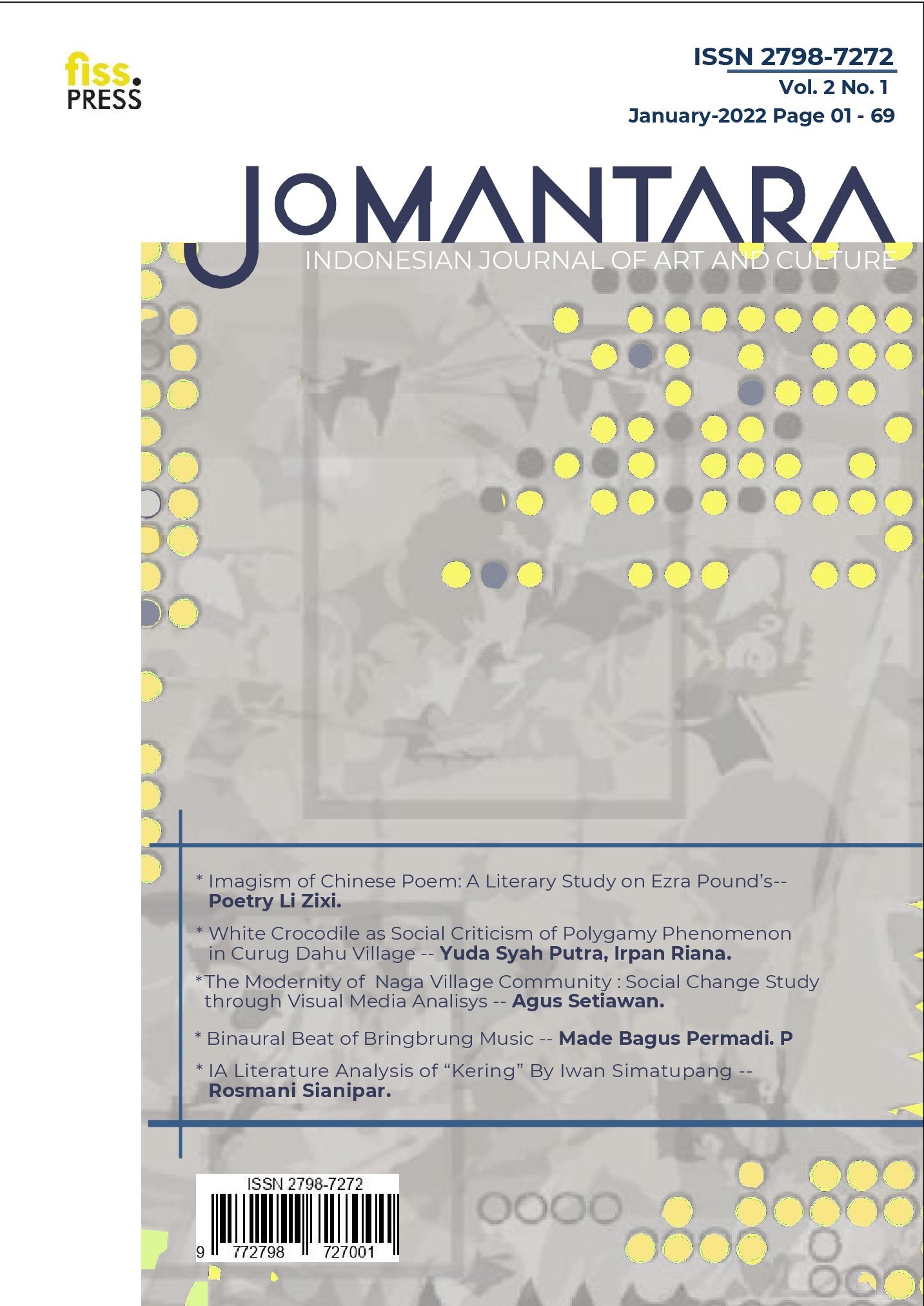 Downloads
License
Copyright Notice

This work is licensed under a Creative Commons Attribution 4.0 International License.