DEVELOPMENT STRATEGY FOR SMALL AND MEDIUM ENTERPRISES (SME) BASED ON SUNDA CULTURE IN CIBADUYUT FOOTWEAR INDUSTRY
Keywords:
Competitiveness, Sudanese Culture
Abstract
Cibaduyut footwear industry is one of the industries that produce products various kinds of footwear such as sandals, shoes, shoes, shoes or casual shoes, which are the main raw material is leather. In carrying out its business activities the footwear industry. Cibaduyut faces several obstacles, especially those concerning manufacturing or processes financial production and management, especially concerning financial records. Rapi dan perfectly complies with financial management standards, besides other obstacles is that businesses cannot develop shoe based products to the application of Sudanese cultural values ​​that are famous for the concept of Silih Asah, Silih compassion, foster care, this turned out to weaken the competitiveness of footwear products on the scene International.   The research method used in this study is a qualitative method using descriptive analysis, the data collection method used is a method direct observation (observation), in-depth interviews (in-depth interview) as well direct interviews with several informants, and using triangulation and snowball sampling. Based on the results of the study showed that the marketing strategy carried out by Cibaduyut footwear perpetrators of the city of Bandung based on Sudanese culture, stating, foster care still experiences several obstacles, especially in the supplier is still in nature traditional so that it cannot yet be competitive globally.
Downloads
Download data is not yet available.
References
Anderson, Dennis 1982. small- ScaleIndustriinDevelovingCountris . A.
DiscursionoftheIssueworld Development 10 (11) Anselin.L.Varga , A and Aes.Z. 1997. LocalSpillovesbetweenuniversityresearchhandhighttechnologyinnovation" journalof urban economics 42 (3) : 210 – 216
Arifin Haswinar . 2004 " Method understand woman businessman small" journal Analysis social, 9 (2) : 157 -170
Appriesa , Seventiena , Izzatul Mabniyah A. 2011, strategy Alternative face
ACFTA in skeleton increase Power Competition Indonesian Footwear Industry , IPB Bogor
Arifin Syamsul , Ediana rae, dian and Joseph PR Charles, 2007 cooperation
Trading International , Opportunities and Challenges for Indonesia, Publisher PT. Elex Media Computerindo , Jakarta
Arikunto Suhartini , 2002. Procedure Study something approach practice , Jakarta
Publisher Rineka Create Reply to Brahmanya MH . 19995 " ReservationPolicyforsmall -scale Industry : hasitDeliveredtheGoods ?" EconomicandPoliticalWeekly , 30 (21)
Budiono , 2001 : Economy International , Yogyakarta; Body Publisher Faculty Economy Yogyakarta
basir , Faisal, Indonesia post Crisis , Note Politics and Economics 2003-2004,2004 References Ray Hope Jakarta
Corswell . P. And Rolland, D 2004 "The roleofreligion in entrepreneurship Participation and perception " International Journal of Entrepreneurship an d SmallBusiness
Chaudry, Mohammad Shahid , 2004. " Strategy Partnership in Promoting
Technology Incubations System for SMES " Presentation Power points, october , SMEDA( www.smeda.org.pk)Chenery , Holly 1979, structuralChangeand Development Policy New York : Oxford university, Press
Cresswell : Research Design Approach qualitative and quantitative and mixed,Library Yogyakarta students , 2012. Cohen. W. And Lovinthal , 1989, " InnovationandLearning : The Two Facesof R& D" EconomicJournal . 99.Pg. 569-96
De Mello, R. latz . Jr. 1997 " ForgigndirectInvesment in developeCountriesandGrowh : A selective survey " Journal of developmentstudie s 34 (1) : 1-34
De Mello, R. Latz . Jr. 1997, Small Business in Indonesia, Aldershot , et al :
AshgatePublishing . doeringer, Peter B and David G. Terkla . 1995 Business StrategyandCross – Industriclusters " Economic Development Quarterly. 9 (3 ) : 225 –37
Ekadjati, Edi.S.Culture Sunda volume 2,Jakarta:Library student Yogyakarta, 2012. Mold II Dumairy , 1997, Economy Indonesia, Jakarta, Publisher Erlangga.
David S. Rulan , Richard I. levin, 2006, statisticsforManagement Seven Edition
An Imprint of Pearson education, New Delhi India Delionov , 1995, Introduction Economy macro , Jakarta , UI Press.
Favevy AdanC.DKim 1992 " Timing and sequencing issues in trade Libralization " The EconomicJournal . 102.908 – 924 Fransman, M. 1968
Technology and Economic Development wheatsheafBooks.
Fuad. MH Christin, Sugiarto &.EP Paul 2001, Introduction business , Jakarta, PT grammar References main .
GujaratiDamodari , Economics Base, Switch Language Sumarno Zain, 2000 Jakarta
Publisher Erlangga Handayaningrat Suwarno 1980. Introduction Studies Administrasu and management,
Jakarta Mount Agung. Herujito , orphan 2006 Management Fundamentals , Jakarta
Handoko , TH 2003 Management Yogyakarta. BPFE Yogyakarta
Hamdy , Hady 2001 Economics International Book I, Edition revision , Jakarta, Ghalia Indonesia.
Jamli Ahmad, 1992 Economy International , Yogyakarta Publisher Media Widya Mandala
Keegan J. Warren , 1996 Management Trading Global. Jakarta Edition Language Indonesia. Iraq Independent
Kotler.P . 1996 Management Trading Analysis Planning Implementation and
Control Switch Language Jaka Wasana . Jakarta: PT. surge Script Primar
Kotler.P . 2000 management Marketing Perspective Asia book 3 Ed. Drs Alexander
sindaru , Benjamin Molan Yogyakarta : Andi Of set
Kotler.P . 2010 Management Marketing Edition 13 Volume 2 Translation by Bob Sabram , Jakarta : PrenticeHall Kartadjoema HS. 2000 Substance agreement GAAT/WTO and mechanism Solution dispute System Institutional Procedure Implementation and Interest Country growing, Jakarta UI. Press.
Kuncoro Mudrajat , 2007 Economics Industry Indonesia Going to Country Indonesia new 203. Publisher Andi Yogyakarta
Koentjaraningrat, People and Culture in Indonesia, bridge; 2014, Jakarta
Koentjaraningrat , Culture , Mentality , and Development , Gramedia, Jakarta, 1993
Mohapatra, S. Rozelle, S and Goodhue R. 2007 "The RiseofSelfEmployment in Rural China: Development of Distriss World Development 35 (1) :103 -181
Mankiv V, N. Gregory, Theory Macromics Industry Indonesia going to Country Indonesia new 203. Publisher Andi Yogyakarta Rahardja Primary , Manurung mandalas, 2005, Theory Economy Introduction Edition third , LPFEUI, Jakarta
Sugiyono , 2008 method Study Qualitative and R & D Bandung Alphabet
Stevs , Richard M. 1985. Effectiveness organization , Jakarta, Erlangga .
Sedarmayanti , 2009 Resource Man and Productivity work , Bandung
Mandarin Up Subianto Heru and Riphat singgih 2004 Policy Physical thinking draft and implementation, Publisher Compass Jakarta.
SalvatoreDominick , 1992 Economy International Theory and questions Publisher Erlangga Jakarta
hoard Sincere , 2001, Trade International and Balance payment , Theory and findings empirical , LP3ES, Jakarta
Triyono Bambang, 1994 " Model Indonesia 's Non -Oil and Gas Exports for project period short "Economics and Finance Indonesia.
Wibowo, 2011 Management Performance, Jakarta: Raja Grafindo homeland Wibowo, I, 2004 Study from China, How China make opportunity from Era
globalization , Publisher Compass Widiana , Anika, study Power Competition Product Non Agriculture in face Globalization trade , Research Center Trading Department trade .
Widiona , Anika Abstract Analysis Power Competition Footwear Indonesia in
Market America union, Aksamil, Khair Library US , at www.digilib.ui.ac.id/filepdf7 1750padf .
Wursanto : reparation sharpen make up for it sharpen make up for it foster Culture Sunda, Unpad.ac.id
Xiangfeng, Liu. 2007 "SME Development in China: SME Industrial Cluster Future and Perspective" In Honk Lim (ed) "Asian SMEA andGlobalization" ERIA Research Project Report 2007 No. March 5 http// www.dpdag.go.id/addin/depdag .isp/indexphp?is zi=1
Regulation of the Minister of Industry No 123/M- ENG/PER/110/2010 about p program Revitalization and growth footwear industry .
Constitution Number 20 of 2008 concerning SMEs about program Revitalization and growth footwear industry .
Constitution Number 20 of 2008 concerning SMEs Plan Parent development Unpas 2015-2021
BPS KUKM West Java 2015-2020
https://inspirasi-inspirasi-wirausaha.blogspot.co.id/2011/03/sepatu-cibaduyut-bisahasil-rp-10-m.html
http://repaltsshoes.blogspot.co.id/2012/03/indutri-sepatu-cibaduyut-bandung-html
http://www.wisatabdg.com/2014/03/sejarah-dan-perkembangan-sentra.html
http://dedylondong.blogspot.co.id/2012/10/how-process-pembuatan-shoes-shoes.html
http://sepatukuenter.blogspot.co.id/2013/11/pengertian-design-sepatu.html
http://library.unpad.ac.id/wp-content/uploads/2015/07/01-USAHA DEVELOPMENT STRATEGY ANALYSIS.pdf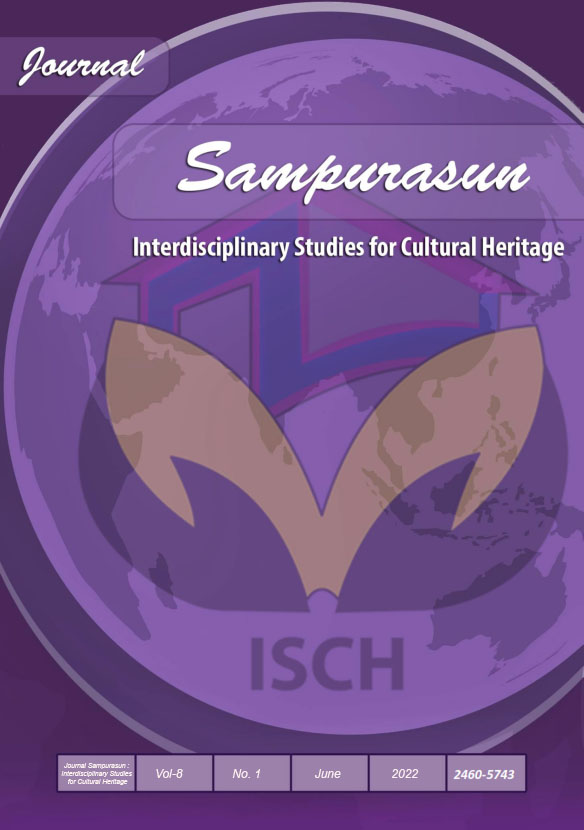 Downloads
License
Copyright Notice
Authors should not withdraw their submitted papers because the withdrawal wastes voluntary works devoted by an associate editor and reviewers. But, we accept the withdrawal of a submitted paper if authors have unavoidable reasons. In the event that a manuscript is to be withdrawn from submission to Sampurasun Journal, a letter must be sent to the editorial office requesting withdrawal by e-mail (sampurasunjournal@unpas.ac.id) with its scanned PDF file, before the notification of acceptance for publication.
The withdraw request letter must include the following information. Paper ID, Paper title, Authors names, Reason why the paper must be withdrawn, and Date and signatures of all the authors (or signature of the contact author).
If only the contact author signs the letter, he/she must obtain the agreement of the withdrawal from all the other authors and the letter must include the description that all the other authors agreed the withdrawal. The journal will not withdraw a manuscript from peer review until such a letter has been received. Authors must not assume their manuscript has been withdrawn until they have received appropriate notification from the editorial office. Withdrawal of a manuscript subsequent to acceptance for publication will only be granted in the most exceptional of circumstances.
After the paper is accepted for publication, the withdrawal is not permitted in principle. The authors must always pay the charge even if the withdrawal is permitted. Any request of withdrawal that does not follow the above procedure is treated as invalid. If illegal submission, e.g., plagiarized or duplicate submission, is found for a paper, the withdrawal of the paper will never be permitted and the authors will be punished based on the rule. It is not acceptable practice to withdraw a manuscript in the event of acceptance at another journal. This constitutes dual submission. The editorial office of the other journal will be notified of your actions. In such circumstances Sampurasun ISCH may chose to impose appropriate punitive action subject.
Withdrawal Penalty
Author is not allowed to withdraw submitted manuscripts, because the withdrawal is waste of valuable resources that editors and referees spent a great deal of time processing submitted manuscript, money and works invested by the publisher. If author still requests withdrawal of his/her manuscript when the manuscript is still in the peer-reviewing process, author will be punished with paying $200 per manuscript, as withdrawal penalty to the publisher. However, it is unethical to withdraw a submitted manuscript from one journal if accepted by another journal. The withdrawal of manuscript after the manuscript is accepted for publication, author will be punished by paying US$500 per manuscript. Withdrawal of manuscript is only allowed after withdrawal penalty has been fully paid to the Publisher. If author don't agree to pay the penalty, the author and his/her affiliation will be blacklisted for publication in this journal. Even, his/her previously published articles will be removed from our online system.