DEVELOPING HOUSEHOLD FINANCIAL LITERACY TO ADVANCE SOCIETY WELFARE IN KASEMBON, KASEMBON DISTRICT, MALANG REGENCY
Keywords:
Financial Management, Finance, Financial Literacy for Household
Abstract
Kasembon is a developing village which has elevated potential in agricultural products. However, its society required a good financial literacy.  The low knowledge of financial literacy became a demotivating factor that constructed outcome from community resource less than the maximum. Therefore, this Community Service Activity team initiated to develop the financial literacy through socialization for Kasembon Village society which assumed to improve their financial quality by transparent household financial management.
Downloads
Download data is not yet available.
References
Astutik, A. W. (2018). Fenomenologi akuntansi rumah tangga: Studi kasus pada keluarga TNI-AD Kota Malang.
BPS Kabupaten Malang. (2021). Kecamatan Kasembon Dalam Angka.
Firmansyah, R., Julianti, V. T., Kurniawan, D. T., Widianto, A. A., & Palil, M. R. (2022). Implications of Financial Management on Family Economic Welfare Moderated by Household Financial Literacy. Proceedings of the 2nd World Conference on Gender Studies (WCGS 2021), 649(Wcgs 2021), 42–51. https://doi.org/10.2991/assehr.k.220304.006
Manurung, D. T. H. (2013). URGENSI PERAN AKUNTANSI DALAM RUMAH TANGGA (Studi Fenomenologis pada Dosen – Dosen Akuntansi di Universitas Widyatama Bandung). Jurnal Ilmiah Akuntansi dan Humanika.
Mendari, A. S., & Soejono, F. (2019). Hubungan Tingkat Literasi dan Perencanaan Keuangan. Modus Journals, 31(2), 227–240.
POJK no. 76, 53 Peraturan Otoritas Jasa Keuangan 1689 (2016). https://www.ojk.go.id/id/kanal/edukasi-dan-perlindungan-konsumen/regulasi/peraturan-ojk/Documents/Pages/POJK-tentang-Peningkatan-Literasi-dan-Inklusi-Keuangan-di-Sektor-Jasa-Keuangan-Bagi-Konsumen-dan-atau-masyarakat/SAL - POJK Literasi dan Inklusi Keuang
Rakhmadani, S. (2021). STRENGTHENING COMMUNITY AND BUSINESS ACTORS' UNDERSTANDING ABOUT OFFICEless FINANCIAL SERVICES IN THE FRAMEWORK OF INCLUSIVE FINANCE POLICY DURING THE COVID-19 PANDEMIC. PASUNDAN INTERNATIONAL OF COMMUNITY SERVICES JOURNAL (PICS-J), 03(02), 100–106.
Rozzaki, A. D., & Yuliati, Y. (2022). Urgensi Penerapan Akuntansi Rumah Tangga Masa Pandemi Covid-19. JAS (Jurnal Akuntansi Syariah), 6(1), 69–82. https://doi.org/10.46367/jas.v6i1.601
Suwarni, A., & Arman, S. (2017). Peran Akuntansi Dalam Rumah Tangga Dan Penerapan Pengelolaan Keuangan Rumah Tangga Secara Islam. Journal of Chemical Information and Modeling, 53(9), 21–25. http://www.elsevier.com/locate/scp
Wardoyo, C., Firmansyah, R., Fauzan, S., & Rahmawan, A. G. (2021). THE VILLAGE ACCOUNTING KNOWLEDGE AND COMPREHENSION ENHANCEMENT FOR VOCATIONAL HIGH SCHOOL ACCOUNTING TEACHERS IN TULUNGAGUNG. PASUNDAN INTERNATIONAL OF COMMUNITY SERVICES JOURNAL (PICS-J), 03(02). https://medium.com/@arifwicaksanaa/pengertian-use-case-a7e576e1b6bf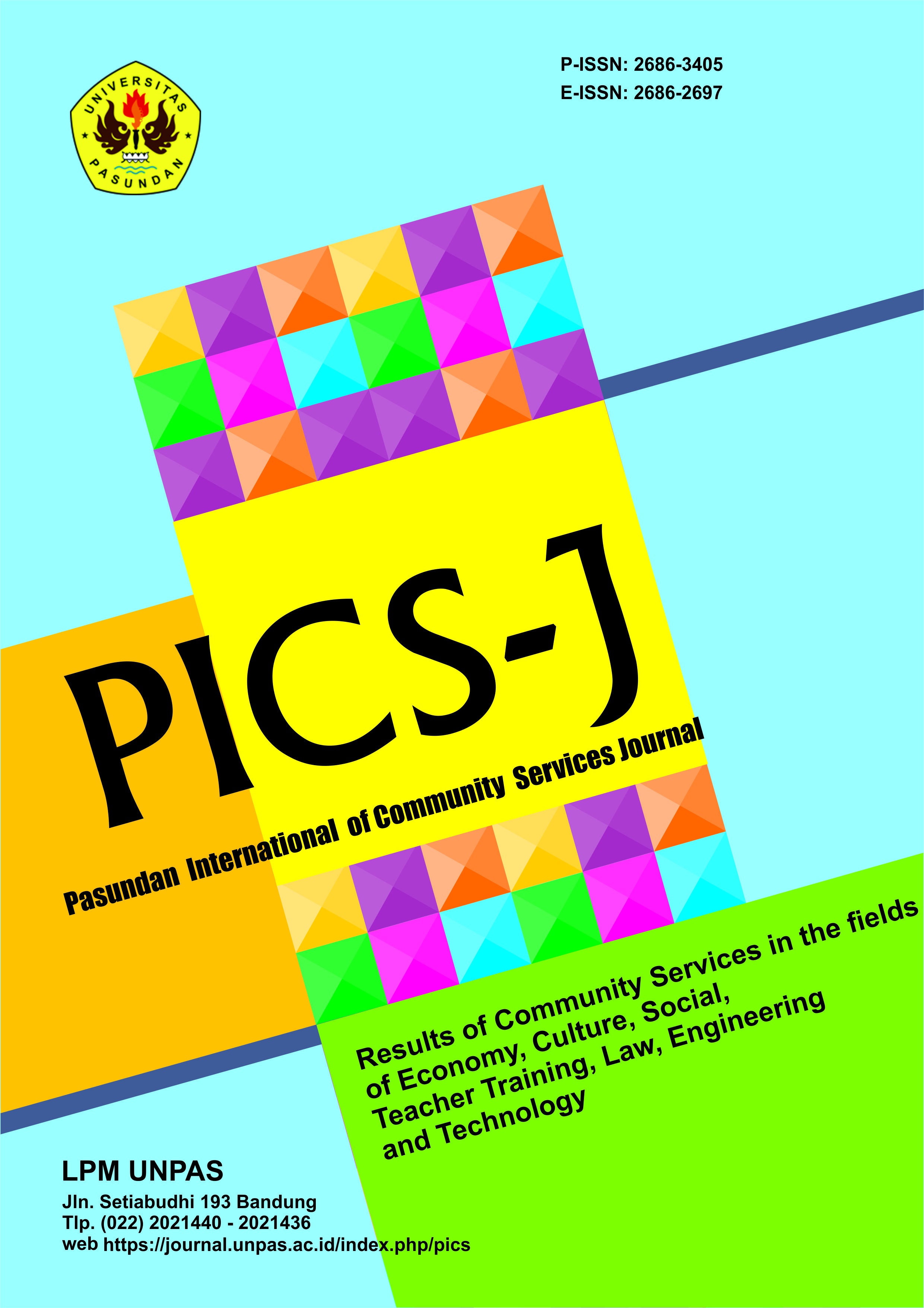 Downloads