EFFORT TO FULFILL THE RIGHT TO WOMEN'S REPRODUCTIVE HEALTH IN INDONESIA'S STATE LAW SYSTEM
Keywords:
Rights, Reproductive Health, Women
Abstract
The high maternal mortality rate (MMR) is one of the indicators to determine the health status of women. In addition, MMR is one of the main targets that have been determined by WHO as an indicator of a country's health. The fulfillment of the right to women's reproductive health can be realized in the Indonesian legal state system through legal marriage (Article 28B paragraph (1) of the 1945 Constitution). Efforts are being made to fulfill it, namely by improving maternal health, providing health service facilities as needed, low reproductive health, especially for women, will have an impact on the babies they are born. Reproductive health is a basic right of every person, so guaranteeing the availability of health facilities and infrastructure is a medium to guarantee and protect so that people can enjoy these basic rights. The research was conducted using a normative juridical method. Reproductive health aims to ensure the fulfillment of the reproductive rights of everyone, including women, through quality, safe, and accountable health services, as well as ensuring maternal health in reproductive age so that they are able to give birth to healthy and quality generations and reduce maternal mortality.
Downloads
Download data is not yet available.
References
Asyhadie, Zaeni. 2017. Aspek-Aspek Hukum Kesehatan di Indonesia. cetakan ke. Depok: PT RajaGrafindo Persada.
Fatimah, Utari Dewi. 2019. "PERLINDUNGAN HUKUM HAK KESEHATAN REPRODUKSI PEREMPUAN." Jurnal Sasana 5(2):129–33.
Fatimah, Utari Dewi. 2021. "Perlindungan Hukum Atas Kelangsungan Hidup Anak Dalam Pemenuhan Hak Kesehatan Reproduksi Perempuan Yang Berkeadilan." Pascasarjana Program Studi Ilmu Hukum Universitas Pasundan Bandung.
Hardisman. 2014. Pengantarn Kesehatan Reproduksi Seksologi dan Embriologi Dalam Kajian Ilmu Kedokteran dan Al-Qur'an. Yogyakarta: Gosyen Publishing.
Irianto, Koes. 2015. Kesehatan Reproduksi (Reproductive Health) Teori dan Praktek. Bandung: Penerbit ALFABETA.
Is, Muhamad Sadi. 2015a. ETIKA HUKUM KESEHATAN. Cetakan 2. Jakarta: KENCANA.
Is, Muhamad Sadi. 2015b. Etika Hukum Kesehatan Teori dan Aplikasinya Di Indonesia. Jakarta: Pranadamedia Group.
Komalawati, Veronica. 2002. Peranan Informed Consent Dalam Transaksi Terapeutik (Persetujuan Dalam Hubungan Dokter dan Pasien) Suatu Tinjauan Yuridis. Bandung: Citra Aditya Bakti.
M.Jusuf Hanafiah, Amri Amir. 2016. Etika Kedokteran dan Hukum Kesehatan. Jakarta: Penerbit Buku Kedokteran EGC.
Martaadisoebrata, Djamhoer. 2006. Kebijakan dan Program Dalam Kesehatan Reproduksi. Bandung.
Mertokusumo, Sudikno. 1999. Mengenal Hukum Suatu Pengantar. Yogyakarta: Liberty.
Purwanti, Ani. 2013. "Pengaturan Kesehatan Reproduksi Perempuan dan Implementasinya di Indonesia." Jurnal PALASTREN Vol.6. No.
Rohan, Hasdianah Hasan. 2017. Buku Kesehatan Reproduksi Pengenalan Penyakit Menular Reproduksi dan Pencegahan. Malang: Intimedia.
Rosita, Tinexcelly M. Simamor. 2021. "Penyelenggaraan Pelayanan Kesehatan Ibu dan Anak di Puskesmas Terpencil dan Sangat Terpencil di Masa Pandemi Covid-19." Kajian dan Pengembangan Kesehatan Masyarakat. Vol.1 Nomo:225–38.
Sali Susiana. 2019. "Angka Kematian Ibu : Faktor Penyebab dan Upaya Penangannya." Jurnal Bidang Kesejahteraan Sosial "Info Singkat" Pusat Penelitian Badan Keahlian DPR-RI. Vol.XI. No(Kajian Singkat Terhadap Isu Aktual dan Strategis).
Sochmawardiah, Hesti Armiwulan. 2013. Diskriminasi Rasial Dalam Hukum HAM (studi tentang diskriminasi terhadap etnis Tionghoa). Yogyakarta: Genta Publishing.
Th.Endang Purwoastuti, Elisabeth Siwi Walyani. 2015. Paduan Materi Kesehatan Reproduksi & Keluarga Berencana.
Triwibowo, Cecep. 2014. Etika dan Hukum Kesehatan. Yogyakarta: Nuha Medika.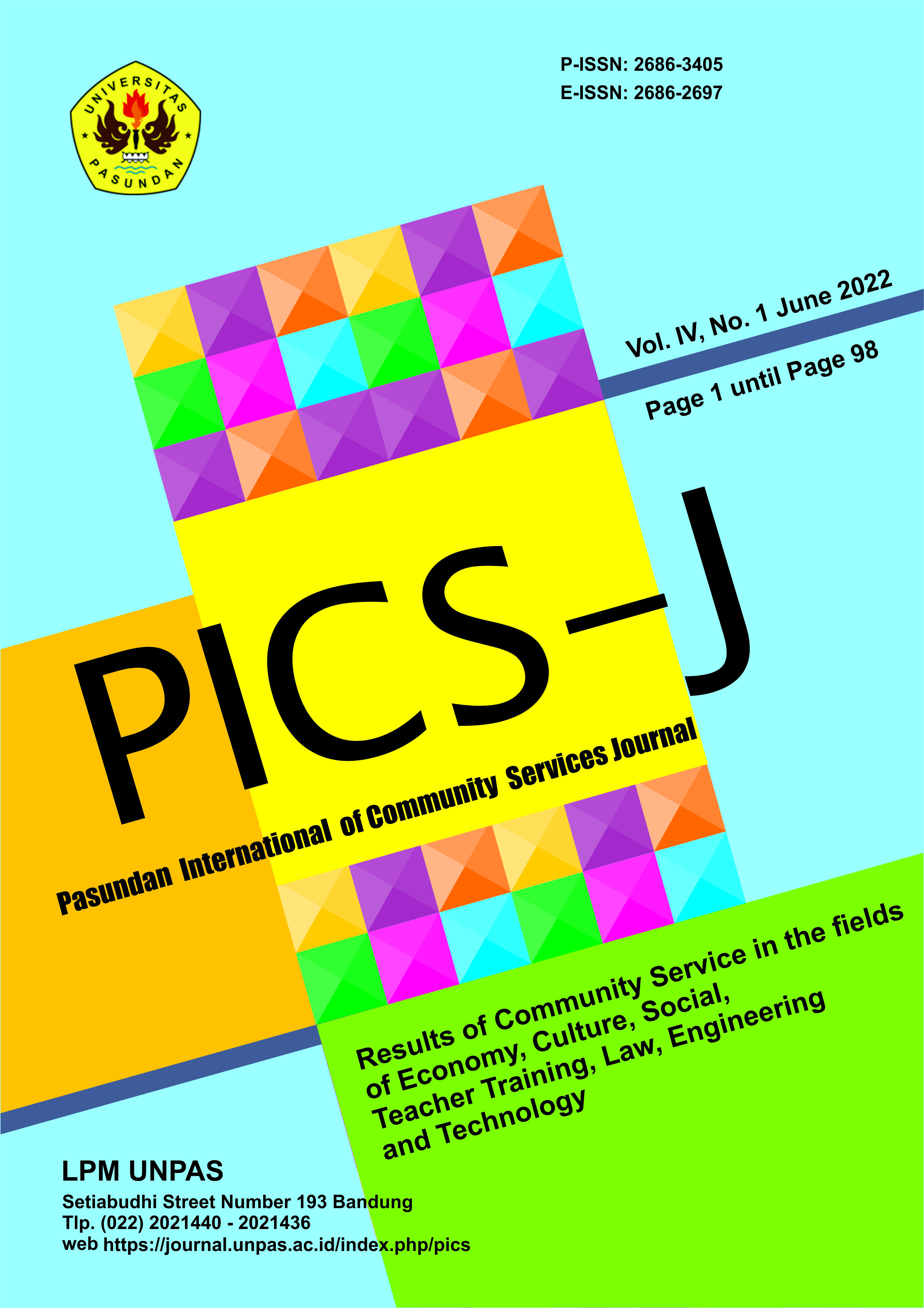 Downloads