TRAINING FOR DEVELOPING VILLAGE REGULATIONS TO SUPPORT THE POTENTIAL DEVELOPMENT OF MEKARSARI ECOWISATA VILLAGE
Keywords:
Eco-tourism, Mekarsari, Village Regulation
Abstract
Mekarsari Village is one of ten tourist villages in Bandung Regency, which has the potential to be developed into an eco-tourism village. However, this potential has not been maximized because village government governance to support the development of village potential is still inadequate. One of the crucial things in village governance is the legal umbrella in the form of village regulations that are aspirational and responsive to accommodate the interests of the community. Against the urgency of forming village regulations, it is necessary to conduct training activities on the preparation of village regulations that involve community participation. The activity aims to increase the capacity of village officials, village consultative bodies (BPD), and the community to draft village regulations. Based on the observations, the following problems can be identified; (1) The draft village regulations have not been stipulated in the Mekarsari Village Government Work Plan (RKP); (2) the capacity of relevant individuals in mastering the systematic preparation of the village regulations has not been maximized. The method used is Participatory Action Research (PAR) through three stages of activities, namely planning, implementation, and evaluation activities. The whole activity ran smoothly, and the target audience enthusiastically participated in the activity, increasing the target's ability to make and draft village regulations.
Downloads
Download data is not yet available.
References
Bandung, PDK (2022). Regional Potential. Jabarprov.go.id. https://jabarprov.go.id/index.php/potensi_area/detail/79
Elfitri Yuza1, WOS (2021). Village Regulation Drafting Training for Village Apparatus and Village Consultative Body to Improve Competence in Creating Ideal Legal Products in Muaro Kalaban Village, Silungkang District. Journal of Community Service, 01(02), 46.
Ibad, S. (2020). The Development Village Government In Synergy Of The Implementation In Law No. 6/2014. Journal of Politico, 20(2), 114.
Law Number 6 of 2014 concerning Villages, 2 (2014).
Bandung Regency Regional Regulation Number 7 of 2020 concerning Management and Development of Tourism Villages, (2020).
Pakaya, JS (2016). The Provinding of Authority to Village In The Context of Regional Autonomy. Indonesian Legislation, 13(01), 80. https://e-jurnal.peraturan.go.id/index.php/jli/article/viewFile/143/pdf
Sukriono, R. (2018). Training on Making Village Legal Products in the Village Government of Sumber Pucung-Malang District. Praxis And Dedik.Sos, 2(1), 10–20.
Suwarlan, E. (2019). Village Government Capacity Building in Financial Management. Moderate, 5(2), 1. https://garuda.kemdikbud.go.id/documents/detail/1056771
Wiradimadja, K. & S. (2019). Training and Assistance in the Preparation of Classroom Action Research for Social Studies Teachers at SMP/MTS Malang Raya. Journal of Practitioners and Social Dedication, 2(1).
Yaya Mulyana Azis, C. (2021). The Role Of Village Equipment In The Accountability Of Cinta Mulya Village Government Sumedang District West Java Province. Pasundan International Of Community Services Journal (PICS-J), 03(01), 46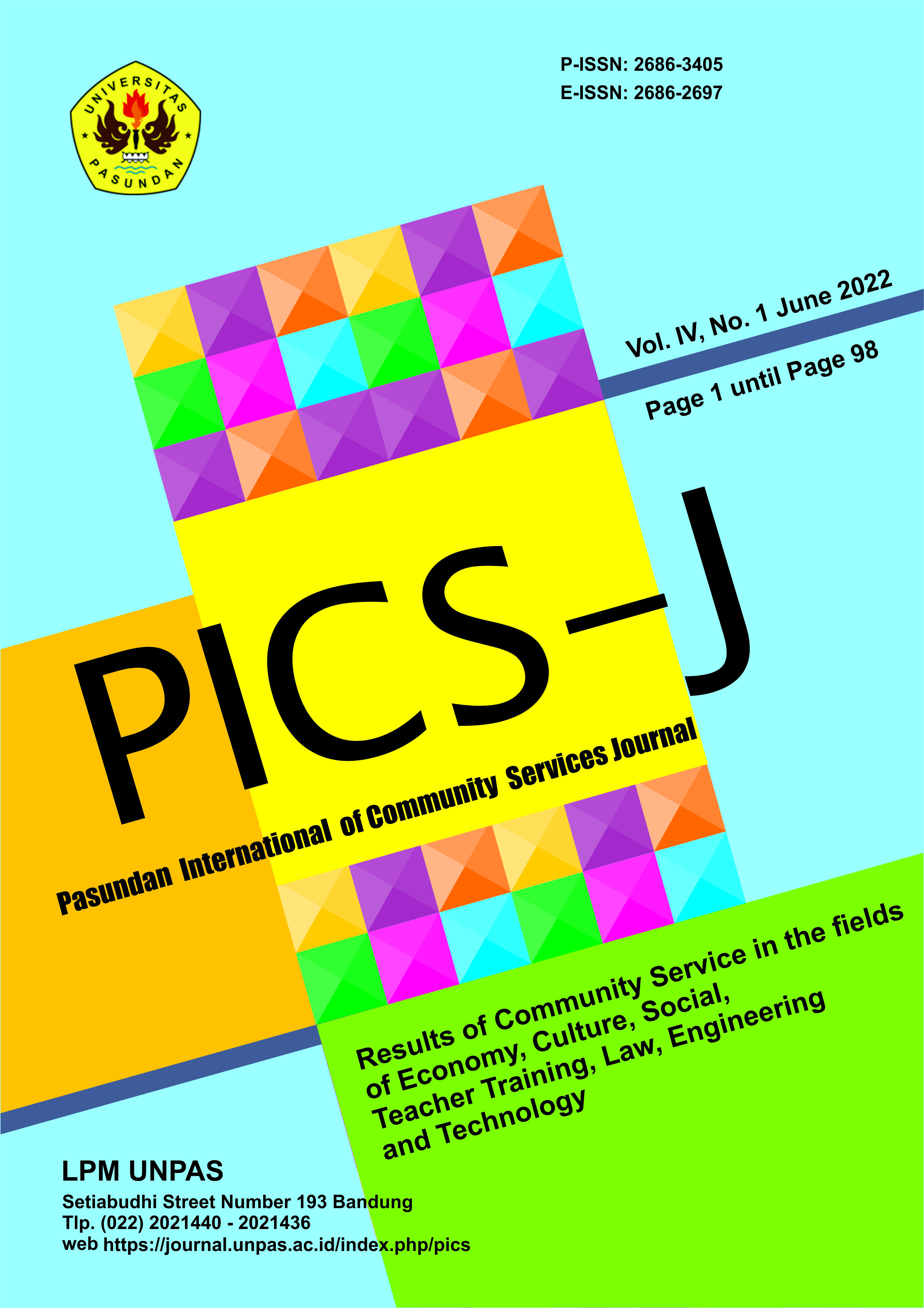 Downloads