THE ROLE OF STUDENTS IN THE PANDEMIC ERA COVID-19 IN REALIZING THEIR STUDENTS IN THE VILLAGE OF SOREANG
Keywords:
Keywords: 1, Pandemic Covid-19 2, Technology 3, Independent study
Abstract
The Covid-19 pandemic has greatly affected all social structures of life, from denominations, socio-culture, tourism and even education. In this condition, almost all activities are carried out from home, including school from home, where at the tertiary level there is one course that must be done directly in the community, namely KKN. Then the solution is online KKN. The program implemented is data collection on various matters related to Covid-19 and education on the prevention of Covid-19. The approach is carried out through social media, namely Whatsapp to the local government to collect data and social media Facebook or Youtube for the publication of activities for making Covid-19 prevention media in the form of posters, infographics and videos. Involving several partners, namely Madrasah Teachers for the socialization of PPE in the form of masks and MTs Teachers for making learning videos. Another program is the creation of an application containing Covid-19 explanations for elementary school students named CO.AP (Covid Application).
Downloads
Download data is not yet available.
References
Arifin, Danung. (2020). https://bnpb.go.id/berita/presiden-tetapkan-covid19-sebagai-bencana-nasional. (Artikel). Diakses Pada 30 Juni 2020.
BNPB. (2020). https://setkab.go.id/kebijakan-social-dan-physical-distancing-harus-libatkan-tokoh-sampai-rt-rw/. (Artikel). Diakses pada 30 Juni 2020.
Pikobar. (2020). https://pikobar.jabarprov.go.id/
Soeteja, Zakaria S. (2000). http://jurnal.upi.edu/file/Zakarias.pdf. (Jurnal). Diakses pada 29 Juni 2020.
Widiyani, Roshma. (2020). https://health.detik.com/berita-detikhealth/d-4960182/cara-penyebaran-virus-corona-covid-19-menurut-who. (Artikel). Diakses pada 30 Juni 2020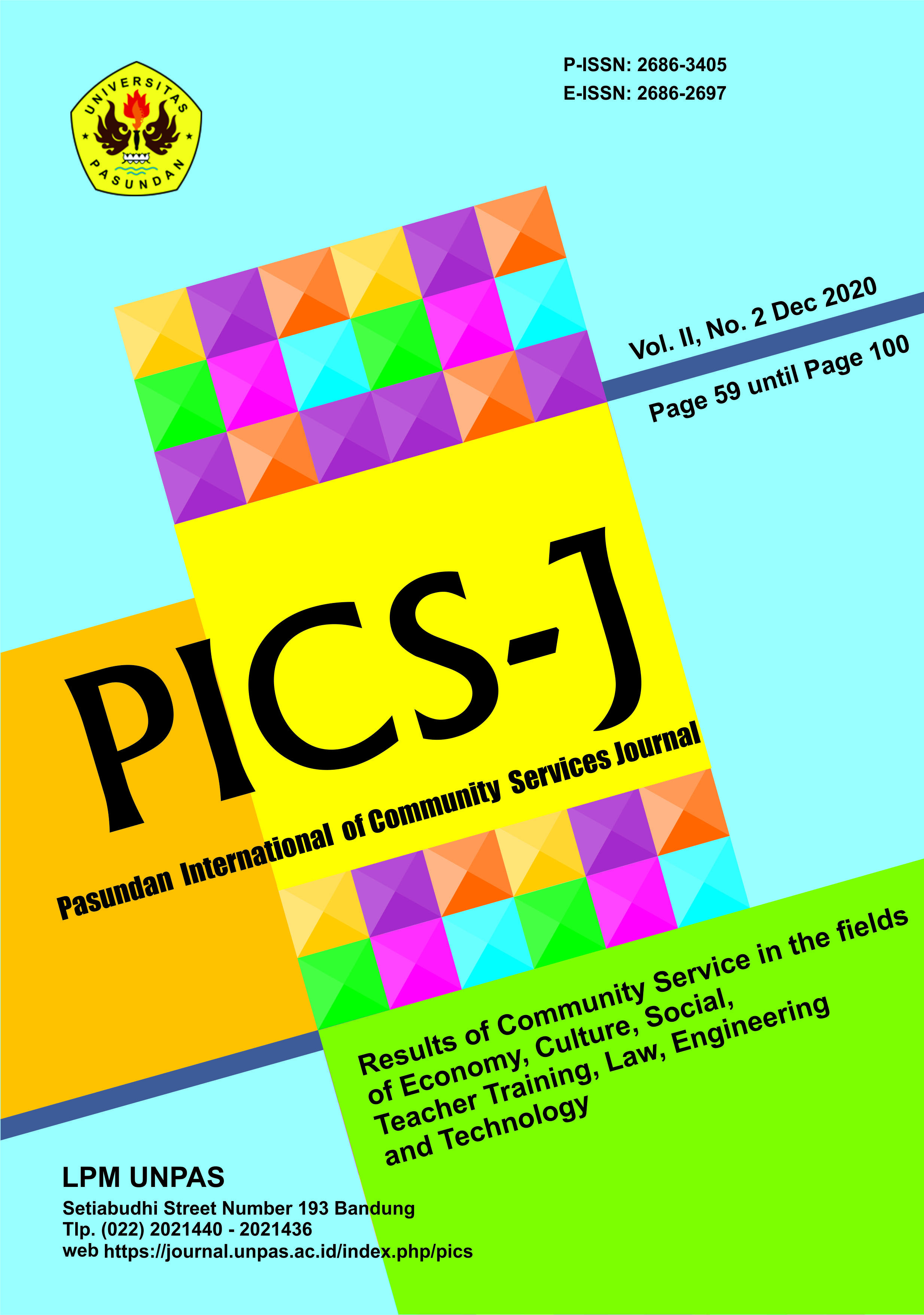 Downloads