PENGEMBANGAN BUKU DONGENG BILINGUAL BERBASIS LITERASI BUDAYA UNTUK SISWA KELAS IV SEKOLAH DASAR
Keywords:
Fairy tale books, bilingual, cultural literacy, elementary school
Abstract
This study aimed to develop a learning media product in the form of a Bilingual Fairy Tale Book Based on Cultural Literacy for use in the fourth grade of elementary school. This study uses research and development methods with the ADDIE development model. The research instruments used in this study were interviews, observations, and questionnaires. Product testing is carried out by linguists, materials experts, design experts, and also students. the scores were obtained as a result of the experts and students adjusting the media developed as learning media in grade fourth of Elementary School. Tujuan dari penelitian ini adalah untuk mengembangkan sebuah produk media pembelajaran berupa Buku Dongeng Bilingual Berbasis Literasi Budaya untuk digunakan dikelas IV Sekolah Dasar. Penelitian ini menggunakan metode penelitian dan pengembangan (Research & Development) dengan model pengembangan ADDIE. Instrumen penelitian yang digunakan dalam penelitian ini yaitu wawancara, observasi, dan angket. Uji kelayakan produk dilakukan oleh ahli bahasa, ahli materi, ahli desain, dan juga siswa. skor yang didapatkan sebagai hasil dari para ahli dan siswa menunjukkan kelayakan media yang dikembangkan sebagai media pembelajaran di kelas IV Sekolah Dasar.
Downloads
Download data is not yet available.
References
Ahsani, E. luthfi F., & Azizah, N. R. (2021). Implementasi Literasi Budaya Dan Kewargaan Untuk Mengembangkan Keterampilan Sosial Siswa Madrasah Ibtidaiyah Di Tengah Pandemi. Jurnal Pendidikan Kewarganegaraan, 11(01), 7. https://doi.org/10.20527/kewarganegaraan.v11i01.10317
Brown, S. (2016). Story Nights: an apprenticeship into literacy through bilingual story reading. Teaching Education, 27(3), 286–304. https://doi.org/10.1080/10476210.2016.1143459
Bulan, A. (2020). Pengembangan Buku Dongeng Suku Mbojo dalam Dua Bahasa sebagai Bahan Ajar Bahasa Indonesia untuk Meningkatkan Prestasi Belajar Siswa. 3, 699–708.
Eko Atmojo, S., & Lukitoaji, B. D. (2020). Pembelajaran Tematik Berbasis Etnosains Dalam Meningkatkan Literasi Budaya dan Kewargaan Siswa Sekolah Dasar. Jurnal Inspirasi Pendidikan, 10(2), 105–113. https://doi.org/10.21067/jip.v10i2.4518
Fitriani, E., & Ifianti, T. (2021). Onomatopoeias and Word Play Found in Bilingual Children Story Books of Little Abid Series in Spiritual and General Values and Dongeng Dunia Binatang (Analysis …. Paradigma: Jurnal Filsafat, Sains …, 27(April), 1–10. http://ejurnal.budiutomomalang.ac.id/index.php/paradigma/article/view/1184
Hariani, N. L. W., Sudarma, I. K., & Suwatra, I. Iw. (2018). Pengembangan Cerita Bergambar Bilingual Book Berbasis Kearifan Lokal Mata Pelajaran Bahasa Bali Kelas Iii. Jurnal EDUTECH Universitas Pendidikan Ganesha, 6(1), 40–52. https://ejournal.undiksha.ac.id/index.php/JEU/article/view/20264
Hidayati, N. N. (2020). Rethinking the quality of children's bilingual storybooks. AL-ASASIYYA: Journal Of Basic Education, 4(1), 46. https://doi.org/10.24269/ajbe.v4i1.2226
Sari, D. A., & Supriyadi. (2021). Penguatan literasi budaya dan kewargaan berbasis sekolah di sekolah menengah pertama. Jurnal Citizenship: Media Publikasi Pendidikan Pancasila Dan Kewarganegaraan, 4(1), 13–17. https://doi.org/10.12928/citizenship.v4i1.19409
Susanti, S., & Permana, R. S. M. (2016). Pembelajaran Literasi Budaya Sunda pada Peserta Didik Sekolah Dasar Utami Kab. Garut, Jawa Barat. Jurnal Aplikasi Ipteks Untuk Masyarakat, 5(1), 34–37. journdharmakarya/article/viewFile/11437/5233al.unpad.ac.id/
Zhang, Z., & Webb, S. (2019). The effects of reading bilingual books on vocabulary learning. University of Western Ontario Canada, 31(1), 109–139. http://nflrc.hawaii.edu/rfl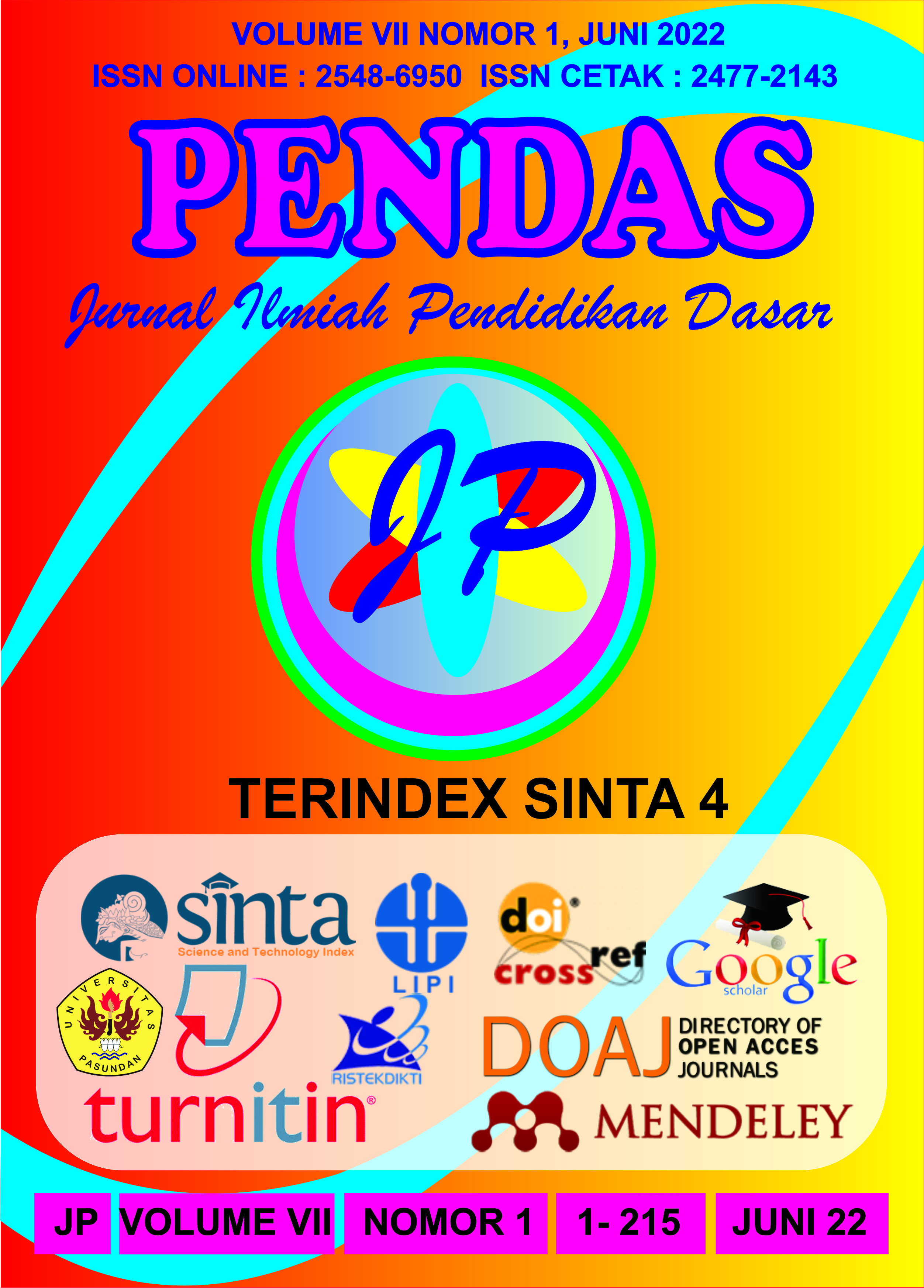 Downloads