GURU SEBAGAI FASILITATOR DALAM MENGASAH KEMAMPUAN BERPIKIR KRISTIS SISWA PADA PEMBELAJARAN DARING
Keywords:
Critical thinking, Facilitator, Teacher's role
Abstract
At the elementary school level, students need to master basic concepts and develop critical thinking skills. In the midst of the times in 21st century, the ability to think critically becomes one of the skills that students need to master so that they can face the challenges of this century. Critical thinking skills can be trained through the learning process in the classroom. The reality in the field when carrying out online learning, there are 6th-grade elementary school students who have not been able to meet critical thinking indicators in Mathematics lessons, namely not understanding concepts (addition and subtraction), analyzing, and detecting requirements on Mathematics problems. This is also because the teacher has not facilitated students to be the ability to hone students critical thinking skills well. The purpose of this study is to explain the role of teachers as facilitators in honing the critical thinking skills of 6th-grade students in mathematics online learning. The research was conducted using descriptive qualitative methods at one of the schools in Tangerang. The results and conclusions were obtained that the role of the teacher as a facilitator was able to hone the critical thinking skills of 6th-grade students in mathematics online learning through providing learning media in the form of learning games, learning videos, and worksheet, as well as providing feedback and guidance to students in solving Mathematics problems.
Downloads
Download data is not yet available.
References
Agnafia, D. N. (2019). Analisis Kemampuan Berpikir Kritis Siswa dalam Pembelajaran Biologi. Florea, 6(1), 45–53. https://doi.org/http://doi.org/10.25273/florea.v6i1.4369
Arifudin, I. S. (2015). Peranan Guru Terhadap Pendidikan Karakter Siswa Di Kelas V SDN 1 Siluman. PEDADIDAKTIKA: Jurnal Ilmiah Pendidikan Guru Sekolah Dasar, 2(2), 175–186.
Erickson, M. J. (2007). Christian Theology. Baker Book House Company.
Greenstein, L. (2012). Assessing 21st Century Skill: a guide to evaluating mastery and authentic learning. Sage Publications Ltd.
Intan, F. M., Kuntarto, E., & Alirmansyah, A. (2020). Kemampuan Siswa dalam Mengerjakan Soal HOTS (Higher Order Thinking Skills) pada Pembelajaran Matematika di Kelas V Sekolah Dasar. JPDI (Jurnal Pendidikan Dasar Indonesia), 5(1), 6. https://doi.org/10.26737/jpdi.v5i1.1666
Kurino, Y. D. (2015). Pengaruh Contextual Teaching & Learning dan Direct Instruction terhadap Peningkatan Kemampuan Pemahaman Matematis Siswa SD. Jurnal Cakrawala Pendas, 1(1), 1–13. https://doi.org/http://dx.doi.org/10.31949/jcp.v1i1.340
Lau, J., & Chan, J. (2020). Improve Our Thinking Skills.
Murti, I. I. T., Pangestu, W. T., & Wana, P. R. (2021). Pengaruh Media Pembelajaran Teka-teki Silang (TTS) terhadap Hasil Belajar Kognitif Pelajaran IPS Kelas III. Pendas: Jurnal Ilmiah Pendidikan Dasar, VI(2), 140–150. https://doi.org/http://dx.doi.org/10.23969/jp.v6i2.4304
Noordyana, M. A. (2016). Meningkatkan Kemampuan Berpikir Kritis Matematis Siswa melalui Pendekatan Metacognitive Instruction. Mosharafa: Jurnal Pendidikan Matematika, 5(2), 120–127. https://doi.org/https://doi.org/10.31980/mosharafa.v5i2.267
Raudatina. (2021). Efektivitas Penggunaan Strategi Pembelajaran Team Gateway Yang Dikombinasikan Dengan Strategi Fishing Game Bantuan Alat Peraga Terhadap Hasil Belajar Matematika Siswa Kelas VI SDN. Institutional Digital Repository.
Sadikin, R. L., & Muhammad, G. M. (2018). Peningkatan Kemampuan Berpikir Kritis Matematis Siswa SMA Dengan Model Brain Based Learning. Triple's Journal Mathematics Education, 1(1), 15–28.
Sugiyono. (2015). Metodologi Penelitian Pendidikan. Alfabeta.
Winarti, W., Maula, L. H., & Sutisnawati, A. (2021). Pengembangan Aplikasi Perkalian dalam Meningkatkan Pemahaman Konsep Dasar Perkalian Siswa SD. Pendas : Jurnal Ilmiah Pendidikan Dasar, VI(2), 126–138. https://doi.org/http://dx.doi.org/10.23969/jp.v6i2.4289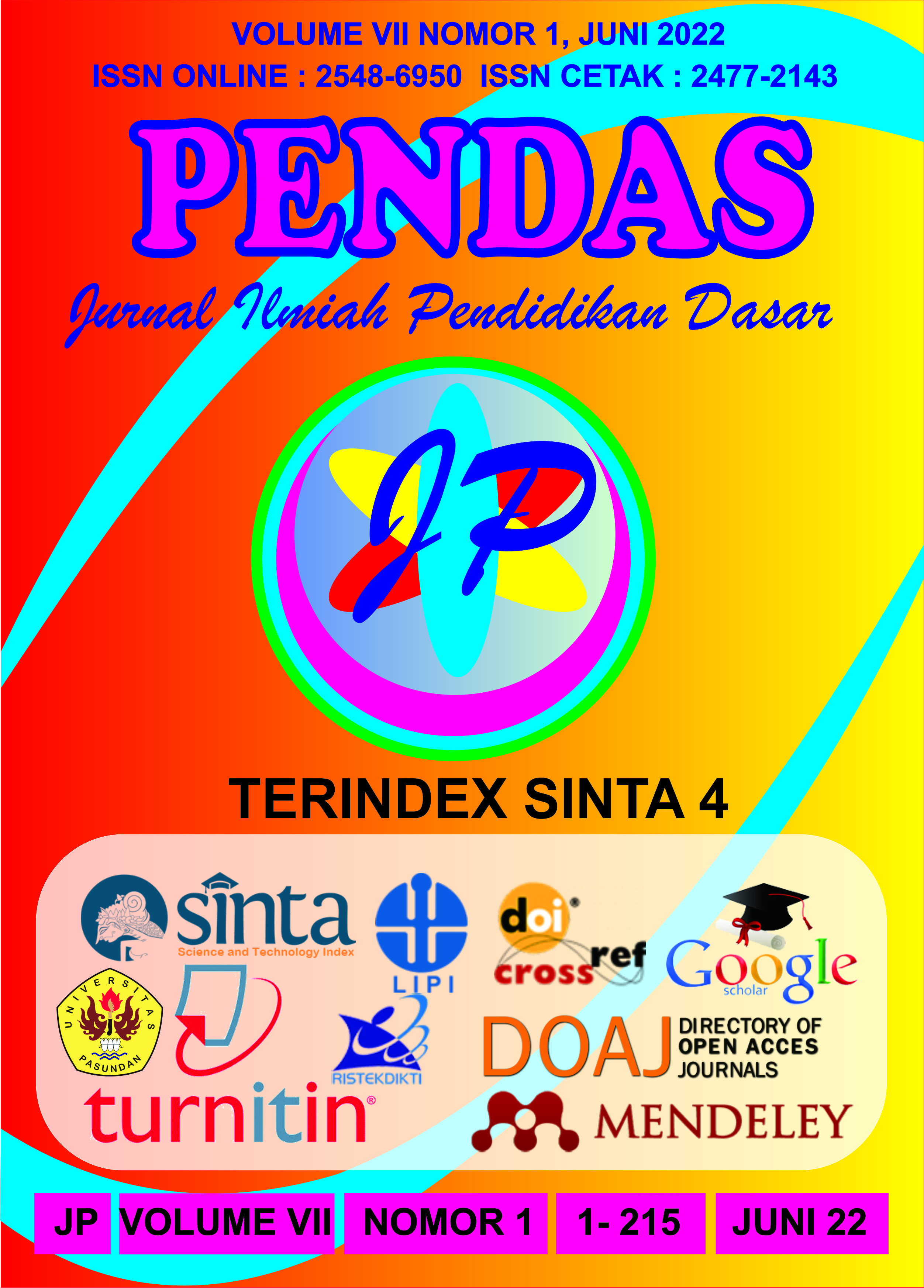 Downloads