PENGARUH ICE BREAKING TERHADAP HASIL BELAJAR PESERTA DIDIK KELAS II DI SD NEGERI PUSAKAJAYA UTARA I KABUPATEN KARAWANG
Keywords:
Ice Breaking, Learning Outcomes, Students
Abstract
The achievement of educational goals depends on the learning process in schools. When in teaching and learning activities, educators still use the lecture style related to the material in the book (teacher centered), students tend to be less active and participate less in the teaching and learning process. The lack of formation of a pleasant teaching and learning process results in students not having good concentration and focus. So that resulted in less than optimal ability of students in understanding the subject matter. This research aims to explain the effect of ice breaking on student learning outcomes. This type of research is quantitative with an experimental nature. This research design uses a one-group pre-test-post-test design, and uses 21 students as samples drawn by a saturated sampling technique from the entire population. The instrument used is in the form of a test with the aim of obtaining data on student learning outcomes. The results of the research show that the mean score of students in the pre-test is 65, while the mean value of the post-test is 76. This shows that there is an increase in student learning outcomes after being given treatment by 11. To test the impact of applying ice breaking, data analysis was carried out by t test (paired sample t test) obtained a significance value (2-tailed) of 0.000 0.05, then Ha is accepted and H0 is rejected. Thus, there is an effect of ice breaking on student learning outcomes in class II thematic learning at SD Negeri Pusakajaya Utara I-Cilebar District-Karawang Regency in the even semester of the 2021/2022 school year.
Downloads
Download data is not yet available.
References
Dasar, S. S., & Harianja, M. M. (2022). na Harianja 1  , Sapri 2Implementasi dan Manfaat Ice breaking untuk Meningkatkan Minat Belajar Siswa Sekolah Dasar May Mu. 6(1), 1324–1330.
Deswanti, I. A. P., Santosa, A. B., & William, N. (2020). Pengaruh Ice Breaking Terhadap Hasil Belajar Siswa Sekolah Dasar pada Pembelajaran Tematik. Jurnal Riset Dan Inovasi Pendidikan Dasar, 1(1), 20–28. https://jurnal.stkippgritrenggalek.ac.id/index.php/tanggap/article/view/39/11
Irdam Idrus, & Sri Irawati. (2019). Analisis Model Pembelajaran Discovery Learning Dalam Meningkatkan Hasil Belajar Ipa-Biologi. Talenta Conference Series: Science and Technology (ST), 2(2). https://doi.org/10.32734/st.v2i2.532
Jurnal Pendidikan Matematika, E., & Warti, E. (2016). Pengaruh Motivasi Belajar Siswa terhadap Hasil Belajar Matematika Siswa di SD Angkasa 10 Halim Perdana Kusuma Jakarta Timur (Vol. 5, Issue 2). http://e-mosharafa.org/Jurnal%22
Khoerunisa, T., & Amirudin, A. (2020). Pengaruh Ice Breaking Terhadap Motivasi Belajar Siswa Pada Mata Pelajaran IPA di Kelas III Sekolah Dasar Islam Terpadu Nuurusshiddiiq Kedawung Cirebon. EduBase : Journal of Basic Education, 1(1), 84. https://doi.org/10.47453/edubase.v1i1.47
Lestari, D., Azrina, Y., & Novika, A. T. (2021). Pengenalan Ice Breaking Dalam Meningkatkan Semangat Belajar Siswa. Bahaa Indonesia Prima, 3(2), 1–6.
Mama, B. (2019). 21 3 ( 123 ). 10(September), 7–8.
Putri Alif, K., Singaperbangsa Karawang Abu Bakar, U., & Singaperbangsa Karawang, U. (n.d.). PENGARUH KUALITAS LAYANAN PENDIDIKAN TERHADAP KEPUASAN PESERTA DIDIK KELAS XII DI MADRASAH ALIYAH NEGERI 2 KARAWANG.
Widya Ariesta, F., & Novi Kusumayati, E. (2018). PENGEMBANGAN MEDIA KOMIK BERBASIS MASALAH UNTUK PENINGKATAN HASIL BELAJAR IPS SISWA SEKOLAH DASAR. Pendas : Jurnal Ilmiah Pendidikan Dasar. https://doi.org/10.23969/jp.v3i1.571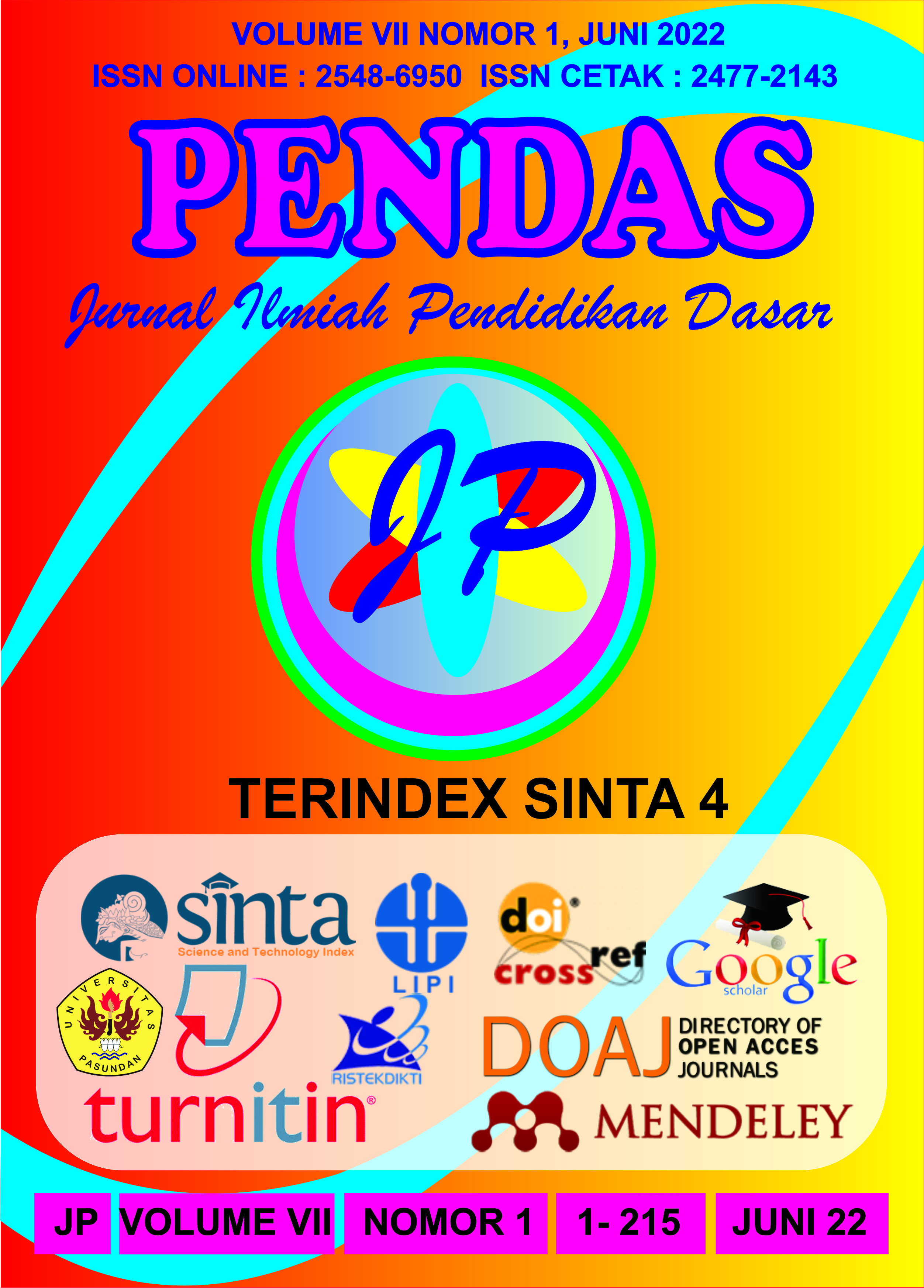 Downloads