PENGARUH PENDIDIKAN MATEMATIKA REALISTIK BERBANTU POWERPOINT INTERAKTIF DALAM MENINGKATKAN MOTIVASI DAN HASIL BELAJAR SISWA KELAS 1 SELAMA PEMBELAJARAN ONLINE DI SDK SAINT JOHN BEKASI
Keywords:
Pendidikan Matematika Realistik, PowerPoint interaktif, pembelajaran online
Abstract
The emergency of Coronavirus disease in Indonesia makes the teaching and learning process should be held in an online learning setting. The existence of distance during the learning reduces the performance of students, especially the new enrolled students in grade 1 Saint John Christian elementary school. Therefore, this research aims to examine the Realistic Mathematics Education (RME) approach with interactive PowerPoint (iPP) media in improving students' learning outcome and motivation during the online learning period. Classroom Action Research (CAR) is applied in order to analyze the effect of RME with iPP towards students' performance in learning mathematics within two cycles. The participant is class 1-D Saint John Christian elementary school which consists of 22 students. Data were collected through assessment towards students' learning outcome, and motivation matrix modeled by Keller to measure the learning motivation. Data in this research is analyzed using descriptive analysis. The final cycle showed that 91% of students successfully passed the passing grade and reached 360 points for the learning motivation. Meanwhile, the percentage target of students who would pass the test is only 80% and the target points of learning motivation is 320 points only. In conclusion, RME with iPP is able to improve student learning outcome, motivation as well as build interaction. The usage of RME with iPP in an online learning setting is recommended to increase students' academic performances.
Downloads
Download data is not yet available.
References
Börnert-Ringleb, M., & Wilbert, J. (2018). The Association of Strategy Use and Concrete-Operational Thinking in Primary School. Frontiers in Education, 3. https://doi.org/10.3389/feduc.2018.00038
Ilyas, M., & Salwah. (2017). Comparison of student's learning achievement through realistic mathematics education (RME) approach and problem solving approach on grade VII. AIP Conference Proceedings, 1813. https://doi.org/10.1063/1.4975974
Keller, J. M. (2016). Motivation, Learning, and Technology: Applying the ARCS-V Motivation Model. Participatory Educational Research, 3(2), 1–15. https://doi.org/10.17275/per.16.06.3.2
Lazarides, R., Rohowski, S., Ohlemann, S., & Ittel, A. (2016). The role of classroom characteristics for students' motivation and career exploration. Educational Psychology, 36(5), 992–1008. https://doi.org/10.1080/01443410.2015.1093608
Rahim, A., Hamdi, S., & Arcana, N. (2020). Developing Bilingual Learning Multimedia in Integral Application Learning Material For Vocational School. Jurnal Pendidikan Matematika, 11(2). http://ejournal.radenintan.ac.id/index.php/al-jabar/index
Ryan, R. M., & Deci, E. L. (2020). Intrinsic and extrinsic motivation from a self-determination theory perspective: Definitions, theory, practices, and future directions. Contemporary Educational Psychology, 61. https://doi.org/10.1016/j.cedpsych.2020.101860
Sergejeva, N., Aboltins, A., Strupule, L., & Aboltina, B. (2018). Mathematical knowledge in elementary school and for future engineers. Engineering for Rural Development, 17, 1166–1172. https://doi.org/10.22616/ERDev2018.17.N328
Santosa, D., & Christupar, M. (2021). Pengaruh penggunaan media pembelajaran lagu terhadap keaktifan siswa dan hasil belajar siswa di kelas 3 SD Kristen Saint John Bekasi. Pendas : Jurnal Ilmiah Pendidikan Dasar, 6(1), 1 - 14. doi:10.23969/jp.v6i1.3600
Khotna Sofiyah, Edy Surya, & Zulkifli Matondang. (2018). The Influence of Realistic Mathematics Education (RME) Approach Based on Mandailing Culture on Student Self-Regulated Learning in Class V of Islamic Elementary School Sihadabuan Padang sidimpuan. Education and Humanities Research, 200, 1–5.
Wanner, T. (2015). Enhancing Student Engagement and Active Learning through Just-in-Time Teaching and the use of PowerPoint. International Journal of Teaching and Learning in Higher Education, 27(1), 154–163. http://www.isetl.org/ijtlhe/
Winarti, W., Maula, L., & Sutisnawati, A. (2021). Pengembangan aplikasi perkalian dalam meningkatkan pemahaman konsep dasar perkalian siswa SD. Pendas : Jurnal Ilmiah Pendidikan Dasar, 6(2), 126 - 139. doi:10.23969/jp.v6i2.4289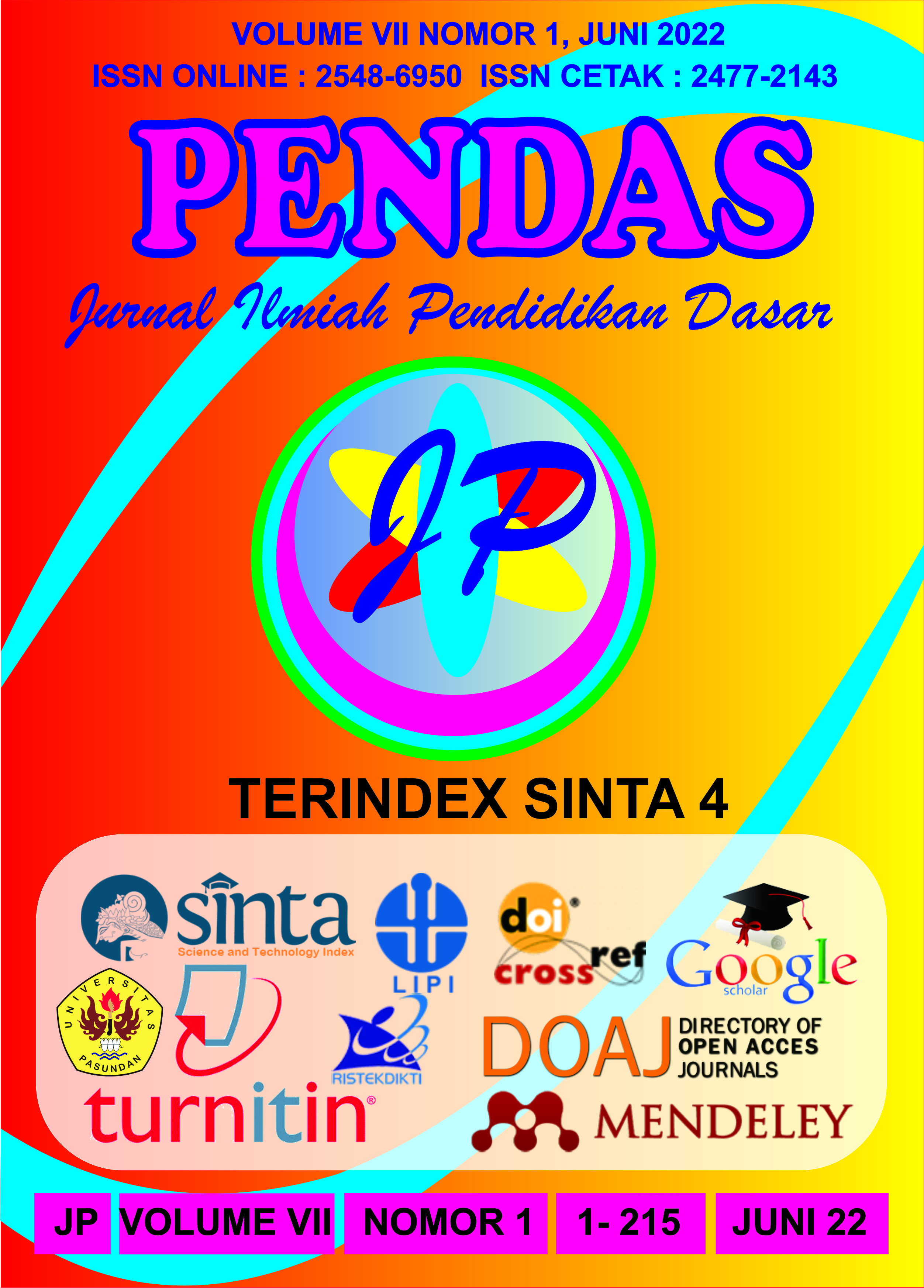 Downloads