BUILDING INTERPERSONAL ABILITY OF ELEMENTARY SCHOOL STUDENTS BY PLAYING TRADITIONAL GAME IN DIGITAL ERA
Keywords:
elementary school, interpersonal ability, students, traditional game.
Abstract
Nowadays, students prefer to have online game rather than traditional one. Online game led to the lack of student's interaction with people around them, they have high individualistic, and shirk responsibility. Traditional game can be an alternative to decrease bad effects of online game. Consequently, this research aims to build interpersonal ability of elementary school students by doing traditional game. This research employed action research method with fifth grade students as its subject. Interpersonal ability which showed in this research was measured by observation meanwhile the instruments of observation consist of field note and rating scale. The outcome from this research was analysed by thematic analysis meanwhile the data was validated by triangulation. Referring to research's findings, researcher concludes that traditional game offer meaningful activities and different experiences to the students. Traditional game motivate students to doing physical acitivities and make interaction with peers. Moreover, a meaningful moral values will evolve among the students by themselves. Traditional game can be used as media to building interpersonal ability of students. Besides that, teacher can introduce the traditional game to students to keep the local wisdom that almost wiped out.
Downloads
Download data is not yet available.
References
Agustin, D. (2013). Permainan Tradisional sebagai Media Simulasi Aspek Perkembangan Anak Usia Dini. Bayumedia
Alcock, S.J. (2016). Interpersonal Fields of Play. Early Child Development Care. 5 (6). 924-934
Andriani, T. (2012). Permainan Tradisional dalam Membentuk Karakter Anak Usia Dini. Jurnal Sosial Budaya. 9 (1), 121-136
Ball, D.L., and Cohen, D.K. (1999). Developing Practice, Developing Practitioners: Toward Practice Based Theory of Professional Education. In Darling-Hammond L., and Sykes, G. (Eds), Teaching as The Learning Profession Josey Bass Publishers 3-32.
Banks, S., Herrington, T., Carter, K. (2017). Pathways to Co Impact: Action Research and Community Organising. Educational Action Research. 25 (4), 541-559
Berger, E.H., and Cortez, M.R.R. (2012). Parents as Partners in Education: Families and Schools Working Together. Pearson
Boyatzis, R.E. (1998). Transforming Qualitative Information. Cleveland
Boyd, D. (2014). It's Complicated: The Social Lives of Networked Teens. Yale : University Press
Dharmamulya, S. (2008). Permainan Tradisional Jawa. Kepel Press
Dufour, B., and Curtis, W. (2011). Studying Education: An Introduction to the Key Disciplines in Education Studies. Mc Graw Hill
Fan, F.A. (2012). Teacher: Students' Interpersonal Relationships and Students' Academic Achievements in Social Studies. Teachers and Teaching: Theory and Practice. 18 (4), 483-490
Goh, W., Bay, S., and Chen, V.H.H. (2015).Young School Children's Use of Digital Devices and Parental Rules", Telematics and Informatics. 32 (4). 787-795.
Hakim, A.R. (2018). Kecerdasan Interpersonal Siswa melalui Model Student Teams Achievement Divisions. Elementary School Education Journal. 2 (1), 51-58
Hasanah, N.I., and Hardiyanti, P. (2016). Pengembangan Anak melalui Permainan Tradisional. Aswaja Pressindo
Hayati, F., and Julia. (2018).
Hurlock, E.B. (2012). Perkembangan Anak Jilid I. Jakarta : Erlangga
Isangedighi, (2007). J.,.Child Psychology Development and Education. Eti-Nwa
Joyce, B., and Weill, M. (2013). Models of Teaching. Prentice Hall
Khilmiyah, A. (2011). Evaluasi Implementasi Pendidikan Karakter pada Sekolah Dasar Percontohan Pendidikan Karakter di Kabuoaten Bantul. LP3M
Kovacovic, T., and Opic, S. (2014). Contribution of Traditional Games to the Quality of Students' Relations and Frequency of Students' Socialization in Primary Education. Croation of Journal Education. 16 (1). 95-112
Lavega, P., Alonso, J.I., Etxebeste, J., Lagardera, F., and March, J., (2014). Relationship between Traditional Games and the Intensity of Emotions Experienced by Participants. Research Quarterly for Exercise and Sport. 85 (4), 457-467
Lee, S.J., (2013). Parental Restrictive Mediation of Childrens' Internet Use: Effective for What and for Whom?, New Media Soc. 15, 466-481
Lestari, W., and Siregar, N. (2017). Peranan Permainan Tradisional Engklek dalam Mengembangkan Keterampilan Sosial Anak Usia Sekolah Dasar di Desa Hamparan Perak. Science Education Journal. 7 (3), 305-311.
Marcone, R., Caputo, A., Monica, C.D. (2015). Friendship Competence in Kindergarten and Primary School Children. European Journal of Development Psychology. 12 (4), 412-428
Martin, R.A., "The Psychology of Humor: An Intregative Approach", Elsevier Academic Press (2007).
Netcoh, S., Olofson, M.W., Downes, J.A., and Bishop, P.A. (2017). Professional Learning with Action Research in Innovative Middle Schools. Middle School Journal. 48 (3), 25-33
Novitasari, N.I. (2017). Optimalisasi Manajemen Intervensi Kelas terhadap Perilaku Buruk Siswa di Madrasah Ibtidaiyah. Manageria: Jurnal Manajemen Pendidikan Islam. 2 (1), 63-80
Padykula, N.L., and Horwitz, M., (2012). Using Psychodinamic Concepts to Measure Interpersonal Competencies during Social Work Training. 9 (1), 48-61
Peningkatan Kemampuan Interpersonal melalui Permaainan Balon Berpasangan di Kelompok Bermain PAUD Bina Insani Kemala Bhayangkari 1 Banda Aceh. Jurnal Buah Hati. 5 (1), 63-71
Poulin, F., and Chan, A. (2010). Friendship Stability and Change in Childhood and Adolescene, Developmental Review. 30, 257-272
Prawitasari, M. (2016). Nilai-nilai Permainan Tradisional Mayarakat Banjar. In the Proceedings of International Seminar on Ethnopedagogy, FKIP UNLAM Press 277-284
Safaria, (2005). Education Games. Flash Book.
Sahay, S. (2013). Traditional Children's Games of Bihar. Electronic Journal of Folklore. 54. 119-136
Sahin, D., (2011). Preschoolers, Preschool Teachers, and Problem Solving Skills: A Comparative Study in Turkey nad Belgium, Education 3-13: International Journal of Primary, Elementary, and Early Years Education .39 (3). 305-316
Siregar, M.M. (2014). Penerapan Metode Sosiodrama untuk Meningkatkan Kemampuan Interpersonal Siswa Kelas VII SMP Negeri Depok Sleman Yogyakarta. Jurnal Bimbingan dan Konseling. 3 (4), 1-11.
Sparrow, T., and Knight, A. (2006). Applied EI: The Importance Attitudes in Developing Emotional Intelligence. John Willey and Sons
Strader, T.J. (2011). Digital Technology in 21st Century, In Troy, J.S. (Eds). Digital Product of Management, Technology, and Practice: Interdisciplinary Perspectives, Business Science Reference, 235-262.
Suharsaputra, U. (2014). Metode Penelitian Kuantitatif, Kualitatif, dan Tindakan. Refika Aditama
Sundari, S.A. (2015). Pengaruh Keaktifan dalam Kepramukaan terhadap Kecerdasan Interpersonal Siswa Kelas V SD di Gugus Sugarda, Jurnal Pendidikan Guru Sekolah Dasar. 3 (4), 1-8
Susanti, F., Siswati, and Widodo, B. (2010). Pengaruh Permainan Tradisional terhadap Kompetensi Interpersonal dengan Teman Sebaya pada Siswa SD. Jurnal Psikologi Undip. 8 (2), 145-155
Syahniar. (2008). Tindak Pembelajaran yang Berkontribusi terhadap Peningkatan Kemampuan Interpersonal Siswa Sekolah Dasar, Jurnal Ilmu Pendidikan. 15 (2). 128-134
Taufik. (2013). Pengembangan Kemampuan Interpersonal Siswa melalui Layanan Bimbingan Kelompok. Pedagogi Jurnal Ilmiah Ilmu Pendidikan. XIII (1), 91-99
Tim Playplus Indonesia (TPI). (2017). Ensiklopedia Permainan Tradisional Anak Indonesia. Jakarta : Erlangga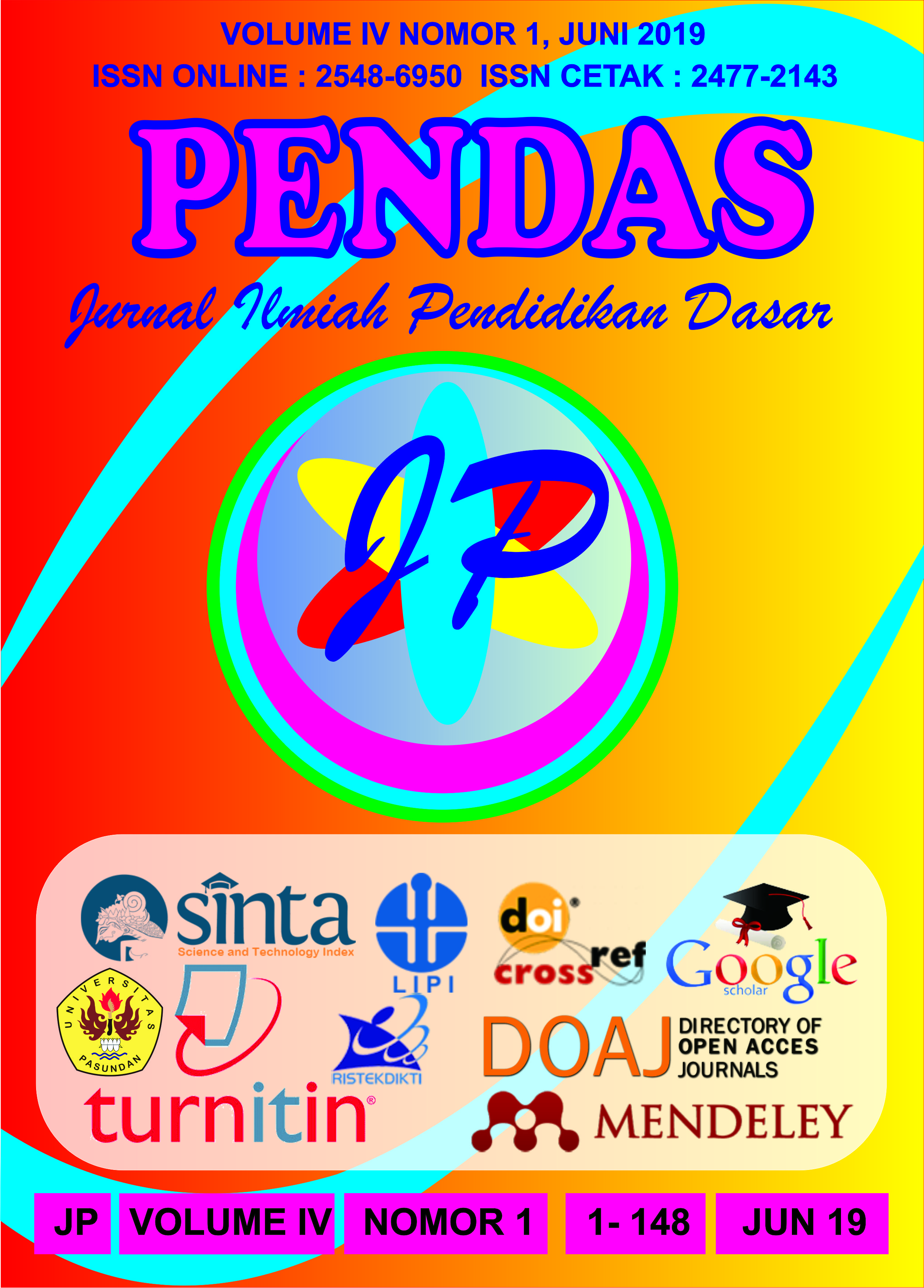 Downloads