UPAYA MENINGKATKAN KETERAMPILAN MEMBACA PEMAHAMAN MELALUI STRATEGI DIRECTED READING THINGKING ACTIVITY (DRTA) PADA SISWA KELAS V SDN GUDANGKOPI II KECAMATAN SUMEDANG UTARA KABUPATEN SUMEDANG TAHUN PELAJARAN 2015/2016
Anggi Citra Apriliana

STKIP Sebelas April Sumedang

Reka Putri Berlianti

STKIP Sebelas April Sumedang
Abstract
ABSTRACT
 
This research is motivated by low reading comprehension ability of grade V SDN Gudangkopi II. The purpose of this research is to know the process and result of reading comprehension skill by using Directed Reading Thinking Activity (DRTA) strategy. The method used is PTK. he research design used refers to the Kemmis and MC.Taggart models, which are spiral models that begin with: 1) planning; 2) the implementation of the action; 3) observation; 4) reflection. The subjects of the study were the students of class V SDN Gudang Kopi II which amounted to 16 people, consisting of 6 women and 10 men, Based on the results of research cycle I obtained data that students complete the study amounted to 5 students or reached 31.25%, in cycle II increased to 10 students or reached 75%, in the third cycle increased to 16 students or reached 100% that  exceed the value of KKM. Based on these results can be proven that the strategy of Directed Reading Thingking Activity (DRTA) can improve reading comprehension skills in grade V SDN Gudangkopi II.Keywords: Strategy of Directed Reading Thingking Activity (DRTA), reading comprehension.
 
ABSTRAK
Penelitian ini dilatarbelakangi oleh rendahnya kemampuan membaca pemahaman siswa kelas V SDN Gudangkopi II.Tujuan penelitian ini untuk mengetahuai proses dan hasil keteramptilan membaca pemahaman dengan menggunakan strategi Directed Reading Thinking Activity (DRTA). Metode yang digunakan yaitu PTK. Desain penelitian yang digunakan mengacu kepada model Kemmis dan MC.Taggart, yaitu model spiral yang dimulai dengan: 1) perencanaan; 2) pelaksanaan tindakan; 3) pengamatan; 4) refleksi. Subjek penelitian adalah siswa kelas V SDN Gudangkopi II yang berjumlah 16 orang, terdiri dari 6 orang perempuan dan 10 orang laki-laki. Berdasarkan hasil penelitian siklus I diperoleh data bahwa siwa yang tuntas belajar berjumlah 5 orang siswa atau nencapai 31,25%, pada siklus II meningkat menjadi 10 siswa atau mencapai 75%, pada siklus III menigkat menjadi 16 siswa atau mencapai 100% yang memenuhi atau melampaui nilai KKM. Berdasarkan hasill tersebut dapat dibuktikan bahwa strategi Directed Reading Thingking Activity (DRTA) dapat meningkatkan keterampilan membaca pemahaman pada siswa kelas V SDN Gudangkopi II.
 
Kata kunci: Strategi Directed Reading Thingking Activity (DRTA),membaca pemahaman.
Downloads
Download data is not yet available.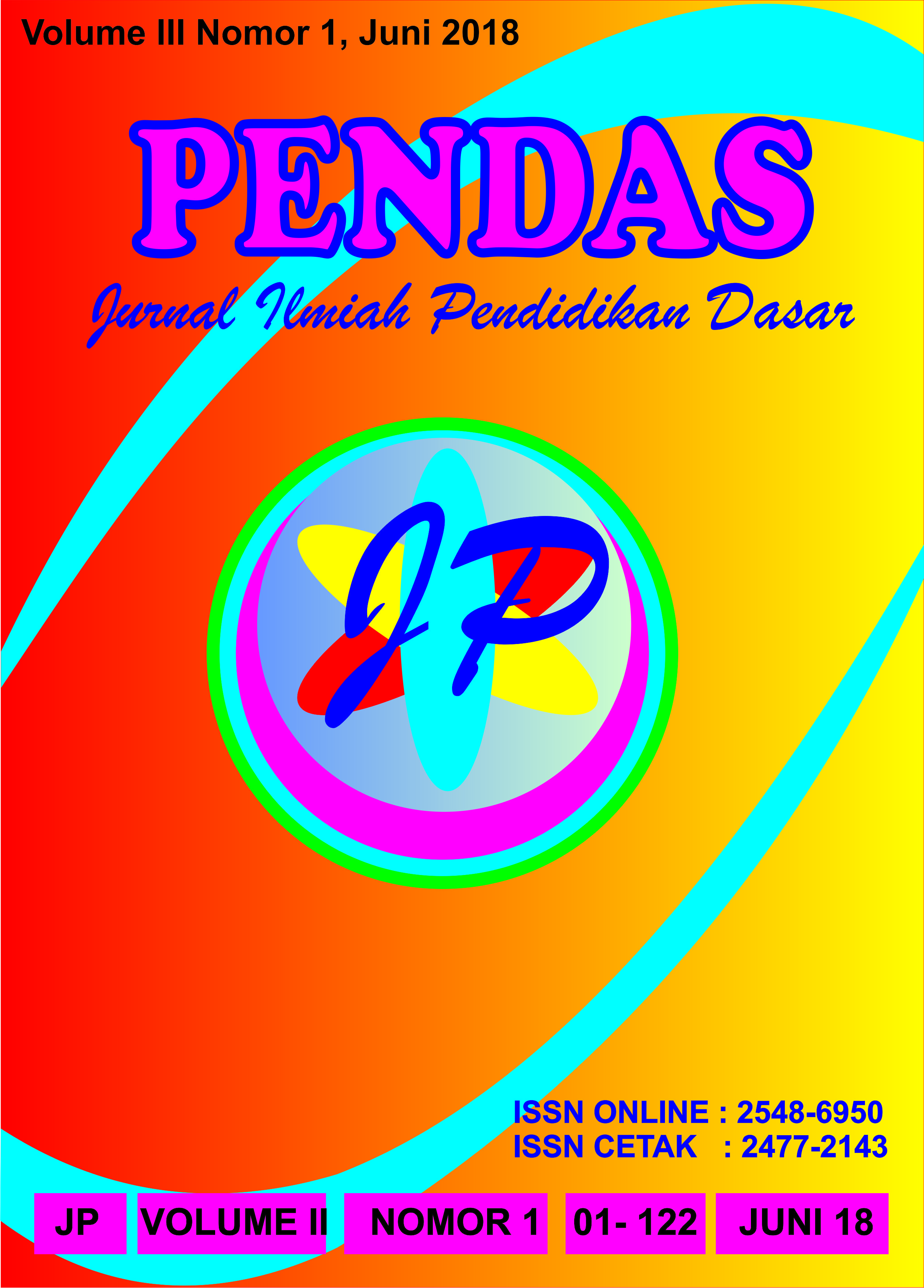 How to Cite
APRILIANA, Anggi Citra; BERLIANTI, Reka Putri. UPAYA MENINGKATKAN KETERAMPILAN MEMBACA PEMAHAMAN MELALUI STRATEGI DIRECTED READING THINGKING ACTIVITY (DRTA) PADA SISWA KELAS V SDN GUDANGKOPI II KECAMATAN SUMEDANG UTARA KABUPATEN SUMEDANG TAHUN PELAJARAN 2015/2016.
Pendas : Jurnal Ilmiah Pendidikan Dasar
, [S.l.], v. 3, n. 1, p. 69-83, july 2018. ISSN 2548-6950. Available at: <
https://journal.unpas.ac.id/index.php/pendas/article/view/1027
>. Date accessed: 23 jan. 2021. doi:
http://dx.doi.org/10.23969/jp.v3i1.1027
.
This work is licensed under a Creative Commons Attribution 4.0 International License.