DISKURSUS FEMINISME TRANSNASIONAL: PENGARUH INTERSEKSIONALITAS DALAM AGENDA KEAMANAN MANUSIA DI ASIA TENGGARA
Keywords:
Keywords: Transnational feminism, intersextionality, human security & South East Asia.
Abstract
The emergence of feminism after global political depolarization after September 11, 2001, has a strategic role in designing the security agenda of a sovereign country with the emergence of the intersexional paradigm. In Southeast Asia, the excitement of the securitization of the non-traditional security agenda sprang up among regional authorities. Unfortunately, the security depolarization agenda is not followed by gender analysis where the state still uses realism among patriarchal global political hierarchies and excludes women in the global political arena. In this paper, the author will analyze how intersexionality in the agenda of human security in Southeast Asia emphasizes the discourse of transnational feminism.
Downloads
Download data is not yet available.
References
Buku
Association of Southeast Asian Nations (2009). Roadmap for an ASEAN Community 2009-2015. Jakarta: ASEAN Secretariat.
Bakker, I. (ed.) (1994) The Strategic Silence: Gender and Economic Policy (London).
Buzan, Barry (1983). People, States and Fear: The National Security Problem in International Relations. Brighton, Sussex: Wheatsheaf Books.
Center for Women's Global Leadership (2001) A Women's Human Rights Approach to the World Conference Against Racism; at: www.cwgl.rutgers.edu/globalcenter/pol icy/gcpospaper.html
Enloe, C. (2007). Globalization and militarism: Feminists make the link. Lanham, MD: Rowman & Littlefield.
Grant, R. and Newland, K. (eds) (1991) Gender and International Relations (London).
Halliday, F. (1983) The Making of the Second Cold War (London). ———— (1988a) Three Concepts of Internationalism', International Affairs,
———— (1988b) Hidden from International Relations: Women and the International Arena, Millennium, 17(3).
Hill, C. J. (1999) 'Where are we Going? International Relations, the Voice from Below', Review of International Studies, 25(1).
J. Ann Tickner, Gendering World Politics, New York: Columbia University Press, 2001; Christine Sylvester, Feminist International Relations: An Unfinished Journey, Cambridge: Cambridge University Press, 2002.
Mahathir, cited in Mike Smith, Australia's National Security into the Twenty-First Century: Rethinking Strategic Direction (Canberra: ANU Strategic and Defence Studies Centre, 1997).
Moghadam,V. (2007). Peace building and reconstruction with women: Reflections on Afghanistan, Iraq, and Palestine. In V. Moghadam (Ed.), From patriarchy to empowerment: Women's participation, movements, and rights in the Middle East, North Africa, and South Asia Syracuse, NY: Syracuse University Press.
Newland, K. (1988) From Transnational Relationships to International Relations: Women in Development and the International Decade for Women, Millennium, 17(3).
Peters, J. and Wolper, A. (eds) (1995) Women's Rights/Human Rights: International Feminist Perspectives (New York).
Peter Stoett, (1999). Human and Global Security: An Exploration of Terms, Toronto: University of Toronto Press.
Piper, Nicola and Anders Uhlin, eds. (2004), Transnational Activism in Asia: Problems of Power and Democracy, London: Routledge.
Risse-Kappen, Thomas ed. (1995), Bringing Transnational Relations Back In: Non-State Actors, Domestic Structures and International Institutions. Cambridge: Cambridge University Press.
Sakiko Fukuda-Parr. (2003) The new threats to human security in the era of globalization,' in Lincoln Chen, Sakiko Fukuda-Parr and Ellen Seidensticker, Human Insecurity in a Global World, Global Equity Initiative, Cambridge, Massachusetts: Harvard University Press.
Steuernagel, G. A. (1990) Men do not do Housework! The Image of Women in Political Science, in M. Paludi and G.
Steuernagel (eds), Foundations for a Feminist Restructuring of the Academic Disciplines (New York).
Stienstra, D. (1994) Women's Movements and International Organizations (Toronto).
Tantiwiramanond, D. and Pandey, S. R. (1991), By Women, For Women: A Study of Women's Organizations in Thailand. Singapore: Institute of Southeast Asian Studies. Tarrow, Sidney, (2005). The New Transnational Activism, Cambridge: Cambridge University Press.
United Nations Development Programme (UNDP). (1994) Human Development Report 1994 – NewDimensions of Human Security, New York: Oxford University Press.
Wieringa, Saskia Eleonora, Ed, (1988) Women's Struggle and Strategies, Gower Publishing Company Limited.
Withaya Sucharithanarugse, The Concept of "Human Security" Extended: "Asianizing" the Paradigm', in Tow et al. (eds), Asia's Emerging Regional Order.
Statement by Surin Pitsuwan, Foreign Minister of Thailand, at the 55th Session of the UN General Assembly (19 September 2000).
Jurnal
Brah, Avtar and Ann Phoenix (2004) Ain't I a Woman? Revisiting Intersectionality, Journal of International Women's Studies 5(3): 75–86.
Brubaker, Rogers and Frederick Cooper (2000) Beyond Identity, Theory and Society 29(1): hlm. 34–67.
Crenshaw, Kimberlé (1989) 'Demarginalizing the Intersection of Race and Sex: A Black Feminist Critique of Antidiscrimination Doctrine, Feminist Theory and Antiracist Politics', University of Chicago Legal Forum 138–67.
Della Porta, Donatella and Sidney Tarrow. (2005). Introduction: Transnational Processes and Social Activism: An Introduction, in Transnational Protest and Global Activism, eds. Donatella Della Porta and Sidney Tarrow. Lanham: Rowman & Littlefield: 1- 17.
Garcia, D. (2015) Humanitarian security regimes. International Affairs, 91 (1): 55–75.
Greenwood, M. T., & Waever, O. (2013) Copenhagen-Cairo on a roundtrip: A security theory meets the revolution. Security Dialogue, 44 (5–6): 485–506.
Gillian Youngs (2004) Feminist international relations: a contradition in terms? Or: Why women and gender are essential to understanding the world we live in, International Affairs, 80, 1, hlm. 75–87.
Glasius, M. (2008) Human Security from Paradigm Shift to Operationalization: Job Description for a Human Security Worker. Security Dialogue, 39 (1): 31–54.
Kevane, Michael and David I Levine. (2003) Changing Status of Daughters in Indonesia," In Center for International and Development Economics Research. Center for International and Kishor, Sunita and Johnson, Kiersten. 2006. "Reproductive Health and Domestic Violence: Are the Poorest Women Uniquely Disadvantaged?" Demography, 43 (2), pp. 293- 307
Loh, Francis K.W. (2005). National Security, the Police and the Rule of Law: Militarisation by Other Means. Asian Exchange, (Special issue on Militarising State, Society and Culture in Asia: Critical Perspectives), 20 (2) & 21 (1): hlm.179-208.---------. 2004, "Les ONG et les mouvements sociaux en Asie du Sud-Est." Mondialisation desrésistances : l'état des luttes 2004, ed. Laurent Delcourt, Bernard Duferme, and François Polet. Paris, Éditions Syllepse : hlm. 41-55.
Siegmann, Kartin A. (2006) Globalisation, Gender, and Equity - Effects of Foreign Direct Investment on Labour Markets in Rural Indonesia. Journal of Economics, 3(1), pp. 113 - 30.
Sobritchea, Carolyn I. (2004) Women's Movement in the Philippines and the Politics of Critical Collaboration with the State, In Civil Society in Southeast Asia, ed. L. H. Guan, 101 – 21. Singapore: Institute of Southeast Asian Studies.
Wolfers, A. (1962). The actors in international politics. Discord and Collaboration: Essays on International Politics, 3–24.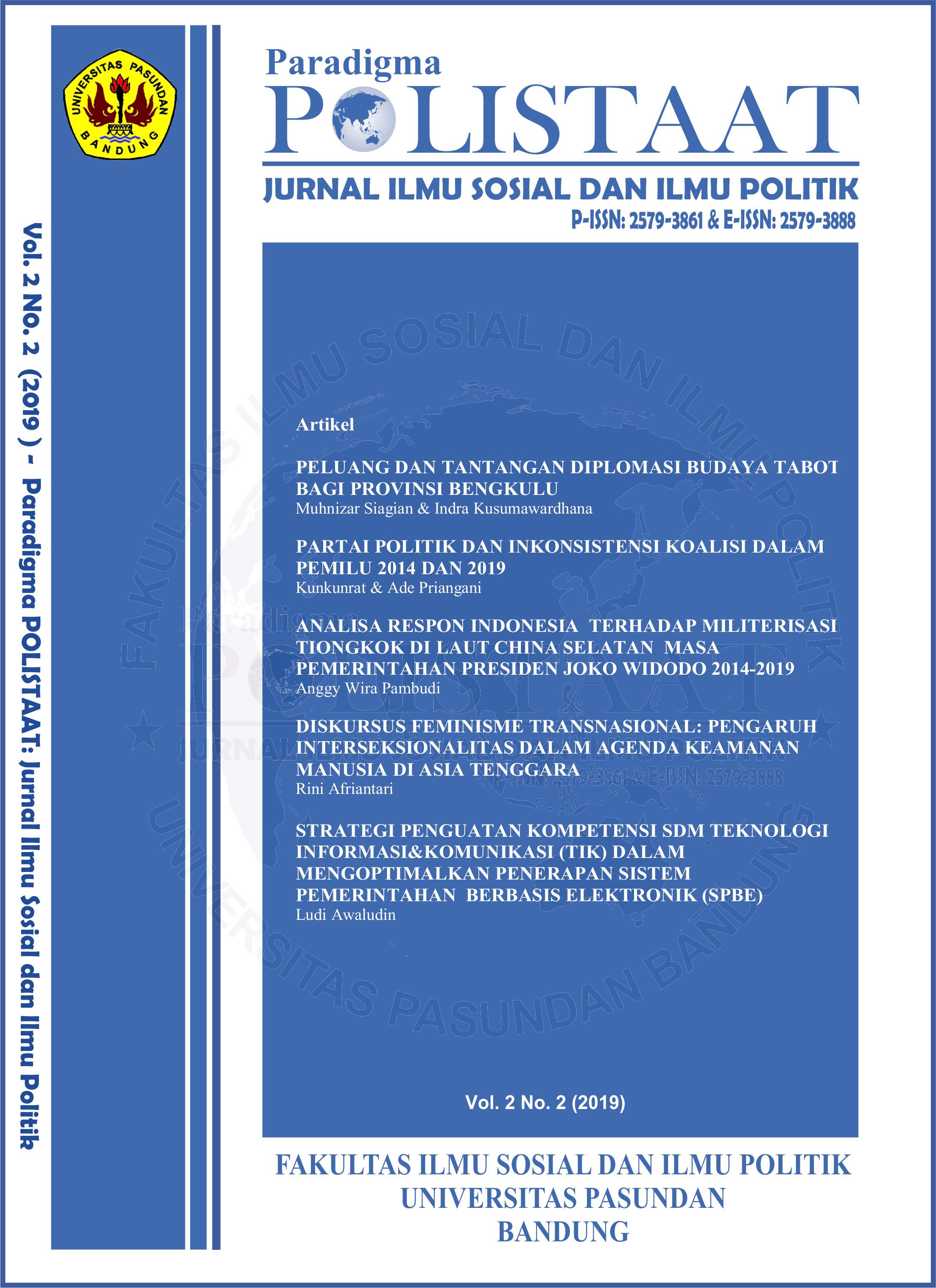 Downloads