EFEKTIVITAS MEDIA WORDWALL UNTUK MENINGKATKAN HASIL BELAJAR EKONOMI SISWA MAN 1 LAMONGAN
Sakinata Maulidina Minarta

Universitas Negeri Surabaya

Heni Purwa Pamungkas
Abstract
This study aims to analyse the effect of Wordwall learning media in increase economics learning outcomes for students in class XI IPS 1 MAN 1 Lamongan. The subjects of this study were 24 students of class XI IPS 1 MAN 1 Lamongan. This research was an experimental study with one-group pre-test post-test design.The analytical technique used reliability test, normality test, homogenity test, N-Gain test, and also Wilcoxon test. Based on the results of the Wilcoxon test analysis on the pre-test and post-test data of the experimental group showed a sig (2-tailed) value of 0.001 < 0, 05, which means that there is a significant difference between before and after treatment. It can be concluded that Wordwall learning media (X) has a significant effect on student learning outcomes of XI IPS 1MAN 1 Lamongan (Y).
Keywords: innovative learning media, Wordwall application, learning outcomes.
 
Penelitian ini bertujuan untuk menganalisis pengaruh media pembelajaran Wordwall dalam meningkatkan hasil belajar ekonomi pada siswa kelas XI IPS 1 MAN 1 Lamongan. Subjek penelitian ini adalah 24 siswa kelas XI IPS 1 MAN 1 Lamongan. Penelitian ini merupakan penelitian eksperimen dengan desain one group pre-test post-test design. Teknik analisis yang digunakan adalah uji reliabilitas, uji normalitas, uji homogenitas, uji N-Gain, dan juga uji Wilcoxon. Berdasarkan hasil analisis uji Wilcoxon pada data pre-test dan post-test kelompok eksperimen menunjukkan nilai sig (2-tailed) sebesar 0,001 < 0,05 yang berarti terdapat perbedaan yang signifikan antara sebelum dan setelah perlakuan. Dapat disimpulkan bahwa media pembelajaran Wordwall (X) berpengaruh signifikan terhadap hasil belajar siswa kelas XI IPS 1 MAN 1 Lamongan (Y).
Kata kunci: media pembelajaran inovatif, aplikasi Wordwall, hasil belajar.
Downloads
Download data is not yet available.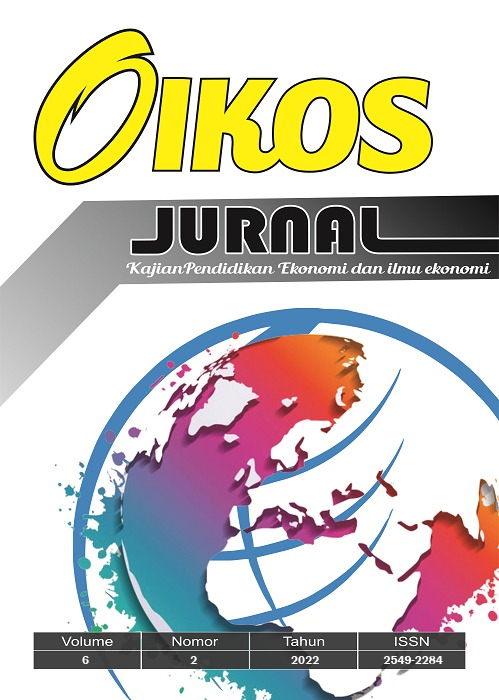 This work is licensed under a Creative Commons Attribution 4.0 International License.