Pengembangan Media Pembelajaran Permainan Truth and Dare Pada Mata Pelajaran Akuntansi Dasar Kelas X Akuntansi Di SMK Negeri 1 Sambeng Lamongan
Andi Permana

Universitas Negeri Surabaya

Rochmawati Rochmawati
Abstract
AbstrakPenelitian ini bertujuan untuk mengembangkan media pembelajaran permainan truth and dare dengan subyek penelitian adalah siswa kelas X kompetensi keahlian akuntansi pada mata pelajaran akuntansi dasar sub pokok bahasan siklus akuntansi dan penjurnalan. Pengembangan penelitian ini mengadopsi model 4D dari Thiagarajan, yaitu pendefinisian, perancangan, pengembangan, dan penyebaran. Hasil validasi dan telaah penelitian ini menunjukkan kelayakan media sebesar 96% dan kelayakan materi memperoleh rata-rata sebesar 91% dengan kriteria sangat layak. Kata Kunci: Media pembelajaran, Permainan truth and dare, Akuntansi dasarAbstractThe research is aimed to develop media truth and dare game as for the subjects of the study were the students of X Grade from accounting competency departement on topic of basic accounting of the accounting and journalizing cycle. This study adopted Thiagarajan 4D model consist of define, design, develop, and dissamenate. The result of the validation and study of this study indicate the feasibility of the media 96% and the feasibility of the material to get an average of 91% with very decent criteria.
Downloads
Download data is not yet available.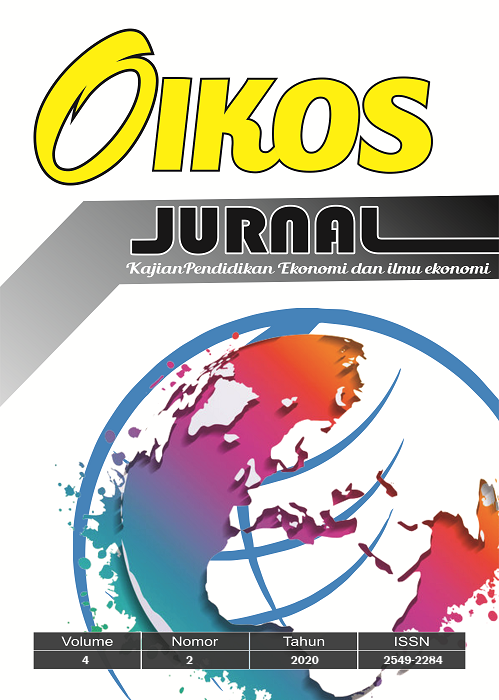 This work is licensed under a Creative Commons Attribution 4.0 International License.