DESIGN OF CENTRALIZED WASTEWATER SEWERAGE SYSTEM IN SMALL LENGKANG ISLAND, BATAM CITY, INDONESIA
Keywords:
sewerage system, small island, wastewater
Abstract
One of the small islands within the Indonesia-Singapore border is Lengkang Island. Wastewater collection infrastructure services on Lengkang Island need to be assessed to improve Sustainable Development Goals (SDGs), where access to wastewater services must reach 100%. The purpose of this study is to determine the existing conditions of wastewater management and to plan a centralized wastewater sewerage system on Lengkang Island involving the community. The existing condition shows that all residents channel wastewater into the sea. Only a few houses have toilets, semi-permanent houses on land. Non-permanent houses built on the sea do not have latrines, where stools are dumped directly into the sea. Tripikon-S is one way to overcome the problem of impermanent homes that do not have latrines. Latrine does not provide a solution to the effects of eutropication. Centralized wastewater collection system and wastewater treatment is one way to overcome this. The results of the planning of wastewater collection systems using PVC pipes mentioned the pipe diameter between 32 mm - 60 mm, with a speed of 0.3 m/sec -1.31 m/sec. With this centralized wastewater sewerage system infrastructure, community participation is expected to increase environmentally friendly development.
Downloads
Download data is not yet available.
References
Agustinus, Y., Pratomo, A., dan Apdillah, D. (2013). Struktur Komunitas Makrozoobentos sebagai Indikator Kualitas Perairan di Pulau Lengkang Kecamatan Belakang Padang Kota Batam Provinsi Kepulauan Riau. Kepulauan Riau: Universitas Maritim Raja Ali Haji (UMRAH).
Ginting, A. M. (2016). Kendala Pembangunan Provinsi Daerah Kepulauan: Studi Kasus Provinsi Kepulauan Riau. Jurnal Politica Dinamika Masalah Politik Dalam Negeri dan Hubungan Internasional, 4(1), 49-75.
Harindi, F., dan Kamil, I. M. (2010). Application of Small-Bore Sewer System in Kecamatan Jatinangor, Kabupaten Sumedang. Faculty of Civil and Environment Engineering ITB.
Hidayah, E. N., Djalalembah, A., Asmar, G. A., dan Cahyonugroho, O. H. (2018). Pengaruh Aerasi Dalam Constructed Wetland Pada Pengolahan Air Limbah Domestik. Jurnal Ilmu Lingkungan, 16(2), 155-161.
Ikemi, M. (2017). Sanitation and income improvement by local community as sustainable participatory development. In IOP Conference Series: Earth and Environmental Science (Vol. 60, No. 1, p. 012034). IOP Publishing.
Kusumaningayu, D. A., Putri, D. W., dan Soewondo, P. (2015). The Removal of Organic Substance Using the Modified Tripikon S for The Usage in Coastal and The Swamp Areas. The Third Joint Seminar of Japan and Indonesia Environmental Sustainability and Disaster Prevention (3rdESDP-2015), 255-266.
Lalasati, N. A., dan Hadi, M. P. (2019). The characteristics of fecal disposal system in Penyengat Island, Kepulauan Riau. IOP Conference Series: Earth and Environmental Science, 314, 012014.
Marlisa, D. F., Putri, D. W., dan Soewondo, P. (2015). Modification of Tripikon-S with Bioball Addition in Artificial Black Water Treatment for Swamp and Coastal Areas. The Third Joint Seminar of Japan and Indonesia Environmental Sustainability and Disaster Prevention, 231-241.
Noor, R. T., dan Soewondo, P. (2018). Selection of Alternative Domestic Wastewater Treatment Technology with Using Life Cycle Assessment (LCA) Approach: Case Study Settlement Area of Riverbank Karang Mumus of Samarinda City, East Kalimantan. Indonesian Journal of Urban and Environmental Technology, 1(2), 164-184.
Otis, R. J., dan Mara, D. D. (1985). The design of small-bore sewer systems. Washington DC: World Bank.
Peraturan Menteri Pekerjaan Umum dan Perumahan Rakyat No. 04/2017 tentang Implementasi Sistem Manajemen Air Limbah Domestik
Qasim, S., 1994. Wastewater Treatment Plants: Planning, Design and Operation.Technomic Publishing Co., Lancaster, Pennsylvania.
Suprihatin, H. (2014). Penurunan Konsentrasi BOD Limbah Domestik Menggunakan Sistem Wetland dengan Tanaman Hias Bintang Air (Cyperus alternifolius). Dinamika Lingkungan Indonesia, 1(2), 80-87.
Suryawan, I. (2018). Fitoremidiasi COD, fosfat, dan ammonia air limbah domestik bersalinitas dengan eceng gondok (Eichhornia crassipes). Jurnal Riset Kajian Teknologi Dan Lingkungan, 1(2), 95-100.
Suryawan, I. W. K., dan Sofiyah, E. S. (2020). Cultivation of Chlorella Sp. and Algae Mix for NH3-N and PO4-P Domestic Wastewater Removal. Civil and Environmental Science Journal, 3(1).
Suryawan, I. W., Helmy, Q., dan Notodarmojo, S. (2020). Laboratory scale ozone-based post-treatment from textile wastewater treatment plant effluent for water reuse. Journal of Physics: Conference Series, 1456, 012002.
Suryawan, I., Siregar, M. J., Prajati, G., dan Afifah, A. S. (2019a). Integrated ozone and anoxic-aerobic activated sludge reactor for endek (Balinese textile) wastewater treatment. Journal of Ecological Engineering, 20(7).
Suryawan, I. W., Prajati, G., Afifah, A. S., Apritama, M. R., dan Adicita, Y. (2019b). Continuous Piggery Wastewater Treatment with Anaerobic Baffled Reactor (ABR) By Bio-Activator Effective Microorganisms (EM4). Indonesian Journal of Urban and Environmental Technology, 3(1), 1-12.
Undang-Undang Nomor 27 Tahun 2007 tentang Pengelolaan Wilayah Pesisir dan Pulau-Pulau Kecil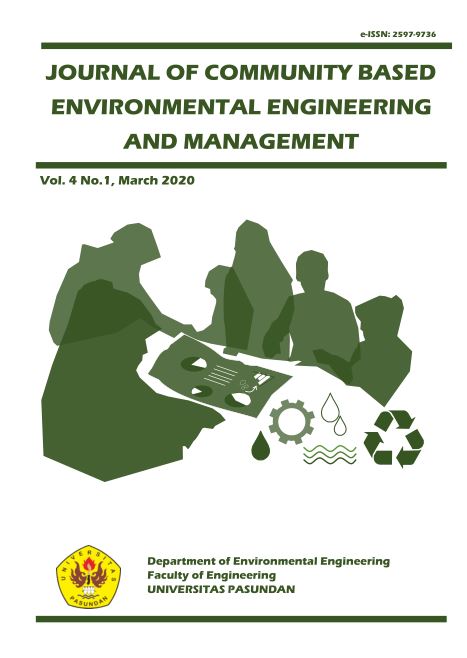 Downloads