THE INNOVATIVE ROLE OF DIGITALIZATION MOTIVATES SMES MAINTAIN PRODUCTS BASED ON LOCAL CULTURE
(Research on Songket Woven Fabric SMEs in Sidemen Village, Klungkung District, Karangasem Regency, Bali Province)
Keywords:
product differentiation, innovation, CRM, customer value, SMEs
Abstract
Bali has a variety of customs, cultures that are different from other regions, traditional characteristics are expressed in a songket cloth which is full of meaning and contains a very deep meaning. The work of each region has its own style and variety, where the songket cloth from Sidemen Village has unique characteristics, especially the appearance of motifs and colors, so that they are used as the advantages of regional products. This study purposes to increase competitiveness through digitalization which motivates SMEs to maintain their local culture through product differentiation, innovation, customer relationship management and customer value based on local wisdom. Samples were taken from 150 SMEs of songket cloth using the sampling method and analyzed by SEM (Structural Equation Modeling) model. The results of the study conclude that product differentiation and innovation have an influence on customer value through customer relationship management. Suggestions are proposed that the maximum value for customers by developing continuous innovation without losing the characteristics of Bali with all its creativity in building a positive image, so that it can contribute to business continuity, especially SMEs.
Downloads
Download data is not yet available.
References
Alfiatur Rohmaniyah & Tatiek Nurhayati, 2017. Peningkatan Kreativitas Pemasaran Kualitas Networking Berbasis Orientasi Pasar Terhadap Kinerja Pemasaran (Studi Kasus pada CV. Mubarokfood Cipta Delicia Kudus). EKOBIS, Vol. 18, No. 2, Juli 2017
Ambar, Teguh Sulistiyani dan Rosidah, Manajemen Sumber Daya Manusia, (Yogyakarta : Graha Ilmu). 2009.
Barker, C., Robert, E., Pistrang, N. (2016). Research methods in clinical psychology an introduction for students and practitioners. Wiley-Blackwell , USA
Cooper, D. R, & Schindler, P. S. (2006). Business Research Methods.(9th ed.). International edition. Mc Graw Hill.
Cravens, W. David. and Piercy, F. Nigel. 2009. Strategic Marketing (9th edition). Singapore: McGraw Hill/Irwin.
Ernani Hadiyati (2012) "Kreativitas dan Inovasi berpengaruh terhadap Pemasaran kewirausahaan pada Usaha Kecil" Jurnal Inovasi dan Kewirausahaan, Volume 1 No 3 September 2012, hal. 135 – 151
Eggert, A., W. Ulaga, and F. Schultz (2006). Value Creation in the Relationship Life Cycle: A quasi-longitudinal analysis. Industrial Marketing Management 35: 20–27.
Dwiyono. 2006. "Studi Mengenai Inovasi Produk dan Kinerja Pemasaran (Studi Empiris pada Industri Mebel Ekspor Skala Sedang dan Besar di Jepara)". Jurnal Sains Pemasaran Indonesia. Vol.V No.3. p.269 - 286.
Griffin, Jill, (2009), "Taming the search-and-Swith Customer: Earning Customer Loyalty in a Compulsion-to-Compare World", John Wiley and Sons.
Hadiyati, E. (2011). Kreativitas Dan Inovasi Berpengaruh Terhadap Kewirausahaan Usaha Kecil, Jurnal Manajemen dan Kewirausahaan, 13 (1) : 8-16
Ida Tri Mulyani, Mudiantono, (2015) " Upaya meningkatkan kiner pemasaran melalui orientasi pasar dan orientasi kewirausahaan dengan inovasi sebagai variable intervening (Studi empiris pada Usaha Mikro Kecil dan Menengah di kota semarang), Dipenogoro Journal of Management, Volume 4 No. 3 Thn 2015, hal 12
Joseph F. Hair, Jr., William C. Black, Barry J.Babin, Rolph E. Anderson, Ronald L.Tatham, 2006. Multivariate Data Analysis. (sixth edition), Pearson Prentice Hall Education International.
Kaplan, R.M and Saccuzo, D.P. 2005. Psychological Testing, Principles, Aplications. And Issues. (6th ed.). Thomson Wadsworth, Belmont USA.
Kotler & Keller, (2019)."A Framework for Marketing Management", Prentic Hall International Inc: New Jersey.
Mudiantono, Khamidah Nur, 2005, Analisis Pengaruh Faktor Lingkungan Terhadap Inovasi Produk dan Kreativitas Strategi Pemasaran Dalam Meningkatkan Kinerja Pemasaran (Studi Pada Perusahaan Kerajinan Keramik di Sentra Kasongan Kabupaten Bantul Yogyakarta), Jurnal Bisnis dan Ekonomi Vol. 12 No. 1
Mudiantono & Bambang Agus Purnomo (2005), Analisis Pengaruh Segmentasi Pasar, Periklanan, Ekuitas Merek, dan Keunggulan Kompetitif Terhadap Kinerja Pemasaran, Jurnal Sains Pemasaran Indonesia, Vol.IV, No.2, 173-192.
Muslikh. (2014). Upaya Mengembangkan Kreativitas Untuk Meningkatkan Daya Saing Dan Kinerja Bisnis UMKM.Jurnal Manajemen Bisnis, 1 (2)
Nana Sujana, (2004), "Tuntutan Penyusunan Karya Ilmiah (Makalah, Skipsi, Tesis, dan Disertasi)", Bandung: Sinar Baru Algresindo
Nur Amin Jauhariyah & Nurul Inayah, 2016. "Analisis Sektor Ekonomi Unggulan di Kabupaten Banyuwangi". Malia, Volume 8 No. 1, Desember 2016
Prakosa, Bagas dan Ghozali Imam, 2005, Pengaruh Orientasi Pasar, Inovasi dan Orientasi Pembelajaran Terhadap Kinerja Perusahaan Untuk Mencapai Keunggulan Bersaing (Studi Empiris Pada Industri Manufaktur di Semarang), Jurnal Ekonomi dan Bisnis, Vol. 6 No. 2 hal.181-198
Rex B. Kline. 2011 "Principles and Practice of Structural Equation Modeling" (3rd edition), Guilford Press, Spring Street, New York.
Sri Porwani, 2016 "Kreativitas dan Inovasi wirausaha terhadap kualitas produk Big Art Project Palembang", Jurnal Adminika, Vol 2, No. 2, Juli – Desember 2016 ISSN 2442 – 3343.
Sulistiyani. (2013). Pengaruh Orientasi Pasar Dan Kreativitas Program Pemasaran Serta Pengaruhnya Terhadap Kinerja Usaha Kecil Dan Menengah di Kota Semarang, Proceding Seminar Nasional dan Call for papers Sancall, ISBN:978-979-636-147-2.
Sukma Bakti & Harniza Harun, 2011. "Pengaruh Orientasi Pasar dan Nilai Pelanggan Terhadap Kinerja Pemasaran Maskapai Penerbangan Lion Air". Jurnal Manajemen Pemasaran Modern, Vol 3 No. 1 Januari – Juni 2011
Tjiptono, Fandy. 2008. Pemasaran Strategik. Yogyakarta : Andi Offset
Wang, Y. dan Hui, F. (2012). Customer Relationship Mangement Capabilities : Measurement, Antecedents And Consequences. Management Decision, 50 (1)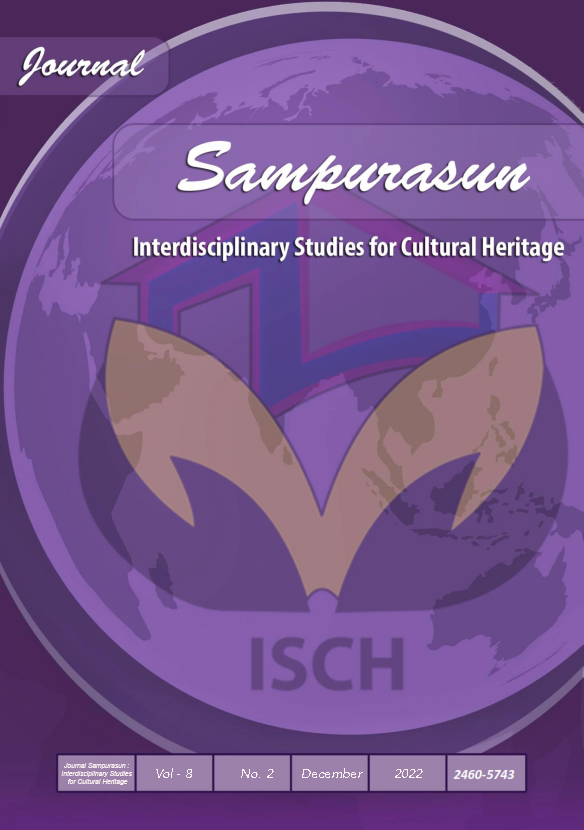 Downloads
License
Copyright (c) 2022 Journal Sampurasun : Interdisciplinary Studies for Cultural Heritage
This work is licensed under a Creative Commons Attribution 4.0 International License.
Copyright Notice
Authors should not withdraw their submitted papers because the withdrawal wastes voluntary works devoted by an associate editor and reviewers. But, we accept the withdrawal of a submitted paper if authors have unavoidable reasons. In the event that a manuscript is to be withdrawn from submission to Sampurasun Journal, a letter must be sent to the editorial office requesting withdrawal by e-mail (sampurasunjournal@unpas.ac.id) with its scanned PDF file, before the notification of acceptance for publication.
The withdraw request letter must include the following information. Paper ID, Paper title, Authors names, Reason why the paper must be withdrawn, and Date and signatures of all the authors (or signature of the contact author).
If only the contact author signs the letter, he/she must obtain the agreement of the withdrawal from all the other authors and the letter must include the description that all the other authors agreed the withdrawal. The journal will not withdraw a manuscript from peer review until such a letter has been received. Authors must not assume their manuscript has been withdrawn until they have received appropriate notification from the editorial office. Withdrawal of a manuscript subsequent to acceptance for publication will only be granted in the most exceptional of circumstances.
After the paper is accepted for publication, the withdrawal is not permitted in principle. The authors must always pay the charge even if the withdrawal is permitted. Any request of withdrawal that does not follow the above procedure is treated as invalid. If illegal submission, e.g., plagiarized or duplicate submission, is found for a paper, the withdrawal of the paper will never be permitted and the authors will be punished based on the rule. It is not acceptable practice to withdraw a manuscript in the event of acceptance at another journal. This constitutes dual submission. The editorial office of the other journal will be notified of your actions. In such circumstances Sampurasun ISCH may chose to impose appropriate punitive action subject.
Withdrawal Penalty
Author is not allowed to withdraw submitted manuscripts, because the withdrawal is waste of valuable resources that editors and referees spent a great deal of time processing submitted manuscript, money and works invested by the publisher. If author still requests withdrawal of his/her manuscript when the manuscript is still in the peer-reviewing process, author will be punished with paying $200 per manuscript, as withdrawal penalty to the publisher. However, it is unethical to withdraw a submitted manuscript from one journal if accepted by another journal. The withdrawal of manuscript after the manuscript is accepted for publication, author will be punished by paying US$500 per manuscript. Withdrawal of manuscript is only allowed after withdrawal penalty has been fully paid to the Publisher. If author don't agree to pay the penalty, the author and his/her affiliation will be blacklisted for publication in this journal. Even, his/her previously published articles will be removed from our online system.