THE PERSPECTIVE OF LANGUAGE CULTURE IN THE DOMINATION OF THE THEME OF THE NATIONAL SONG "BAGIMU NEGERI"
Keywords:
language culture, systemic-functional linguistics, theme-rheme approach, Indonesia national song, Bagimu Negeri
Abstract
This research aims to find the structure of theme and rheme in the lyric text of the Indonesian national song "Bagimu Negeri (For You (my) Country)" as a data source. People in Indonesia have good meaning in the lyrics of the song "Bagimu Negeri (For You (my) Country)," which has the potential to provide a positive impetus for independent learning for language culture in the current 5.0 era. The research method used is descriptive qualitative with data collection from sentences, clauses, stanzas, and even words by documenting with listening, tapping, and note-taking techniques. The data collected are analyzed in terms of theme-rheme, with details into topical, textual, and interpersonal themes. Topical themes are divided into 2 themes, namely marked and unmarked topical themes. The results of the discussion analysis show one dominant theme in the lyrics of the Indonesian national song "Bagimu Negeri (For You (my) Country)." The results show that the lyrics of the Indonesian national anthem entitled "Bagimu Negeri (For You (my) Country)" are dominated by an unmarked topical theme, and there is no interpersonal theme found. The unmarked topical theme always has a position as the subject. There are also several stanzas of the lyrics of the Indonesian national song "Bagimu Negeri (For You (my) Country)," which have no rheme. From the perspective of language culture are; 1) bringing focus on loyalty for this country (Indonesia) by repeating a stanza "for you (my) country); 2) inviting everyone who sings this national song to give extraordinary loyalty to this country (Indonesia) by using "we" as the only subject that has rheme. 
Downloads
Download data is not yet available.
References
Agustiani, Anggria Widiasti. (2019). Analisis Struktur Tema dan Rema Modalitas No Da dalam Percakapan Bahasa Jepang. Tesis. Bandung: Program Pascasarjana Universitas Pendidikan Indonesia.
Badan Pengembangan dan Pembinaan Bahasa, Kementerian Pendidikan, Kebudayaan, Riset, dan Teknologi Republik Indonesia. 2016. Kamus Besar Bahasa Indonesia. <https://kbbi.kemdikbud.go.id/>. Accessed on 01 October 2022.
Emzir. (2011). Analisis Data. Jakarta: Raja Grafindo Persada.
Faradi, Abdul Azis. (2015). Kajian Modalitas Linguistik Fungsional Sistemik pada Teks Debat Capres-Cawapres pada Pilpres 2014-2019 dan Relevansinya dengan Pembelajaran Wacana di Sekolah. RETORIKA: Jurnal Ilmu Bahasa, Vol. 1, No.2 Oktober 2015, 233-249.
Halliday, M.A.K. (2000) An Introduction to Functional Grammar. Foreign Language Teaching and Research Press, Beijing.
Halliday, M. A. K., & Matthiessen, C. (2014). Halliday's Introduction to Functional Grammar (4th ed.). Oxon: Routledge.
Mahsun. (2014). Metode Penelitian Bahasa Tahapan Strategi Metode, dan Tekniknya. Jakarta: PT. Rajagrafindo Persada.
Matthiessen, Christian M.I.M. (1995). THEME as an enabling resource in ideational "knowledge" construction. Mohsen Ghadessy (ed.), Thematic developments in English texts. London & New York: Pinter. 20-55.
Miles, Mattew B., and Huberman, A. Michael. (1994). Qualitative Data Analysis: An Expanded Sourcebook. California: Sage Publication Inc.
Mujianto. (1996). Implementasi Tatabahasa Sistemik Halliday dalam Analisis Struktur Kalimat Bahasa Indonesia. Malang: Fakultas Sastra Universitas Negeri Malang.
Nugraha, A. Danang Satria. (2017). Struktur Tema Rema dalam Teks Abstrak Bahasa Indonesia. Sirok Bastra Jurnal Ilmiah Kebahasaan dan Kesastraan Volume 5 Nomor 1 Bulan Juni 2017.
Saragih, Amri. (2007). Fungsi Tekstual dalam Wacana-Panduan Menulis Rema dan Tema. Medan: Balai Bahasa Medan.
Sugiyono. (2014). Metode Penelitian Kuantitatif, Kualitatif dan R & D. Bandung: Alfabeta.
Syartanti, Nadya Inda, dkk. (2020). "Penggunaan Struktur Tema dan Rema dalam Cerita Rakyat Bali Pan Belog: Kajian Linguistik Sistemik Fungsional". Prosiding Seminar Nasional Linguistik dan Sastra (SEMANTIKS) 2020 ISBN: 978-623-94874-0-9 "Dokumentasi Bahasa dan Kebijakan Bahasa" https://jurnal.uns.ac.id/prosidingsemantiks.
Tomasowa, F.H. (1994). Analisis Klausa Bahasa Indonesia: Pendekatan Sistemik M.A.K. Halliday, dalam PELLBA 7: Pertemuan Linguistik Lembaga Bahasa Atma Jaya. Yogyakarta: Kanisius.
Usman, Hakim. (2015). Pidato Bupati Lombok Barat atas Rekomendasi Pansus LKPJ DPRD dan Relevansinya dengan Pembelajaran Wacana di Sekolah: Kajian Linguistik Fungsional Sistemik. Litera Jurnal Bahasa dan Sastra, Vol. 1 No. 2. Juli 2015, 159173.
Wiratno, Tri. (2018). Pengantar Ringkas Lingusitik Sistemik Fungsional. Yogyakarta: Pustaka Pelajar.
Wulansari, Atsani. (2016). Analisis Wacana 'What's Up with Monas?' dengan Pendekatan Linguistik Sistemik Fungsional. Transformatika, Volume 12, Nomor 2, September 2016, 29-45.
Yuwana, Rawuh Yuda. (2019). Strategi Penciptaan Materi Humor: Analisis Transitivitas. LEKSEMA: Jurnal Bahasa Dan Sastra, 4(1), 1. https://doi.org/10.22515/ljbs.v4i1.1478.
Yuwana, R. Y., Santosa, R., & Sumarlam, S. (2019). Flexibility of Language Experience in Indonesian Humor Culture (Systemic Functional Grammar). Lingua, 15(2), 115-124.
Mutiarasari, Kanya Anindita. (2022, 01 August). detikNews: Sejarah Lagu Bagimu Negeri dan Sosok Penciptanya. Accessed on 01 October 2022, from https://news.detik.com/berita/d-6210239/sejarah-lagu-bagimu-negeri-dan-sosok-penciptanya.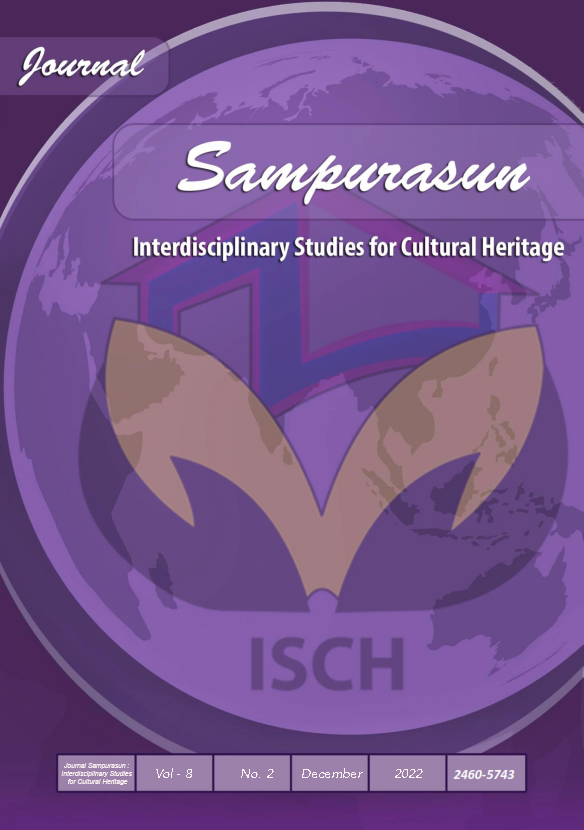 Downloads
License
Copyright (c) 2022 Journal Sampurasun : Interdisciplinary Studies for Cultural Heritage
This work is licensed under a Creative Commons Attribution 4.0 International License.
Copyright Notice
Authors should not withdraw their submitted papers because the withdrawal wastes voluntary works devoted by an associate editor and reviewers. But, we accept the withdrawal of a submitted paper if authors have unavoidable reasons. In the event that a manuscript is to be withdrawn from submission to Sampurasun Journal, a letter must be sent to the editorial office requesting withdrawal by e-mail (sampurasunjournal@unpas.ac.id) with its scanned PDF file, before the notification of acceptance for publication.
The withdraw request letter must include the following information. Paper ID, Paper title, Authors names, Reason why the paper must be withdrawn, and Date and signatures of all the authors (or signature of the contact author).
If only the contact author signs the letter, he/she must obtain the agreement of the withdrawal from all the other authors and the letter must include the description that all the other authors agreed the withdrawal. The journal will not withdraw a manuscript from peer review until such a letter has been received. Authors must not assume their manuscript has been withdrawn until they have received appropriate notification from the editorial office. Withdrawal of a manuscript subsequent to acceptance for publication will only be granted in the most exceptional of circumstances.
After the paper is accepted for publication, the withdrawal is not permitted in principle. The authors must always pay the charge even if the withdrawal is permitted. Any request of withdrawal that does not follow the above procedure is treated as invalid. If illegal submission, e.g., plagiarized or duplicate submission, is found for a paper, the withdrawal of the paper will never be permitted and the authors will be punished based on the rule. It is not acceptable practice to withdraw a manuscript in the event of acceptance at another journal. This constitutes dual submission. The editorial office of the other journal will be notified of your actions. In such circumstances Sampurasun ISCH may chose to impose appropriate punitive action subject.
Withdrawal Penalty
Author is not allowed to withdraw submitted manuscripts, because the withdrawal is waste of valuable resources that editors and referees spent a great deal of time processing submitted manuscript, money and works invested by the publisher. If author still requests withdrawal of his/her manuscript when the manuscript is still in the peer-reviewing process, author will be punished with paying $200 per manuscript, as withdrawal penalty to the publisher. However, it is unethical to withdraw a submitted manuscript from one journal if accepted by another journal. The withdrawal of manuscript after the manuscript is accepted for publication, author will be punished by paying US$500 per manuscript. Withdrawal of manuscript is only allowed after withdrawal penalty has been fully paid to the Publisher. If author don't agree to pay the penalty, the author and his/her affiliation will be blacklisted for publication in this journal. Even, his/her previously published articles will be removed from our online system.