SANITATION IN DANGEROUS FLOOD HAZARDS, HOW TO OVER COME IT?
STUDY IN BALEENDAH DISTRICT, BANDUNG REGENCY
Keywords:
sanitation, flood hazards, sanitation overcome directives
Abstract
Baleendah District is a flood-prone area. Become a problem when the adaptive community to stay, and low sanitation services in the region. This research aims to formulate direction of sanitation handling in Banjir Sub-District of Baleendah District. The method used in this research is qualitative and quantitative research method by formulating factors and sub-factors that influence the level of sanitation risk and assessment of sanitation condition in facing flood disaster by paying attention to related policy. The result of this research is to know the direction of sanitation handling in flood disaster area based on analysis result of sanitation condition and sanitation risk level analysis. Handling directions are shared technical and non technical during normal and flooded conditions. Technical referrals use 3 planning models. First spatial planning model, sanitation handling with related policy approaches. Both models of wastewater infrastructure management plan, using local system management so that the problems of septic tank deficiency can be fulfilled. Provision of self-supporting latrines and emergency latrines to cope with the lack of latrines when the floods take place. The three models of household waste management planning with a sustainable approach to waste management with a centralized off-site system from collection to final processing. Provision of flood-resistant waste infrastructure. Non-technical guidance in the form of strengthening community capacity in Clean and Healthy Lifestyles (PHBS) in the form of education, training, strengthening public awareness of the use of sanitation in all conditions, thus minimizing the impact of both behavior patterns and problems of availability of sanitation infrastructure.
Downloads
Download data is not yet available.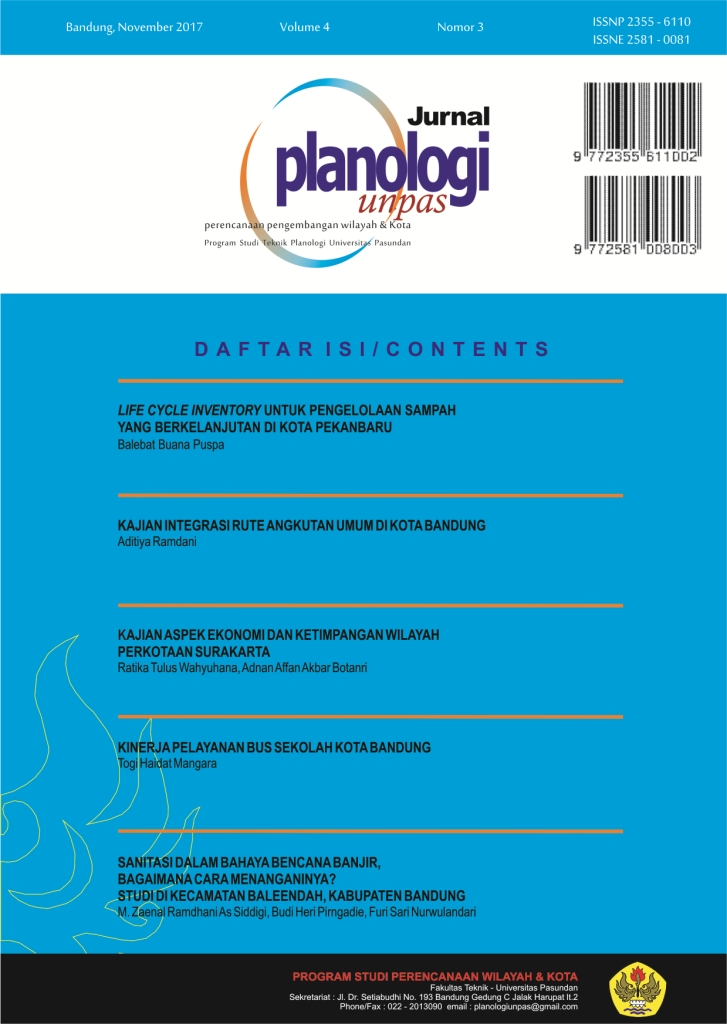 Downloads