Evaluation of Land Use Based on Conservation Index in District Cilengkrang Region North Bandung
Keywords:
Evaluation of Land Use;, Conservation Index;
Abstract
At this time there has been a change in developed regions increasingly widespread and uncontrolled In Sub Cilengkrang. This has implications for conservation function decline due to changes in land use affect the ability of the land to retain water runoff and absorb water (infiltration). The purpose of this study is to evaluate the use of land based on an index of conservation in the district of North Bandung Cilengkrang Region. The method used in this study, namely [1] .This method Overlay analysis using ArcGIS software analysis tool to determine the version 10.1 deviation and coefficient of land use woke region; [2.] Methods of Conservation Index is a coefficient which shows the ability of a region to hold runoff water (run off) and absorb water (ilfiltrasi) based on actual natural aspects and aspects of land use. The results of the analysis [1] .Terjadi irregularities existing land use pattern in 2013 against KBU room in 2009, covering an area of ​​748.42 hectares, or approximately 25.61% of the total area of ​​the District Cilengkrang; [2].Terdapat three village whose value KWTa> KWTMax namely (a). Kelurahan Cipanjalu increased by 3.28%; (b). Kelurahan Ciporeat an increase of 10.97%; and (c). Kelurahan Melatiwangi increased by 6.13%. [3]. The results of analysis of conservation index showed an increase of the threshold conditions set out which pattern KBU space. Which occurs in categories (a) critical. more increased 6%; (b) the critical. Moderate increased 4%; (c). Worse critical increased 17%; (d). Increased 9% . It is critical. Conservation function decline is a result of changes in land use that affect the ability of the land to retain water runoff  and absorb water (infiltration).
Downloads
Download data is not yet available.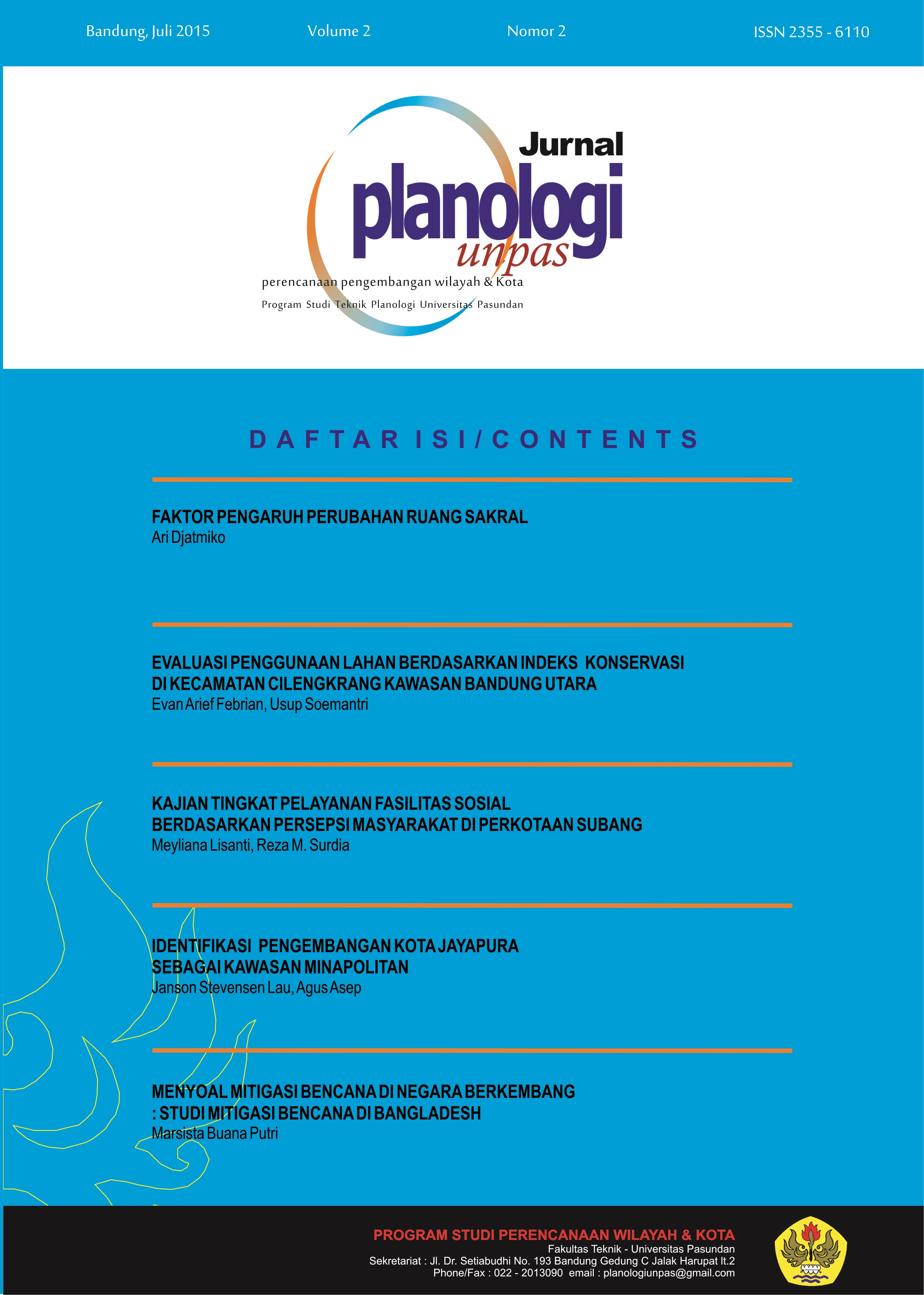 Downloads