DIGITAL LITERACY, CONTENT CREATOR: ASSISTANCE OF CREATIVE INDUSTRY PLAYERS THROUGH DIGITAL LITERACY FOR PAINTERS IN KAMPUNG LUKIS JELEKONG
Keywords:
Digital Literacy, Painting Village, Jelekong
Abstract
Kampung Giri Harja or known as Jelekong village is an art and painting village located in Jelekong Village, Bale Endah District, Bandung Regency. This village was founded by Asep Sunandar Sunarya. Previously, Jelekong Village could be said to be an unknown village, but when Abah Asep Sunandar lived in this village, everything changed. Jelekong village changed its name to Giri Harja Endah Village, then it was known as an art village located in southern Bandung. Because the village of Giri Harja Endah is known as the village of art and painting, many of people are engaged in the arts, especially in the field of wayang golek and in the field of painting. Many residents of Giri Harja Endah are puppeteers and painters and on every street in the village Giri Harja Endah many shops selling paintings and puppets. The problems that have been identified are discussed together by the PKM team (community activity program). In order to be able to provide the best solution, the problem is how the current content creators become qualified so they can help in improving digital media literacy. In this PKM activity, the team will carry out activities based on several methods. The expected output target in this activity is to attract digital media literacy with quality creative content. The approach method used to overcome the problems faced by partners is through socialization, training or counseling and consultation activities. Then an active participatory approach was also carried out between the proposer team and partners on an ongoing basis and played an active role in providing assistance and guidance in the creation of digital creative content.
Downloads
Download data is not yet available.
References
Wikipedia. (2021) Kampung Giri Harja Endah. https://id.wikipedia.org/wiki/Kampung_Giri_Harja_Endah
Rizky Firmansyah, Mochammad Galih S Wicaksono, Dwi Narulia, Ridoni Fardeni Harahap, Annisa Puspita Amalia. (2021). MOTIVATION, STRATEGY, DIGITAL MARKETING: MSME SUREFIRE MOVES TO SURVIVE IN THE MIDST OF THE COVID-19 PANDEMIC. PICS-J : Pasundan International of Community Service Journal. https://journal.unpas.ac.id/index.php/pics/article/view/4519/2046
Qubisa. (2021) Definisi Era Digital. https://www.qubisa.com/microlearning/definisi-era-digital
Daniel Hermawan, S.AB., M.SI., MBA. (2018) Content Creator dalam Kacamata Industri Kreatif : Peran Personal Branding dalam Media Sosial. https://repository.unpar.ac.id/bitstream/handle
Ine Mariane, Aswin Palls, Andre Ariesmansyah. (2021). EMPOWERMENT OF BUSINESS SERVICE COOPERATIVES PASIR BATANG SEJAHTERA IN CREATIVE ECONOMIC DEVELOPMENT OF THE COFFEE SECTOR, KARANGSARI VILLAGE, KUNINGAN REGENCY. PICS-J : Pasundan International of Community Service Journal. https://journal.unpas.ac.id/index.php/pics/article/view/5047/2115
Rila Setyaningsih, Abdullah, Edy Prihantoro, Hustinawaty. (2019). MODEL PENGUATAN LITERASI DIGITAL MELALUI PEMANFAATAN E-LEARNING. https://www.researchgate.net/publication/355490793_Literasi_Digital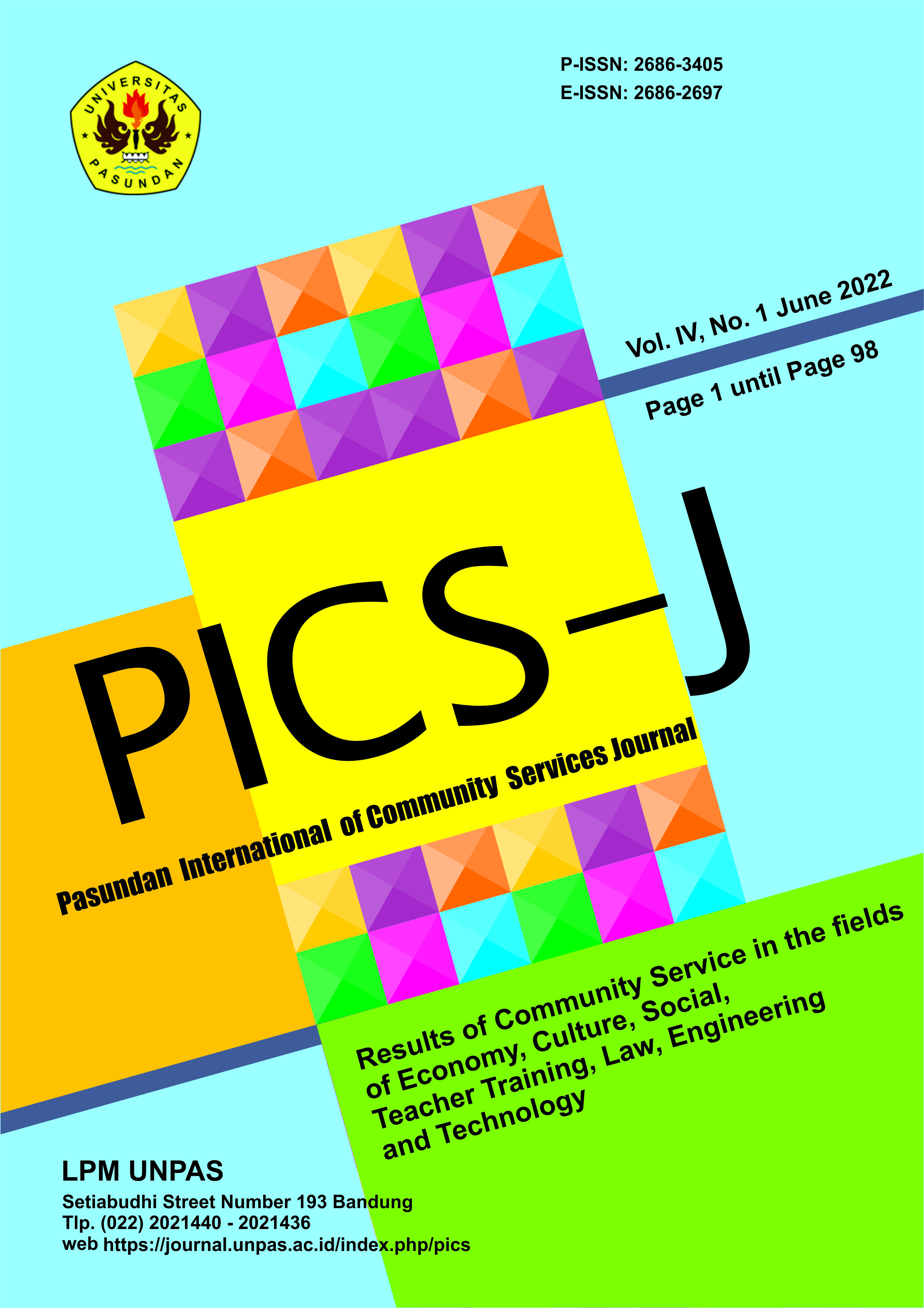 Downloads