DEVELOPMENT OF E-WARONG KUBE PKH "SALUYU NGAWANGUN" SUB-DISTRICT OF NORTH CIMAHI, CIMAHI CITY
DEVELOPMENT OF E-WARONG KUBE PKH "SALUYU NGAWANGUN" SUB-DISTRICT OF NORTH CIMAHI, CIMAHI CITY
Keywords:
e-warong, Joint Business Group, KUBE, Family Hope Program
Abstract
E-warong Saluyu Ngawangun is one of the e-warong located in Cimahi City, precisely in Sangkuriang Barat 3 , RT 2 RW 7 Kampung Anggaraja Cipageran North Cimahi which is running well in accordance with the purpose of the existence of the e-warong from the Ministry of Social Affairs operating not limited to only when there is a distribution of Non-Cash Food Assistance (BPNT) on weekdays, the e-warong also provides services to Beneficiary Families (KPM) optimally, although the e-warong administrators have activities outside of e-warong activities but the existence of e-warong - Warong Saluyu Ngawangun can be optimized according to the objectives of the Ministry of Social Affairs. The problems faced by KUBE PKH e-warong managers as partners based on research results are: low business management skills, low entrepreneurial knowledge, low knowledge of consumer behavior, low knowledge of financial accounting. The training method, aimed at transferring knowledge and technology (Science and Technology) in overcoming problems through increasing insight and understanding for partners. The implementation of the training is planned to be carried out in one room at the e-warong Saluyu Ngawangun, Cimahi City. For business management problems, information is given about business management capabilities related to understanding within the scope of management, namely Marketing Management, Capital Management, Risk Management, Business Plan. The entrepreneurship material provided is about social entrepreneurship activities, some entrepreneurial activities while for consumer behavior material, e-warong is introduced how to study consumer behavior in taking advantage of the existence of e-warong while the training material from accounting discusses petty cash recording or financial income and expenditure traffic. in e-warong. After the transfer of information is given, it is hoped that there will be a change in understanding of business management, e-warong income, as well as the participation of the e-warong manager, motivated to advance the e-warong business, having a clear financial bookkeeping writing system and expanding the reach of consumers of the beneficiary community. from e-warong.
Downloads
Download data is not yet available.
References
A. B. Sinaga and Sumardjo, "Jurnal Penyuluhan," J. Penyuluhan., vol. 3, no. 1, p. p.18-23, 2007.
H. Yasin, "Upaya Strategis Pemberdayaan Ekonomi Masyarakat Melalui Kelompok Usaha Bersama (KUBE)," J. Adm. Publik, vol. 5, no. 1, pp. 38–41, 2015.
P. Pelaksanaan, "e-WARONG KUBE," no. 28.
D. R. Hidayati, "Strategi Komunikasi Pemasaran Usaha Skala Mikro (Micro Enterprise) Kub Bajrah Gunah Klampis Bangkalan Pada Produk Terasi, Petis Dan Kerupuk Ikan," Agriekonomika, vol. 5, no. 1, p. 104, 2006.
F. Ekonomika, D. A. N. Bisnis, and U. Diponegoro, "BAGI KELOMPOK PELAKU USAHA MIKRO OLEH DINAS KOPERASI DAN UMKM ( Studi Kasus : KPUM di Kelurahan Pekunden , Kecamatan," vol. 1, pp. 1–15, 2012.
M. R. Roosdhani, P. A. Wibowo, and A. Widiastuti, "'Informasi Dan Komunikasi Pada Usaha Kecil,'" J. Din. Ekon. Bisnis, vol. 9, p. 89–104, 2012.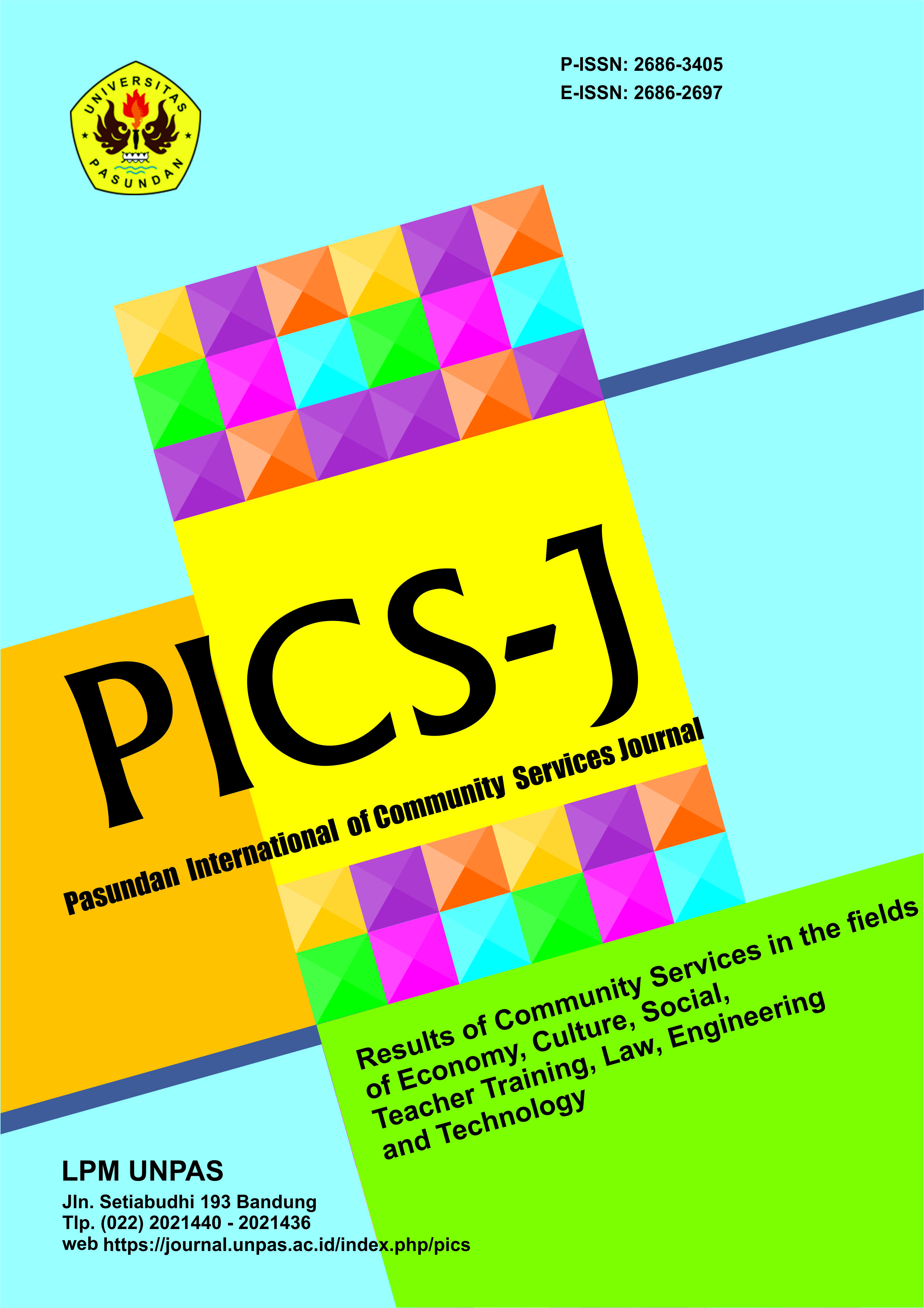 Downloads