MENINGKATAN KEMAMPUAN LITERASI MELALUI STRATEGI LICALIDO (LIHAT BACA TULIS DONGENG) DI SDN JATIRAHAYU VIII
Abstract
This best practice aims to provide an overview of the activities for implementing literacy skills through the LICALIDO strategy (See Read Write Tales), and describe the achievements after improving literacy skills through this LICALIDO strategy at SD Negeri Jatirahayu VIII. The result of this best practice is a significant increase in literacy skills in terms of reading comprehension, writing short stories or essays, and telling stories about the essays they have made. So, in the end the students can achieve achievements in the field of literacy.
Downloads
Download data is not yet available.
References
Aisyi, Fauziah K, Siscka Elvyanti, Tjetje Gunawan, Elih Mulyana (Invotec, Volume IX, No.2, Agustus 2013 : 117-128.
Atmazaki, dkk. 2017. Panduan Gerakan Literasi Nasional, Kementrian Pendidikan dan Kebudayaan. Jakarta: Tim GLN Kemendikbud.
Dalman. 2015. Menulis karya ilmiah. Depok: Rajagrafindo Persada.
Iriantara, Yosal. 2009. Literasi Media : Apa, Mengapa, Bagaiman. Bandung 113 Simbiosa Rekatama Media.
Kern, R. 2000. Literacy and Language Teaching. Oxford: Oxford University Press.
Nurgiyantoro, Burhan. 2001. Penilaian dalam Pengajaran Bahasa dan Sastra Indonesia.
Yogjakarta: BPFE.
Peraturan Menteri Pendidikan dan Kebudayaan (2015).Permedikbud RI Nomor 23 Tahun 2015 tentang Penumbuhan Budi Pekerti. Jakarta: Permendikbud.
Romdhoni, Ali. 2013. Al-Qur'an dan Literasi. Gombong: Linus.
Setyawan, Ibnu Aji. 2018. Kupas Tuntas Jenis dan Pengertian Literasi. Online: gurudigital.id
Tarigan, H. G. 2015. Berbicara Sebagai Suatu Keterampilan Berbahasa. Bandung: Angkasa.
Triyanto, Agus. 2007. Bahasa Indonesia Tingkat SMP. Jakarta : Gramedia.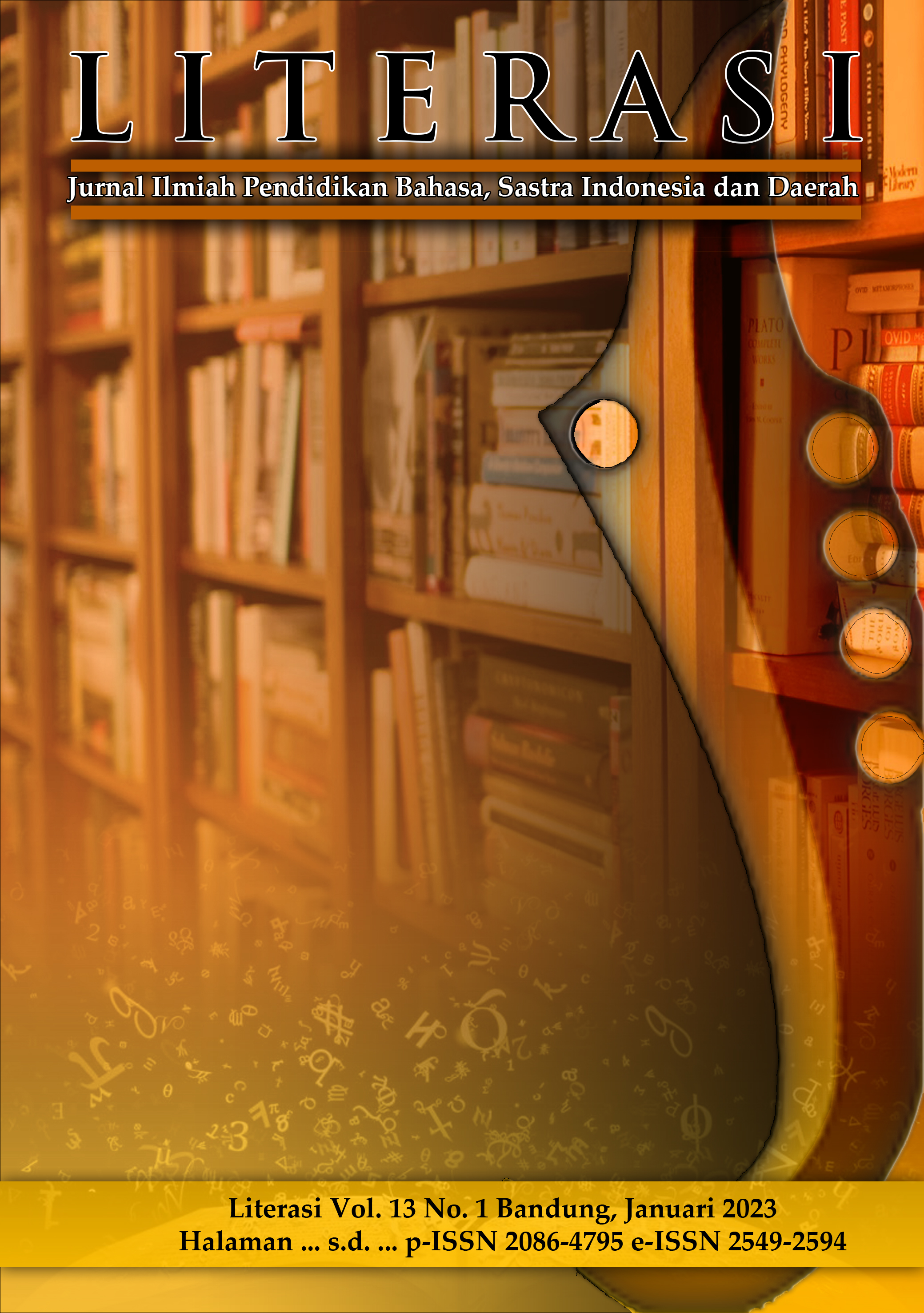 Downloads
License
Copyright (c) 2023 Literasi: Jurnal Ilmiah Pendidikan Bahasa, Sastra Indonesia dan Daerah
This work is licensed under a Creative Commons Attribution 4.0 International License.
Hak cipta artikel yang diterbitkan di jurnal ilmiah dimiliki oleh penerbit, bukan penulis. Hal ini berkaitan dengan koordinasi hak akses untuk cetak ulang atau penggunaan lainnya. Dalam hal ini penerbit mempunyai keluluasaan untuk mempublikasikan artikel sesuai dengan kesepakanan Transfer Agreement (penyerahan hak cipta) antara penerbit dengan penulis.