ANALISIS ISI: KARAKTERISTIK TEKS DALAM BUKU BAHASA INDONESIA PEGANGAN SISWA SMA
Keywords:
Characteristics, structure, linguistic features, new paradigm, texts
Abstract
The research aims to identify the characteristics of the text in teaching materials in the form of Indonesian language textbooks for class XI students of junior high school. The type of text chosen is procedure text, Lectures, Short Stories, and Dramas on the basis of the choice that there is a new paradigm of language and text, curriculum development, the need to optimize learning references for teachers and students, the importance of improving students' analytical abilities, and to see the extent of feasibility use of these teaching materials. The research method is content analysis of the collected literature. Covers key aspects of reading and writing skills and assessment. Is a type of descriptive analysis with a type of qualitative research. Research as a tool is a collection of someone's writings in the form of hardcopy/softcopy so that they are in the form of a grid. The results of the data analysis showed that there were differences between the substance of the text content and the students' social backgrounds, and there were errors/errors/negligence in the preparation/presentation of the text, such as the use of punctuation marks. conjunctions, contradictions between titles and contents, and so on. So it is recommended to review
Downloads
Download data is not yet available.
References
Aisyah, S., Noviyanti, E., & Triyanto, T. (2020). Bahan Ajar Sebagai Bagian Dalam Kajian Problematika Pembelajaran Bahasa Indonesia. Jurnal Salaka : Jurnal Bahasa, Sastra, Dan Budaya Indonesia, 2(1), 62–65. https://doi.org/10.33751/jsalaka.v2i1.1838
Kartiningrum, E. D. (2015). Panduan Penyusunan Studi Literatur. Lembaga Penelitian Dan Pengabdian Masyarakat Politeknik Kesehatan Majapahit, Mojokerto, 1–9.
Khair, U. (2018). Pembelajaran Bahasa Indonesia dan Sastra (BASASTRA) di SD dan MI. AR-RIAYAH: Jurnal Pendidikan Dasar, 2(1), 81.
Kurniawati, F. E. (2015). Pengembangan Bahan Ajar Aqidah Ahklak di Madrasah Ibtidaiyah. Jurnal Penelitian, 9(2), 367. https://doi.org/10.21043/jupe.v9i2.1326
Kurtarto, E. (2017). Keefektifan Model Pembelajaran Daring Dalam Perkuliahan Bahasa Indonesia Di Perguruan Tinggi. Journal Indonesian Language Education and Literature, 1(2), 207–220. https://www.syekhnurjati.ac.id/jurnal/index.php/jeill/article/view/1820
Kusumawati, T. I. (2016). Komunikasi Verbal Dan Nonverbal. Jurnal Pendidikan Dan Konseling, 6(2).
Magdalena, I., Prabandani, R. O., Rini, E. S., Fitriani, M. A., & Putri, A. A. (2020). Analisis Pengembangan Bahan Ajar. Jurnal Pendidikan Dan Ilmu Sosial, 2(2), 170–187. https://ejournal.stitpn.ac.id/index.php/nusantara
Mumpuni, A., & Masruri, muhsinatun siasah. (2016). The character values in the 2013 curriculum teacher 's handbook and student 's handbook for the second grade of elementary school. Pendidikan Ka, VI(1), 17–28.
Nia, B. (2017). KEMAMPUAN MENULIS TEKS PROSEDUR SISWA KELAS VII D SMP NEGERI 11 KOTA JAMBI Nia. Angewandte Chemie International Edition, 8(1), 1–77.
Nurdyansyah, & Mutala'liah, N. (2015). Pengembangan Bahan Ajar Modul Ilmu Pengetahuan Alambagi Siswa Kelas IV Sekolah Dasar. Program Studi Pendidikan Guru Madrasa Ibtida'iyah Fakultas Agama Islam Universitas Muhammadiyah Sidoarjo, 41(20), 1–15.
Rahardhian, A. (2022). Kajian Kemampuan Berpikir Kritis (Critical Thinking Skill) Dari Sudut Pandang Filsafat. Jurnal Filsafat Indonesia, 5(2), 87–94. https://ejournal.undiksha.ac.id/index.php/JFI/article/view/42092%0Ahttps://ejournal.undiksha.ac.id/index.php/JFI/article/download/42092/22276
Santika, I. G. N., & Sudiana, I. N. (2021). Insersi Pendidikan Karakter Melalui Pembelajaran Bahasa Indonesia Ditinjau dari Perspektif Teoretis. Jurnal Pendidikan Bahasa Dan Sastra Indonesia Undiksha, 11(4), 464.
Sitti, D. (2018). KEMAMPUAN MENULIS TEKS PROSEDUR SISWA KELAS VIII SMP NEGERI 10 PAREPARE. Jurnal Bahasa Dan Sastra, 2(1), 1–13.
Sufanti. (2013). Pembelajaran Bahasa Indonesia Berbasis Teks : Belajar Dari Ohio. Jurnal Muhammadiyah Surakarta, 8(2), 36–55.
Sugiyono. (2012). Memahami Penelitian Kualitatif. In Memahami Penelitian Kualitatif.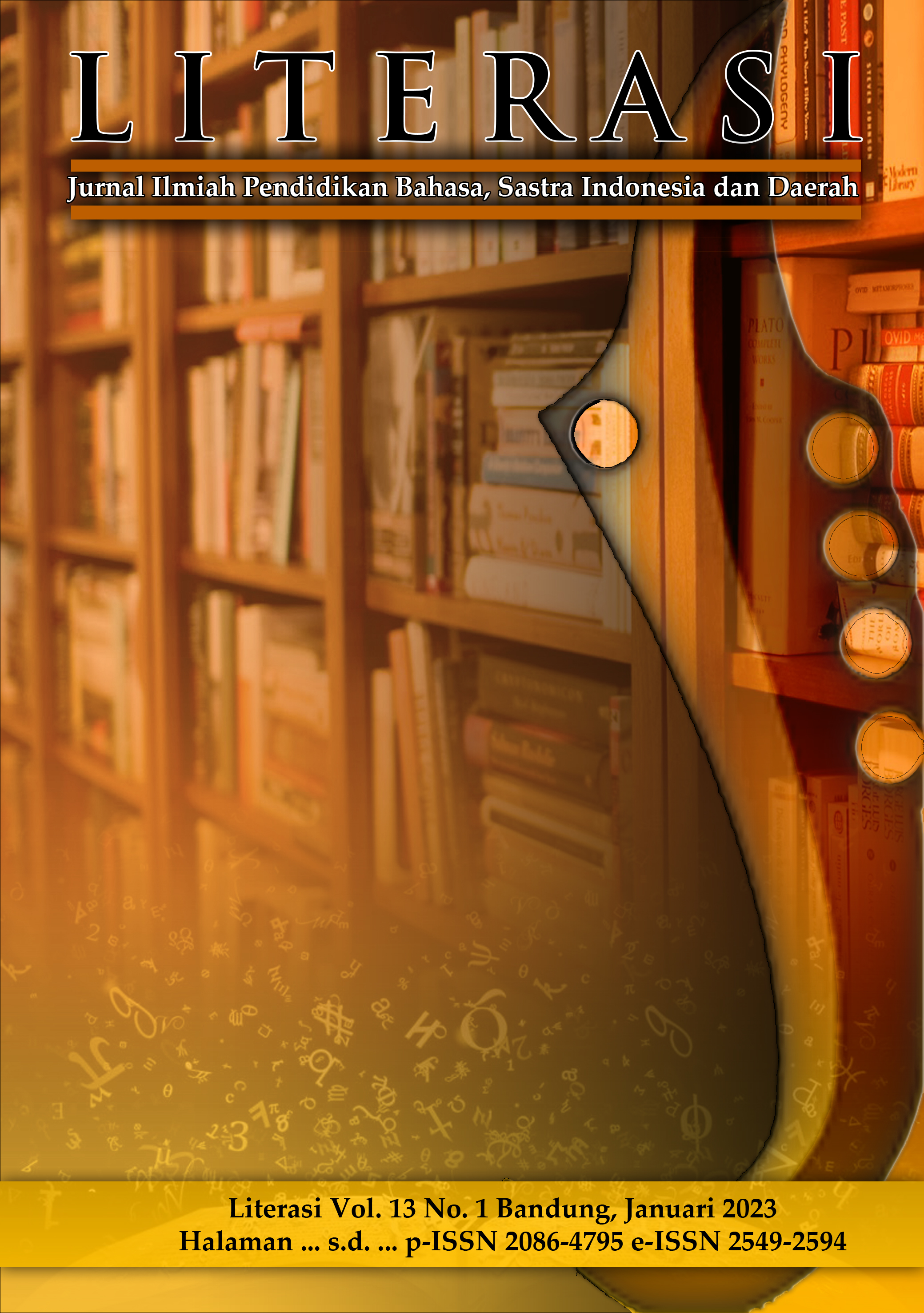 Downloads
License
Copyright (c) 2023 Literasi: Jurnal Ilmiah Pendidikan Bahasa, Sastra Indonesia dan Daerah
This work is licensed under a Creative Commons Attribution 4.0 International License.
Hak cipta artikel yang diterbitkan di jurnal ilmiah dimiliki oleh penerbit, bukan penulis. Hal ini berkaitan dengan koordinasi hak akses untuk cetak ulang atau penggunaan lainnya. Dalam hal ini penerbit mempunyai keluluasaan untuk mempublikasikan artikel sesuai dengan kesepakanan Transfer Agreement (penyerahan hak cipta) antara penerbit dengan penulis.