KAUSATIF MORFOLOGI DALAM BAHASA GORONTALO
Abstract
The purpose of this research is to analyze the causative morphology in Gorontalo using a typological approach. This research was conducted using qualitative methods, data were obtained from speakers of Gorontalo language who were listened to and recorded by researchers for analysis so as to obtain the required morphological causative sentences. The results of the study show that there are several affixes which indicate the existence of a morphological causative construction. This affix consists of prefixes, suffixes, and also infixes. In the prefix category there are prefixes ma-, mopohu-, lo-, mopi-, hemo-, moqo-, and hemopo-. In the category of suffixes, there is the suffix -lo, and in the category of infixes, there is the infix -il-.   Keywords: causative, affix, Gorontalo language
Downloads
Download data is not yet available.
References
Budiarta, I Wayan. (2015). Konstruksi Kausatif Analitik Bahasa Kemak. Retorika: Jurnal Ilmu Bahasa, Vol. 1
Chaer, A. (2004). Tata Bahasa Praktis Bahasa Indonesia. Jakarta: Rineka Cipta.
Comrie, B. (1989). Language universals and linguistic typology (2nd ed.). Chicago, IL: University of Chicago Press.
Hadi, W. (2008). Kausatif dalam bahasa Serawai. Jurnal UNIMED. Doi 10.24114/bhs.v0i69TH XXXV.2373
Hasibuan, Ibnu Ajan & Mulyadi. (2019). Konstruksi Kausatif dalam Bahasa Mandailing: Kajian Tipologi Sintaksis. NUSA, Vol. 14, No. 3
Kridalaksana, H. (2001). Kamus Linguistik. Jakarta: Gramedia Pustaka Utama.
Machmoed, H. (1999). Kausatif dalam bahasa Gorontalo. Retrieved from; http://linguistik-indonesia.org/images/files/KausatifdalamBahasaGorontalo.pdf
Mayani, L. A. (2005). Kausatif dalam bahasa Madura. Retrieved from; http://linguistik-indonesia.org/images/files/KonstruksiKausatifBahasaMadura.pdf
Pateda, M. (1977). Kamus bahasa Gorontalo – Indonesia. Jakarta: Departemen Pendidikan dan Kebudayaan
Saryono, (2010). Metode Penelitian Kualitatif. Bandung: PT. Alfabeta.
Shibatani, M. (1976). The grammar of causative constructions. California: Brill publishing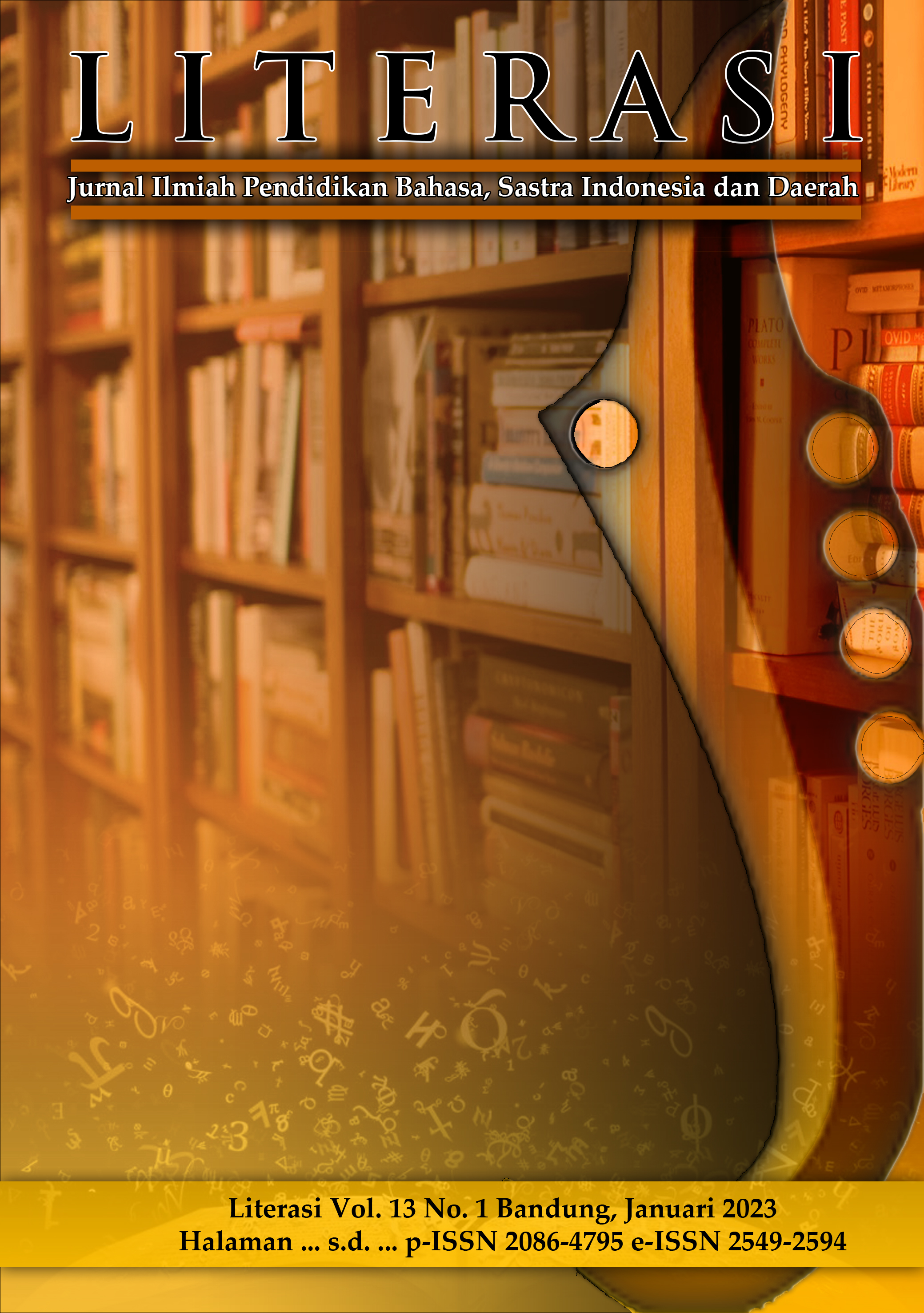 Downloads
License
Copyright (c) 2023 Literasi: Jurnal Ilmiah Pendidikan Bahasa, Sastra Indonesia dan Daerah
This work is licensed under a Creative Commons Attribution 4.0 International License.
Hak cipta artikel yang diterbitkan di jurnal ilmiah dimiliki oleh penerbit, bukan penulis. Hal ini berkaitan dengan koordinasi hak akses untuk cetak ulang atau penggunaan lainnya. Dalam hal ini penerbit mempunyai keluluasaan untuk mempublikasikan artikel sesuai dengan kesepakanan Transfer Agreement (penyerahan hak cipta) antara penerbit dengan penulis.