BENTUK SAPAAN NAMA DIRI MASYARAKAT FEHAN
Keywords:
Address form, Proper name, Fehan society
Abstract
This study aims to describe the address form of the proper name spoken by Tetun Fehan community. The purpose of this study is to describe the address form of the proper name spoken by the Fehan community in Malacca Regency. The method used in this study is a qualitative descriptive method. Data collection techniques can be conducted through questionnaires, participant observations, interviews, and notes. The results of this study refer to the ervin trip theory as a benchmark for writing an address form of the proper name for the Fehan society which can be classified into four which include (1) Status consists of fehan proper name and proper name for parents, (2) Rank involves proper name of profession, (3) Identity Include the proper name of titel which includes the proper name of an education degree, and proper name of the indigenous title. (4) Generation level includes kinship terms, the proper name of Baptist, the proper name of the sequence of birth, and the proper name of hyponymy.  Using the form of the proper name by Fehan society of Tetun speakers always use address form of kinship term (Indonesian for formal speech forms dan Tetun for non-formal speech forms). Fehan people know the term hak'neter (Respect), hak 'Taek (have good manners), and ha'folin (appreciate),  where the term became the signature of the Fehan society in communicating by considering the age of the speakers.
Downloads
Download data is not yet available.
References
Bouk, H. (2020). Kesantunan Berbahasa Tetun dalam Komunikasi Interpersonal Antara Masyarakat Rafa'e dengan Kaum Bangsawan. Verba Vitae: Jurnal Ilmu Komunikasi, 1.
Engelenhoven, A. van. (2008). Yohanes Manhitu, Kamus Indonesia-Tetun, Tetun-Indonesia. Jakarta: Gramedia Pustaka Utama, 2007, xxvi + 487 hlm. ISBN: 979-22-2954-x. Harga: Rp90.000,00 (soft cover). Wacana, Journal of the Humanities of Indonesia, 10(2). https://doi.org/10.17510/wjhi.v10i2.203
Ervin-Tripp, S. M. (2005). Sociolinguistic rules of address. In Language, Communication and Education. https://doi.org/10.4324/9780203975107-24
Indah Sari Acep Saifudin. (2016). Bentuk-Bentuk Sapaan Film Ramona and Beezus Disutradarai oleh Elizabeth Allen (Analisis Sosiolinguistik). Jurnal Skripsi: Universitas Sam Ratulangi.
Koentjaraningrat. (1992). Beberapa Pokok Antropology Sosial. Dian Rakyat.
Moleong, L. J. (2019). Moleong, " Metodologi Penelitian Kualitatif Edisi Revisi". Bandung : Remaja Rosdakarya. PT. Remaja Rosda Karya.
Nahak, K. B. (2020). Bentuk Sapaan Pronomina Persona Bahasa Tetun Dialek Fehan. Jubindo: Jurnal Ilmu Pendidikan Bahasa Dan Sastra Indonesia, 5(1). https://doi.org/10.32938/jbi.v5i1.484
Nahak, K. B. (2012). Sistem Sapaan Bahasa Tetun dialek Fehan, Kajian Makna Penghormatan dan Kesantunan. Tesis. Universitas Udayana.
Ridha Mashudi Wibowo. (2001). Nama Diri Etnik Jawa. Humaniora, 13.
Rusbiyantoro, W. (2014). Kesantunan Melalui Pemilihan Kata sapaan dalam Bahasa Melayu Kutai : Suatu Kajian Sosiopragmatik. Seminar Nasional Prasasti (Pragmatik: Sastra Dan Linguistik).
Sugiyono, P. D. (2019). Metode Penelitian Pendidikan: Pendekatan Kuantitatif, Kualitatif, R&D (Cetakan Ke 26). In Bandung: CV Alfabeta.
Suhandra, I. R. (2014). Sapaan dan Honorifik. Jurnal Pendidikan IPS Ekonomi FITK IAIN.
Wenni Rusbiyantoro. (2011). Penggunaan Kata Sapaan Dalam Bahasa Melayu Kutai. Balai Bahasa Provinsi Kalimantan Timur, 2.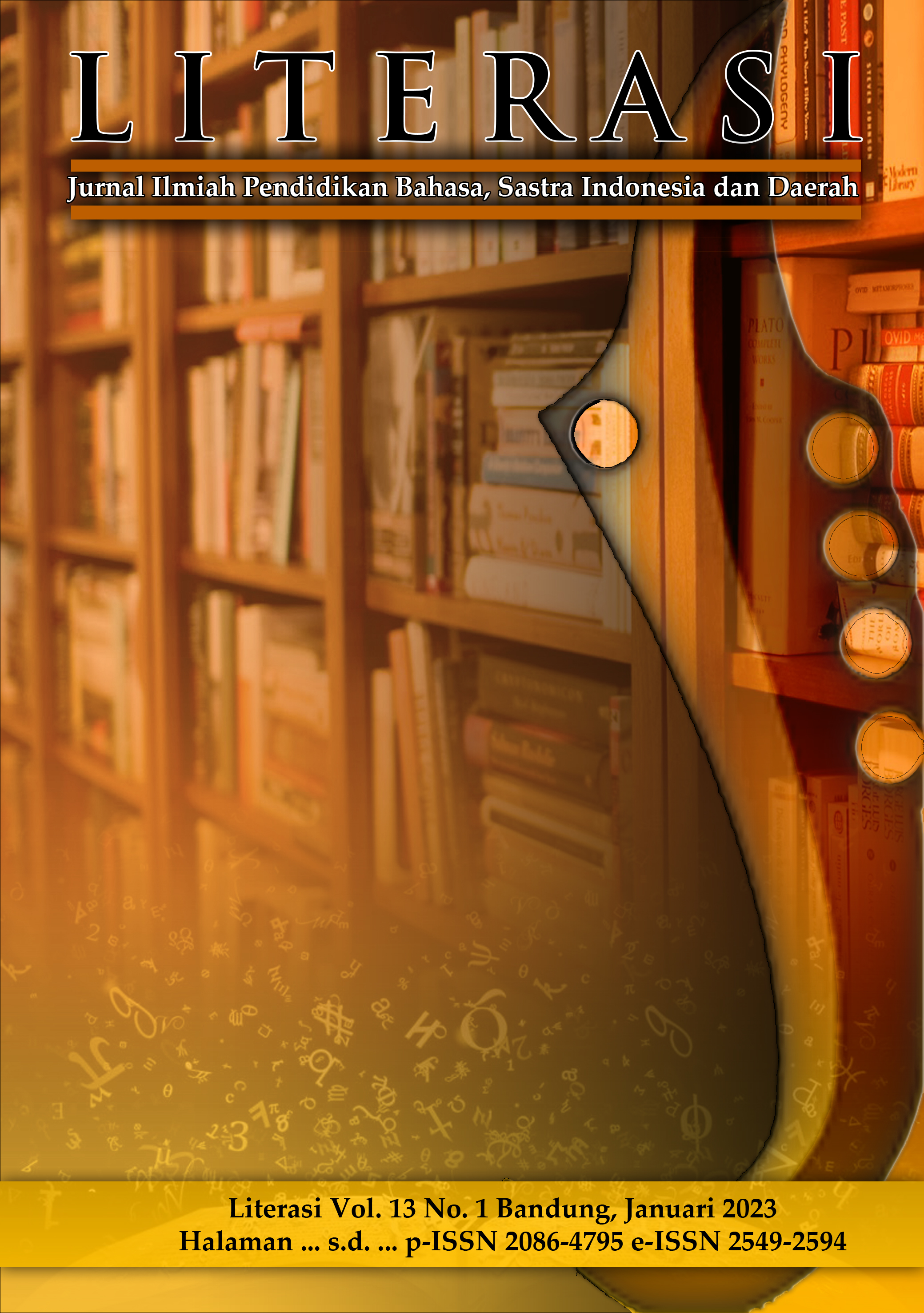 Downloads
License
Copyright (c) 2023 Literasi: Jurnal Ilmiah Pendidikan Bahasa, Sastra Indonesia dan Daerah
This work is licensed under a Creative Commons Attribution 4.0 International License.
Hak cipta artikel yang diterbitkan di jurnal ilmiah dimiliki oleh penerbit, bukan penulis. Hal ini berkaitan dengan koordinasi hak akses untuk cetak ulang atau penggunaan lainnya. Dalam hal ini penerbit mempunyai keluluasaan untuk mempublikasikan artikel sesuai dengan kesepakanan Transfer Agreement (penyerahan hak cipta) antara penerbit dengan penulis.