KEEFEKTIFAN PEMBELAJARAN TEKS NARASI YANG MENGGUNAKAN CERITA RAKYAT TIMOR
Abstract
The aim of the current study was to delineate the efficacy of teaching narrative texts by using Timorese folklore as teaching material. The subjects in this study were seventh-grade students of SMPN Noemuti. The data procurement technique comprised observation, questionnaire, and test. Observation was carried out to find out the activities of students, a questionnaire was conducted to figure out the students' responses regarding the integration of Timorese folklore in learning, and a test was undertaken to find out the students' learning outcomes. The result of the study revealed that in learning narrative texts using Timorese folklore, students' activity reached 82% in the very good category, student learning outcomes achieved an average score of 81,5 which categorized as very good, teacher and student responses reached 97,2% which was categorized as very good. Thus, it was concluded that Timorese folklore was very effectively applied in teaching narrative texts to seventh-grade students of SMP Negeri Noemuti.
Downloads
Download data is not yet available.
References
Agung Nugroho & Luci Fitri. 2018. "Respons Siswa SMP Negeri Sekota Lubuklinggau Terhadap Bahan Ajar Cerita Rakyat Lubuklingau". SILAMPARI BISA. Volume 1 Nomor 1.
Baharuddin dan Wahyuni. 2008. Teori Belajar dan Pembelajaran. Yogyakarta: Ar-Ruz.
Djamaris, E. 1993. Menggali Khazanah Sastra Melayu Klasik (Sastra Indonesia Lama). Jakarta: Balai Pustaka.
Elfachmi, Amin Kuneifi. 2016. Pengantar Pendidikan. Jakarta: PT Gelora Aksara Pratama.
Endraswara, S. 2002. Metodologi Penelitian Folklor; Konsep, Teori, dan
Aplikasi. Jakarta: PT. Buku Kita.
Kemdikbud. 2016. "Silabus Mata Pelajaran Bahasa Indonesia SMA/MA/SMK/SMAK". Jakarta: Kemdikbud.
Keraf, Gorys. 2007. Argumentasi dan Narasi. Jakarta: Gramedia Pustaka Utama.
Panjaitan, Ade Putra dkk. 2017. Korelasi Kebudayaan dan Pendidikan. Jakarta: Pustaka Obor Indonesia.
Rosadi, Putu Agus Phebi dkk. 2014. "Penggunaan Teks Cerita Rakyat Bali untuk Meningkatkan Kemampuan Menulis Naskah Drama pada Siswa Kelas XI Bahasa SMA Negeri I Mendoyo". Jurnal Universitas Pendidikan Ganesha.
Sudikan, S. 2017. Metode Penelitian Sastra Lisan. Lamongan: CV Pustaka
Ilalang Grup.
Sumayana, Yena. 2017. "Pembelajaran Sastra di Sekolah Dasar Berbasis Kearifan Lokal (Cerita Rakyat). Mimbar Sekolah Dasar. Volume 4 Nomor 1.
Tarsinih, Ety. 2019. "Pembelajaran Berbicara Sastra melalui Teks Narasi (Cerita Rakyat)". Wacana Didaktika. Volume 11 Nomor 3.
Yetti, Erli. 2011. "Kearifan Lokal dalam Cerita Rakyat Nusantara: Upaya Melestarikan Budaya Bangsa". Mabasan. Volume 5 Nomor 2.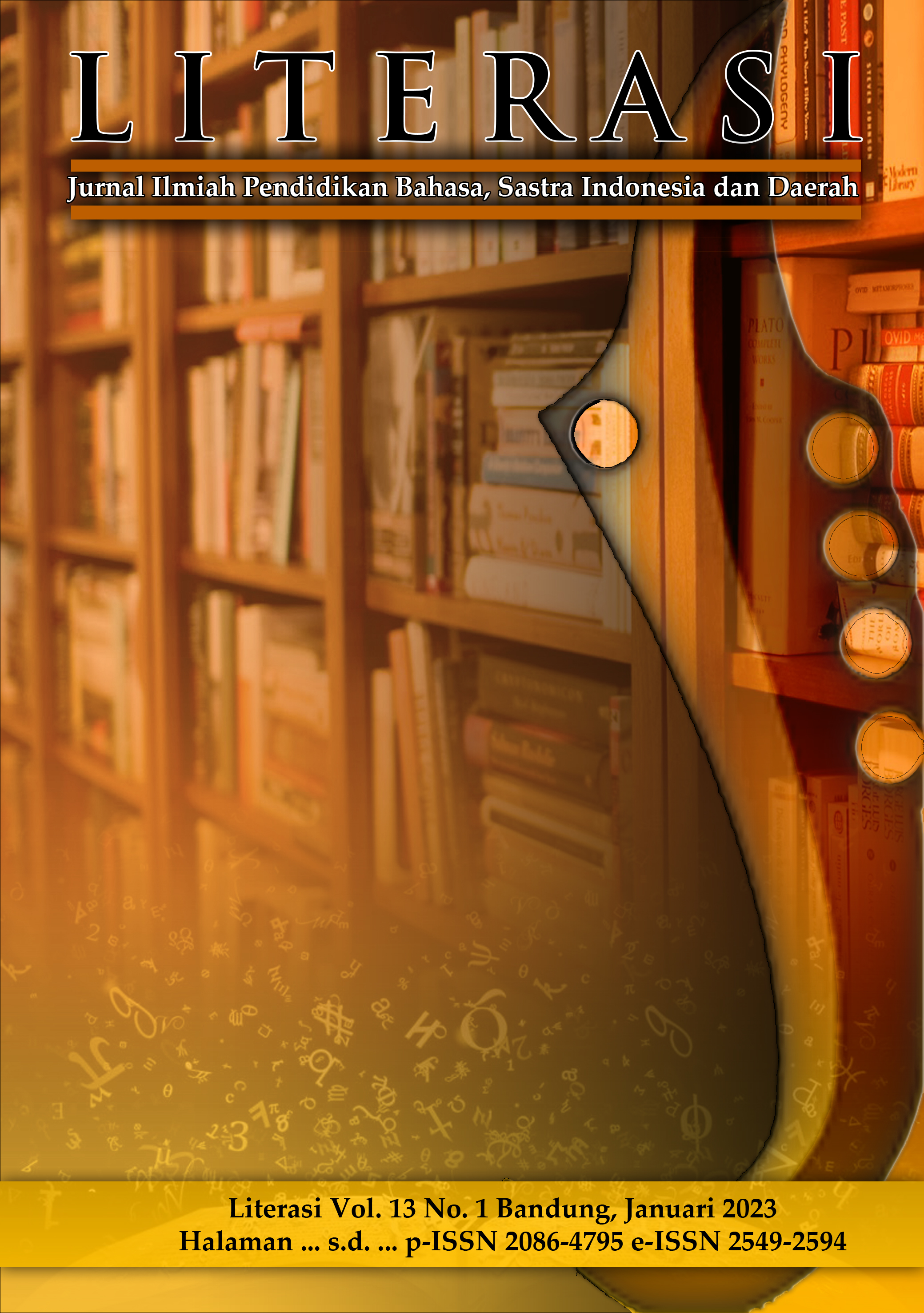 Downloads
License
Copyright (c) 2023 Literasi: Jurnal Ilmiah Pendidikan Bahasa, Sastra Indonesia dan Daerah
This work is licensed under a Creative Commons Attribution 4.0 International License.
Hak cipta artikel yang diterbitkan di jurnal ilmiah dimiliki oleh penerbit, bukan penulis. Hal ini berkaitan dengan koordinasi hak akses untuk cetak ulang atau penggunaan lainnya. Dalam hal ini penerbit mempunyai keluluasaan untuk mempublikasikan artikel sesuai dengan kesepakanan Transfer Agreement (penyerahan hak cipta) antara penerbit dengan penulis.