PENGARUH MEDIA POP UP BOOK BERBASIS LITERASI DIGITAL UNTUK MENINGKATKAN KETERAMPILAN BERBICARA SISWA KELAS RENDAH DI SEKOLAH DASAR
Keywords:
speaking, digital literacy, media
Abstract
Speaking is one of the important skills that must be mastered by students, but teachers still have difficulty in teaching this skill to students. As a result, students' speaking skills are low. This study aimed to analize the effectiveness of digital literacy-based pop up book media in improving the speaking skills of lower grade students in elementary school. The method used was quantitative with a pretest-posttest design. The results showed that there were differences in students' speaking skills before and after using the media. This was indicated by the increase in the speaking ability of low-grade students after the use of digital literacy-based pop up book media.
Downloads
Download data is not yet available.
References
Abidin, Z. 2015. Kemampuan Berbicara Peserta Didik Kelas III dengan Metode Bermain Peran di SD 05 Koto Tangah Kecamatan Tilatang Kamang. Prosiding Seminar Nasional Jurusan PGSD FIP UNP Tahun 2015.
Hidayah, N. & Khalifah, D. R. N. 2019. Pembelajaran Bahasa dan Sastra Indonesia Untuk Sekolah Dasar. Yogyakarta: Pustaka Pranala.
Ilham & Aidin. 2021. Pengaruh Penggunaan Pop-Up Book Terhadap Keterampilan Bercerita Anak Usia Dini. Jurnal Pendidikan, 9 (1) Januari 2021.
Murniati & Anitra, R. 2019. Media Pop Up Book Sebagai Alat Peningkatan Keterampilan Berbicara Siswa. Journal of Educational Review and Research, 2 (1), July 2019, 63-68.
Putri, G. F., Yasbiati, & Pranata, O. H. (2018). Pengaruh Media Pop Up Card Terhadap Hasil Belajar Siswa Pada Materi Penggolongan Hewan Berdasarkan Jenis Makanannya. Jurnal Ilmiah Pendidikan Guru Sekolah Dasar, 5 (1) (2018).
Setyawan, D., Usada, & Mahfud, H. 2014. Penerapan Media Pop Up Book Untuk Meningkatkan Keterampilan Berbicara. Jurnal
Tambunan, P. 2018. Pembelajaran Keterampilan Berbicara Di Sekolah Dasar. Jurnal Ilmiah, 2 (1) (2018).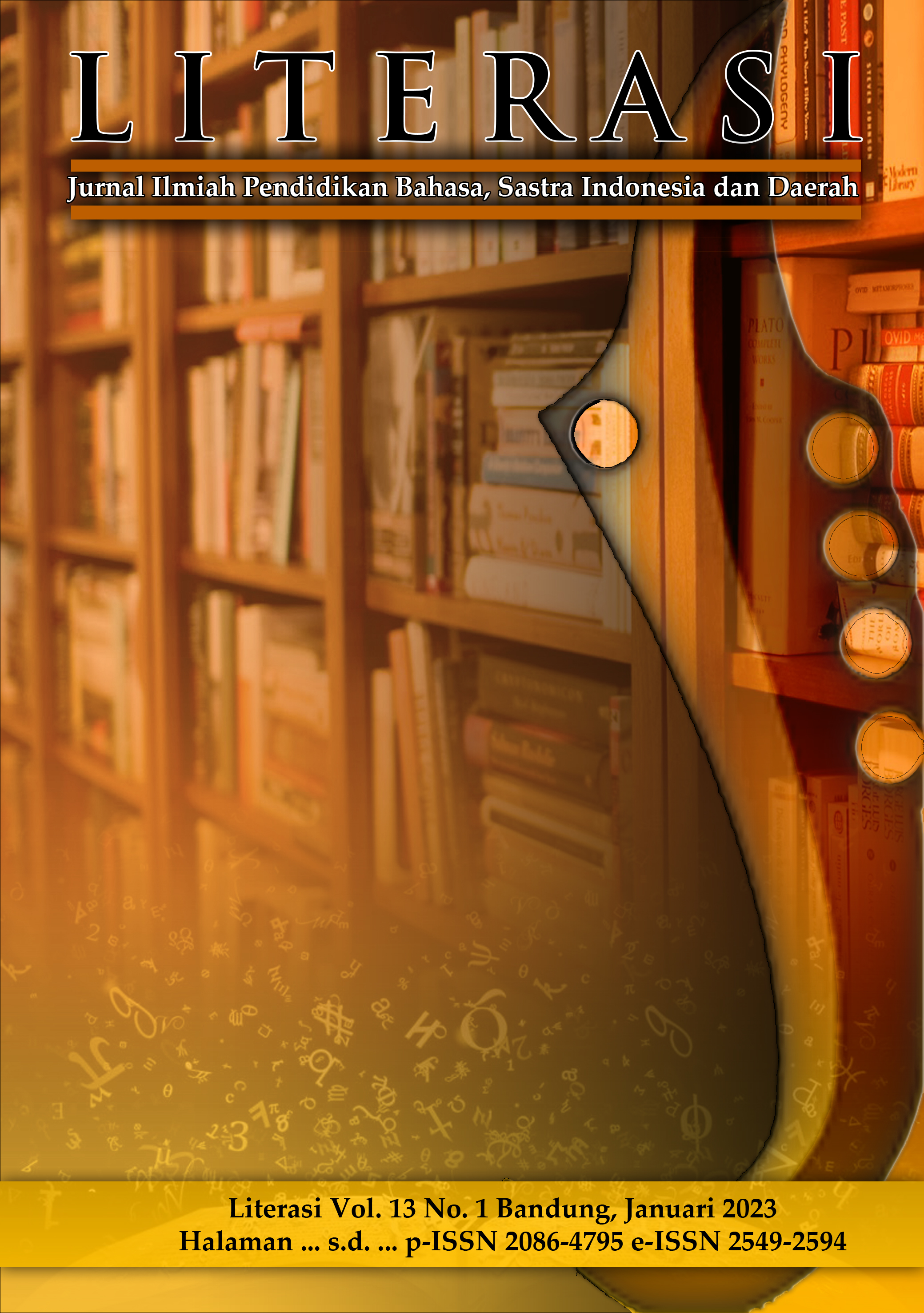 Downloads
License
Copyright (c) 2023 Literasi: Jurnal Ilmiah Pendidikan Bahasa, Sastra Indonesia dan Daerah
This work is licensed under a Creative Commons Attribution 4.0 International License.
Hak cipta artikel yang diterbitkan di jurnal ilmiah dimiliki oleh penerbit, bukan penulis. Hal ini berkaitan dengan koordinasi hak akses untuk cetak ulang atau penggunaan lainnya. Dalam hal ini penerbit mempunyai keluluasaan untuk mempublikasikan artikel sesuai dengan kesepakanan Transfer Agreement (penyerahan hak cipta) antara penerbit dengan penulis.