VARIASI DAN POLA KOLOKASI VERBA DALAM MAKNA 'MEMBERIKAN INFORMASI' PADA KORPUS BERITA
Abstract
There are many variations of verb in the meaning of 'providing information' in the news text. This diversity of verbs in the same field of meaning often creates similar meanings from one to another. In sentences, these variation of verbs not only functioned to enrich the vocabulary and the beauty of dictions but also can show its function in sentences. It's relevant with Chaer's statement (2012) which said that utterances or words of synonymous are never have the same meaning. It means, each word has its role and function in giving meaning to a sentence. This research was conducted to look further at the relationship of meaning between verbs which are in the same meaning field. The meaning relations which observed are the similarities and differences between these verbs by looking at the collocate that comes after those verbs. The collocate that accompanies the verb can give an idea of ​​the verb pattern in a sentence. This research using a corpus-based application with the theme 'Reconstruction of the Murder of Brigadier J by Ferdy Sambo'. The final results show that out of thirty published reports, fourteen variations of the verb which means 'providing information' with different collocate patterns are found. This research reinforces Chaer's (2012) statement that some verbs which have a close meaning also have their pattern even though they are in the same meaning field. Keywords: news corpus, verb variations, collocations.  
Downloads
Download data is not yet available.
References
Atmaja Herlina dan Tofan Dwi Hardjanto. 2019. Kolokasi dalam Novel The Boy in the Street Pyamas Karya John Boyne dan Strategi Penerjemahannya ke dalam Bahasa Indonesia. Diunduh dari http://etd.repository.ugm.ac.id/
Chaer, Abdul. 2012. Linguistik Umum. Jakarta: Rineka Cipta.
Pateda, Mansoer. 2010. Semantik Leksikal. Jakarta: Rineka Cipta.
Puspita, Dewi. Pemanfaatan Korpus dalam Analisis Makna Kata Bersinonim mau, ingin, hendak dan akan. 2016. Prosiding Leksikografi Indonesia. 5-14. https://www.academia.edu/30191714/PROSIDING_SEMINAR_LEKSIKOGRAFI_INDONESIA_2016
Setyaningsih, Nina, Anisa Larassati, Valentina Widya Suryaningtyas. 2021. Kolokasi Leksikon Covid-19 dalam Bahasa Indonesia dan Bahasa Inggris di Ranah Cyberspace. 2021. Jurnal Ilmiah Humanika. 28,2, 186-198. HUMANIKA (undip.ac.id)
Trihardini, Ayu. 2022. Analisis Kontranstif Verba "Makan" + Objek dalam Bahasa Mandarin dan Bahasa Indonesia. Konferensi Linguistik Tahunan Unika Atma Jaya. 24-35. (PDF) ANALISIS KONTRASTIF DALAM STUDI BAHASA (researchgate.net)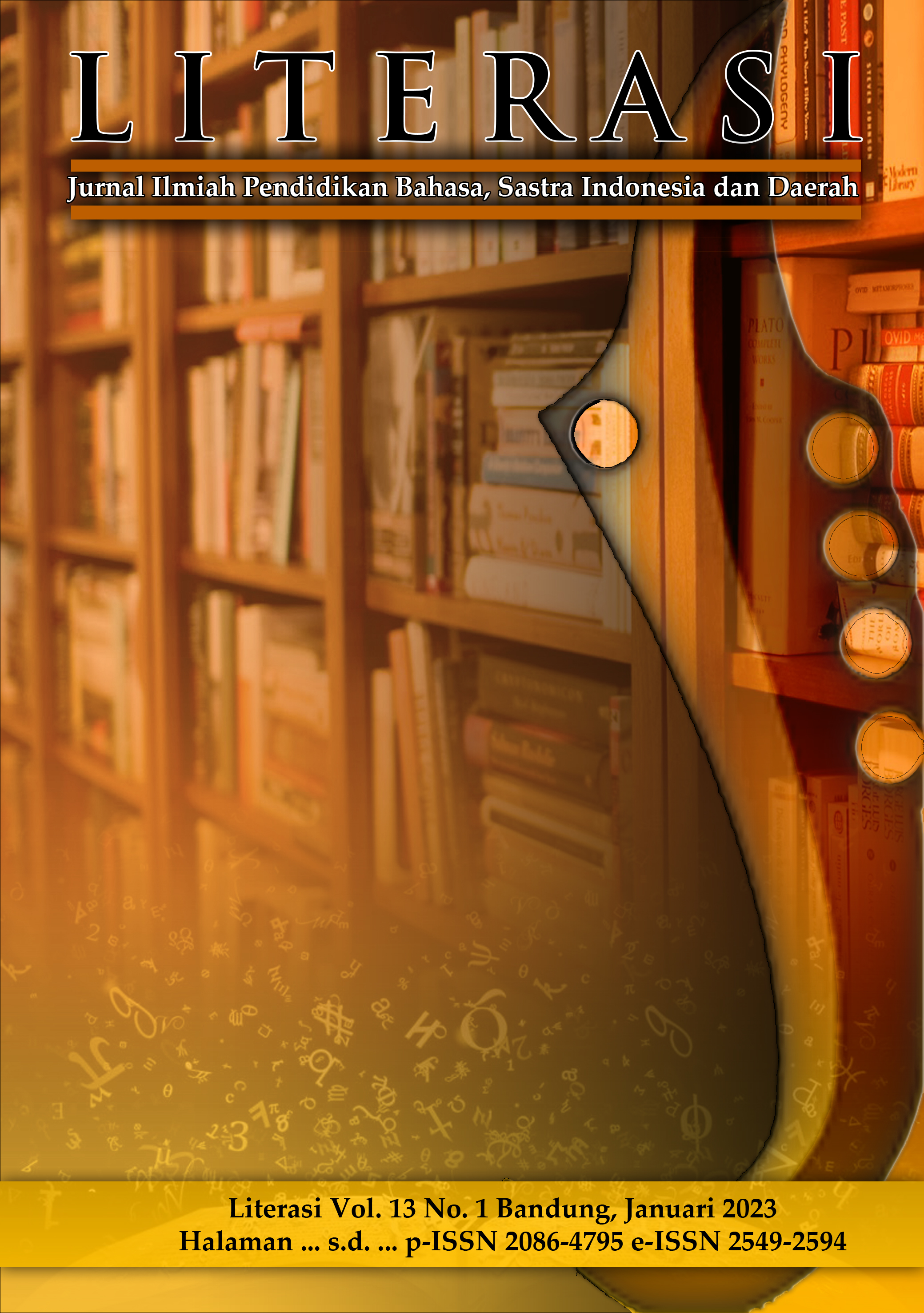 Downloads
License
Copyright (c) 2023 Literasi: Jurnal Ilmiah Pendidikan Bahasa, Sastra Indonesia dan Daerah
This work is licensed under a Creative Commons Attribution 4.0 International License.
Hak cipta artikel yang diterbitkan di jurnal ilmiah dimiliki oleh penerbit, bukan penulis. Hal ini berkaitan dengan koordinasi hak akses untuk cetak ulang atau penggunaan lainnya. Dalam hal ini penerbit mempunyai keluluasaan untuk mempublikasikan artikel sesuai dengan kesepakanan Transfer Agreement (penyerahan hak cipta) antara penerbit dengan penulis.