STRUKTUR NASKAH DRAMA ROH KARYA WISRAN HADI
Keywords:
Structure, script, drama.
Abstract
The structural approach is an initial approach in a literary research. The purpose of this research is to describe the structural elements and describe the relationship between any elements in the drama script Roh by Wisran Hadi. The source of this research is the drama script Roh by Wisran Hadi written in June 1998 in Pagaruyung, West Sumatra. The script of this play has four acts with 29 pages. The drama script Roh is one of the best scripts by Wisran Hadi and won the 2nd place award in the 2003 DKJ competition. The drama script Roh by Wisran Hadi was published in the Sobrat drama script collection. Published by PT. Grasindo Jakarta 2003. The results of this study are in accordance with the initial objectives, the process of obtaining data is carried out through various stages, starting from the stage of recording data, classifying data and analyzing data. This research was conducted to prove that within the intrinsic elements of Wisran Hadi's dramae Roh, there is a concrete and significant relationship so that a literary work can be enjoyed in every verse of the written word
Downloads
Download data is not yet available.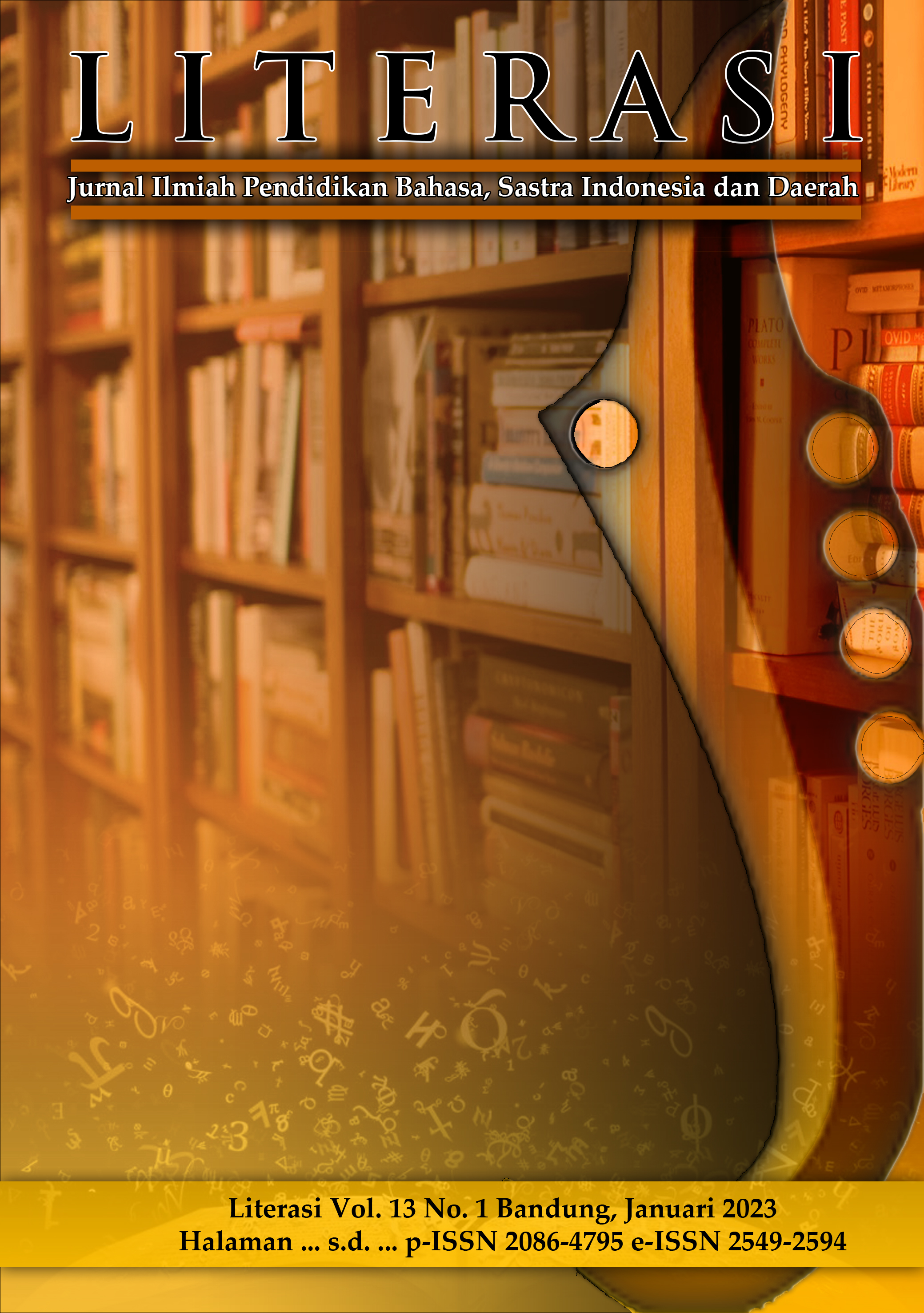 Downloads
License
Copyright (c) 2023 Literasi: Jurnal Ilmiah Pendidikan Bahasa, Sastra Indonesia dan Daerah
This work is licensed under a Creative Commons Attribution 4.0 International License.
Hak cipta artikel yang diterbitkan di jurnal ilmiah dimiliki oleh penerbit, bukan penulis. Hal ini berkaitan dengan koordinasi hak akses untuk cetak ulang atau penggunaan lainnya. Dalam hal ini penerbit mempunyai keluluasaan untuk mempublikasikan artikel sesuai dengan kesepakanan Transfer Agreement (penyerahan hak cipta) antara penerbit dengan penulis.