SUATU PERBANDINGAN NILAI-NILAI PENDIDIKAN KARAKTER DALAM NOVEL ORANG-ORANG BIASA DAN NOVEL GURU AINI KARYA ANDREA HIRATA
Keywords:
Character Values, Orang-Orang Biasa, Guru Aini Karya
Abstract
The purpose of this study is to describe the similarities and differences in the values ​​of character education in the novels Orang-Orang Ordinary by Andrea Hirata and Guru Aini Ordinary. The type of research used in this study is qualitative by using descriptive methods. The results of the study address character education in the novel ordinary people and the novel Guru Aini by Andrea Hirata including religious values, honesty, tolerance, discipline, hard work, independent democracy, curiosity, national spirit, love of the motherland, respect for achievement, friendship, peace-loving, fond of reading, social care, responsibility. While the similarities of the two novels are seen from the aspects or values ​​found as well as the description of the aspects found. Aspects of the values ​​of character education include: religious values, honesty, discipline, hard work, independence, love of the motherland, love of peace, social care and responsibility. As for the differences in the value of character education, namely several aspects or values ​​of character education in the Ordinary People novel, only 9 aspects are found, while in the Guru Aini novel, 16 aspects are found.
Downloads
Download data is not yet available.
References
Agus, Yulianto. Iis Nuryati, A. M. (2022). Analisis Nilai-Nilai Pendidikan Karakter Dalam Novel Rumah Tanpa Jendela Karya Asma Nadia. Tabasa: Jurnal Bahasa, Sastra Indonesia, 1(1).
Annisa, F. (2019). Penanaman Nilai-Nilai Pendidikan Karakter Disiplin Pada Siswa Sekolah Dasar. Perspektif Pendidikan Dan Keguruan, 10(1), 69–74. https://doi.org/10.25299/perspektif.2019.vol10(1).3102
Hirata, A. (2020a). Guru Aini. In Bentang Pustaka Hirata,Andrea,2020.
Hirata, A. (2020b). Orang-Orang Biasa. In PT bentang pustaka.
Ihsan Abraham. (2017). Struktur Kepribadian Tokoh dalam Novel Surat Kecil untuk Tuhan Karya Agnes Davanor. KEMBARA Jurnal Keilmuan Bahasa, Sastra, Dan Pengajarannya, 3(1), 55–63.
Muchtar, D., & Suryani, A. (2019). Pendidikan Karakter Menurut Kemendikbud. Edumaspul: Jurnal Pendidikan, 3(2), 50–57. https://doi.org/10.33487/edumaspul.v3i2.142
Nuristifah, H. (2021). Aspek Sosiologi Sastra Dan Nilai Pendidikan Karakter Pada Novel Orang-Orang Biasa Karya Andrea Hirata. Konferensi Ilmiah Pendidikan.
Nyoman. (2018). Metode Penelitian Bahasa: Pendekatan Struktural. Metode Penelitian Bahasa, 14, 1–123.
Putria Yanti, Z. (2022). Apresiasi Prosa Teori dan Aplikasi. In Kota Malang: CV. Literasi Nusantara Abadi.
Ramdhani, M. A. (2018). Wage Policy and Wage Determination in 1983. Journal of Industrial Relations, 8(1), 112–119. https://doi.org/10.1177/002218568402600108
Sugiyono. (2010). Metode Penelitian Pendidikan Pendekatan Kuantitatif, kualitatif, dan R&D. In Bandung: Alfabeta (p. 2010).
Sugiyono. (2017). Metode Penelitian Kuantitatif, Kualitatif, R & D. In Bandung: CV Alfabeta.
Suriani, E. (2016). Konsep Pendidikan Karakter Dan Moral Dalam Islam. El-Tsaqafah : Jurnal Jurusan PBA, 15(2), 171–182.
Sutiyani, F., Adi, T. T., & Meilanie, R. S. M. (2021). Nilai-Nilai Pendidikan Karakter pada Film Adit dan Sopo Jarwo Ditinjau dari Aspek Pedagogik. Jurnal Obsesi : Jurnal Pendidikan Anak Usia Dini, 5(2), 2201–2210. https://doi.org/10.31004/obsesi.v5i2.1133
Yuwinarti, L. L. (2022). Analisis Nilai Pendidikan Karakter Dalam Novel Guru Aini Karya Andrea Hirata Melalui Pendekatan Hermeneutika Dan Pemanfaatannya Sebagai Modul Pembelajaran Membaca Fiksi Di Kelas XI SMA. In IAIN Syekh Nurjati Cirebon.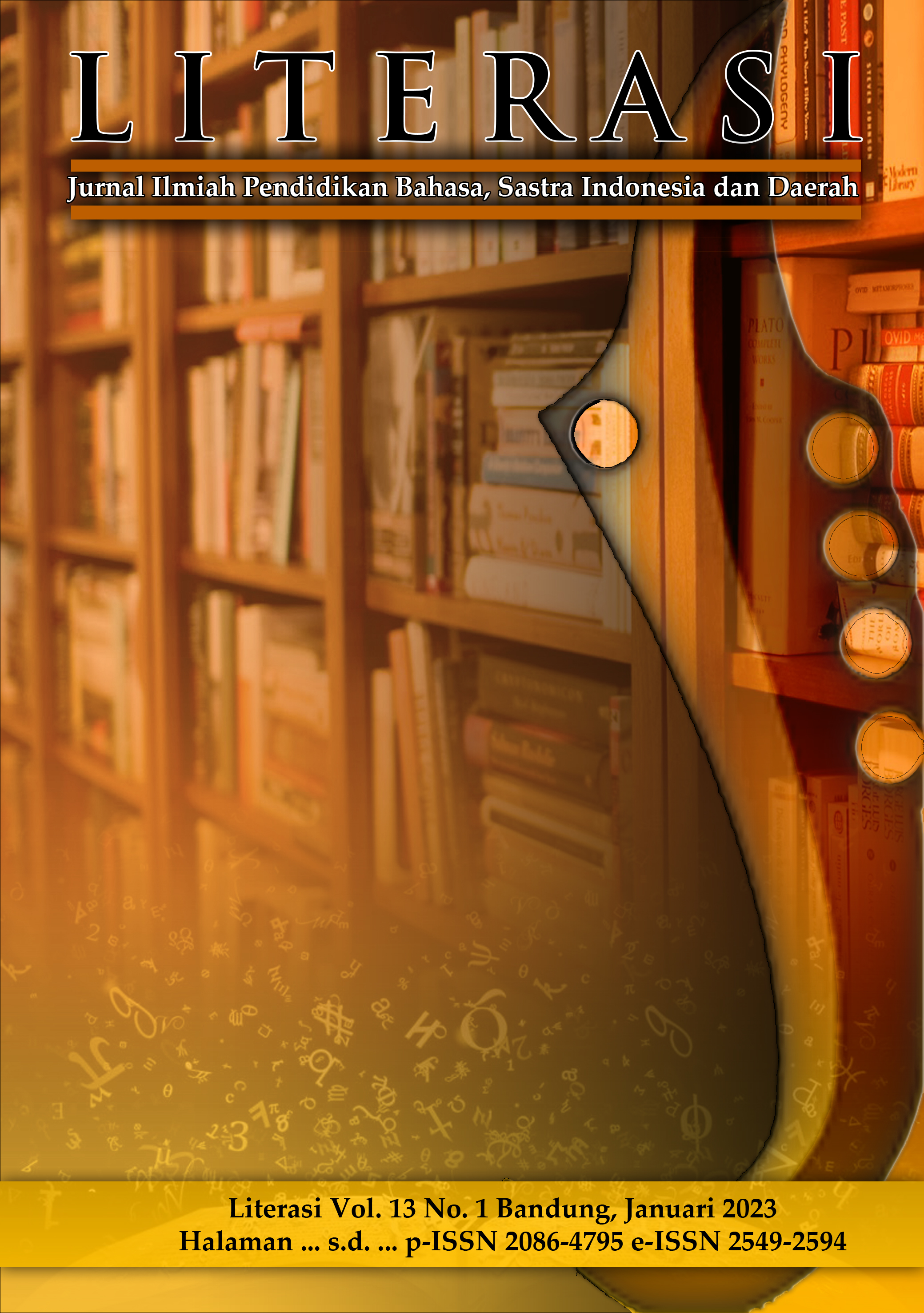 Downloads
License
Copyright (c) 2022 Literasi: Jurnal Ilmiah Pendidikan Bahasa, Sastra Indonesia dan Daerah
This work is licensed under a Creative Commons Attribution 4.0 International License.
Hak cipta artikel yang diterbitkan di jurnal ilmiah dimiliki oleh penerbit, bukan penulis. Hal ini berkaitan dengan koordinasi hak akses untuk cetak ulang atau penggunaan lainnya. Dalam hal ini penerbit mempunyai keluluasaan untuk mempublikasikan artikel sesuai dengan kesepakanan Transfer Agreement (penyerahan hak cipta) antara penerbit dengan penulis.