KEKERABATAN BAHASA SUNDA DAN BAHASA JAWA BARU: KAJIAN LINGUISTIK HISTORIS KOMPARATIF
COMPARATIVE LINGUISTIC STUDY
Abstract
This study aims to describe the kinship relationship between Sundanese and the new Javanese language by using comparative historical linguistic studies. This research is conducting using qualitative and quantitative descriptive methods and lexicostatistical techniques. Lexicostatistics is a language grouping method that is carried out by calculating the percentage of kinship to determine the level of kinship between the languages ​​being compared. The source of the research data came from 200 Swadesh vocabulary lists which is collecting using the listening method with the conversational engagement technique and continued with the recording technique and note-taking technique. The results show that the Sundanese language and the new Javanese language have a kinship relationship. The results of lexicostatistical calculations yield a percentage of 36% which is included in the family language level. The kinship relationship between Sundanese and the new Javanese language is also marked by the presence of (1) identical word pairs such as [bapa], [kəmbaη], [laηit]. (2) Corresponding word pairs produce 7 rules, namely, /h~ø/ such as [hatɛ] and [ati] , /b~w/ such as [bulan] and [wulan], /a~ɔ/ such as [tuma] and [ tumɔ], /u~U/ like [suruƞ] and [surUƞ], /r~d~l/ like [hidőƞ] and [irəƞ], /j~d/ like [jalan] and [dalan], /i~ I/ like [gariƞ] and [garIƞ]. (3) Word pairs that have phonetic similarities, such as [bɛntaη] and [lintaη], [kɔnɛη] and [kuniη]. (4) Word pairs that differ in one phoneme, such as [suku] and [sikil], [jukut] and [sukət].
Downloads
Download data is not yet available.
References
Badan Pengembangan dan Pembinaan Bahasa (Online). (2019). Diakses 22 Juli 2022 dari https://dapobas.kemdikbud.go.id/.
Djajasudarma, Fatimah. (2006). Metode Linguistik. Bandung: Rineka Cipta.
F, Y. Ahmadi. (2017). Hubungan Kekerabatan Bahasa Minang dan Bahasa Sunda: Kajian Linguistik Bandingan Historis. Semantik: Jurnal Ilmiah Program Studi Pendidikan Bahasa Dan Sastra Indonesia, 41, 71–88. e-journal.stkipsiliwangi.ac.id
Keraf, G. (1984). Linguistik Bandingan Historis.Jakarta: Gramedia.
Kridalaksana,H. (2009). Kamus Linguistik. Jakarta: PT Gramedia
Maemunah, E. (2017). Makna Kosakata "Jatuh" Dalam Bahasa Sunda Dan Bahasa Jawa. Aksara, 29(2), 239. https://doi.org/10.29255/aksara.v29i2.38.239-252
Marsono.(2016).Morfologis Bahasa Indonesia dan Nusantara. Yogyakarta : Gadjah Mada University Press.
Marsono. (2019). Fonologi: Bahasa Indonesia, Jawa dan Jawa Kuna. Yogyakarta:Gadjah Mada University Press.
Ruriana, P. (2018). Hubungan Kekerabatan Bahasa Jawa Dan Madura. Kandai, 14(1), 15. https://doi.org/10.26499/jk.v14i1.512
Sobarna, C., Gunardi, G., & Afsari, A. S. (2019). Toponim dalam Upaya Pemertahanan Bahasa Sunda di Wilayah Jawa Tengah: Kasus di Kecamatan Dayeuhluhur, Kabupaten Cilacap. Makna: Jurnal Kajian Komunikasi, Bahasa, dan Budaya, 4(1), 154-173. https://doi.org/10.33558/makna.v4i1.1678
Sobarna, C., Gunardi, G., & Wahya, W. (2018). Toponimi Nama Tempat Berbahasa Sunda di Kabupaten Banyumas. Panggung, 28(2), 154-173. doi:10.26742/panggung.v28i2.426
Sudaryanto. (2015). Metode dan Aneka Teknis Analisis Bahasa. Yogyakarta: Sanata Dharma University Press.
Syariffudin & Widayati (2018). Kekerabatan Bahasa Haloban, Bahasa Alas, dan Bahasa Gayo: Kajian Linguistik Historis Komparatif. Dialog, 41(2), 215-222. https://doi.org/10.47655/dialog.v41i2.300
Wahya, W., Sobarna, C., Muhtadin, T., & Lyra, H. M. Inovasi Bahasa Sunda Di Kecamatan Salem Kabupaten Brebes Jawa Tengah. Riksa Bahasa: Jurnal Bahasa, Sastra, dan Pembelajarannya, 2(1). 129-135. https://doi.org/10.17509/rb.v2i1.8784.g5494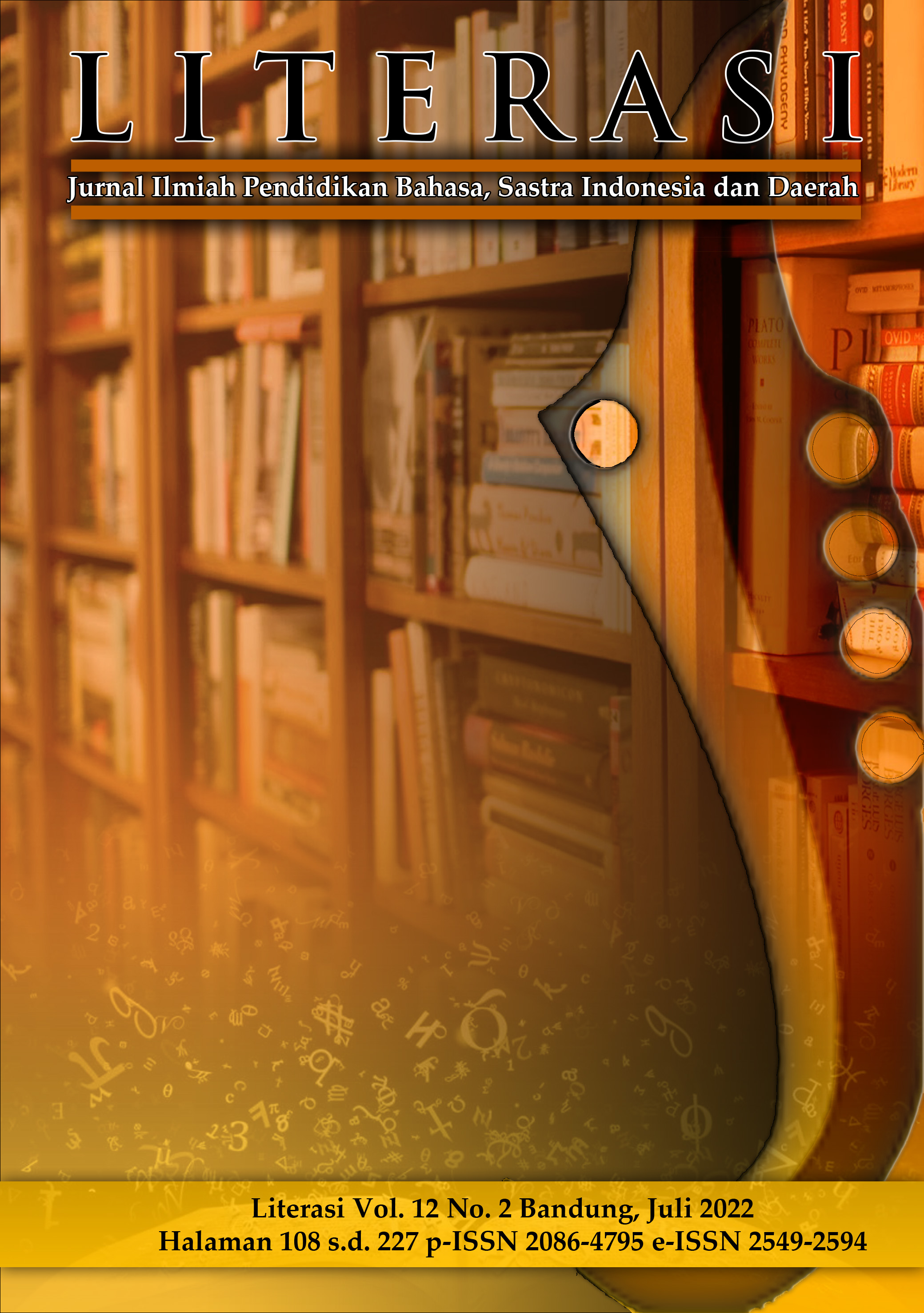 Downloads
License
Hak cipta artikel yang diterbitkan di jurnal ilmiah dimiliki oleh penerbit, bukan penulis. Hal ini berkaitan dengan koordinasi hak akses untuk cetak ulang atau penggunaan lainnya. Dalam hal ini penerbit mempunyai keluluasaan untuk mempublikasikan artikel sesuai dengan kesepakanan Transfer Agreement (penyerahan hak cipta) antara penerbit dengan penulis.