KESANTUNAN BERBAHASA DOSEN TERHADAP MAHASISWA DALAM PEMBELAJARAN BAHASA INDONESIA
Keywords:
Politeness, Maxim, & Leech.
Abstract
This study describes the politeness of language carried out by lecturers to students in learning Bahasa at a private university in the Karawang district. The method in this research is the descriptive qualitative. The data in this study are in the form of lecturers' speeches containing language politeness to students in learning Indonesian. The results and discussion in this study referred to Leech's theory, the researcher found that the maxim of wisdom is 13 utterances, the maxim of generosity is 11 utterances, the maxim of praise is 15 utterances, the maxim of humility is 11 utterances, the maxim of agreement is 10 utterances, and the maxim of sympathy is 13 utterances. The total number of politeness utterances from the lecturer is 73 utterances. Furthermore, based on the interview result, the researcher found out that the lecturer remained polite, especially using language towards the speech partner. The researchers conclude that the lecturer has realized polite speech using Leech's theory, and the lecturer will continue to speak consistently to his partner, especially in the academic setting.
Downloads
Download data is not yet available.
References
Chaer, Abdul. 2010. Kesantunan berbahasa. Jakarta: Rineka Cipta
Cahyaningrum, F., Andayani, A., & Setiawan, B. (2018). Kesantunan berbahasa siswa dalam konteks negosiasi di sekolah menengah atas. Jurnal Pena Indonesia, 4(1), 1-23. DOI: http://dx.doi.org/10.26740/jpi.v4n1.p1%20-%2023
Febriasari, D., & Wijayanti, W. (2018). Kesantunan berbahasa dalam proses pembelajaran di Sekolah Dasar. KREDO: Jurnal Ilmiah Bahasa dan Sastra, 2(1), 140-156. DOI: https://doi.org/10.24176/kredo.v2i1.2557
Gusriani, N., Atmazaki, A., & Ratna, E. (2012). Kesantunan berbahasa guru bahasa Indonesia dalam proses belajar mengajar di SMA Negeri 2 Lintau Buo. Pendidikan Bahasa Indonesia, 1(1), 287-295.
Gunawan, F. (2013). Wujud kesantunan berbahasa mahasiswa terhadap dosen di STAIN Kendari: Kajian Sosiopragmatik. Jurnal Arbitrer, 1(1), 8-18.
Hambali, D., & Novia, N. (2017). Kesantunan berbahasa Indonesia siswa sekolah dasar negeri 06 kota bengkulu. Jurnal PGSD: Jurnal Ilmiah Pendidikan Guru Sekolah Dasar, 10(1), 11-17.
Latifah. (2021). Alih kode dan campur kode dalam presentasi mahasiswa dengan menggunakan media zoom clouds meeting di IKIP Siliwangi. Semantik, 10(1), 65-76. DOI : 10.22460/semantik.v10i1.p65-76.
Mardiah, I., & Saripah, I. (2019). Profil kesantunan berbahasa siswa pada tingkat sekolah menengah atas. PEDAGOGIA, 17(2), 93-107.
Mislikhah, S. (2020). Kesantunan berbahasa. Ar-Raniry, International Journal of Islamic Studies, 1(2), 285-296.
Sholichah, I. (2011). Kesantunan Berbahasa Mahasiswa Fakultas Bahasa dan Seni Universitas Negeri Semarang dalam Forum Diskusi Ilmiah. [Under Graduates thesis, Universitas Negeri Semarang]. Semarang. http://lib.unnes.ac.id/id/eprint/9853
Wachyudi, K., Zakiyah, L., & Hussain, Z. (2018). Implikatur pertuturan antara dosen dan mahasiswa (sebuah studi deskriptif analitis di sebuah perguruan tinggi di Karawang). Prosiding Seminar Internasional Riksa Bahasa (pp. 175-182). Di akses dari http://proceedings.upi.edu/index.php/riksabahasa/article/view/137/132
Wachyudi, K., Miftakh, F., & Sunarya. (2020). Untangling teacher's politeness in EFL classroom: A case at a vocational school in Karawang. ELT in Focus, 3(2), 36-41. Doi: https://doi.org/10.35706/eltinfc.v3i2.4578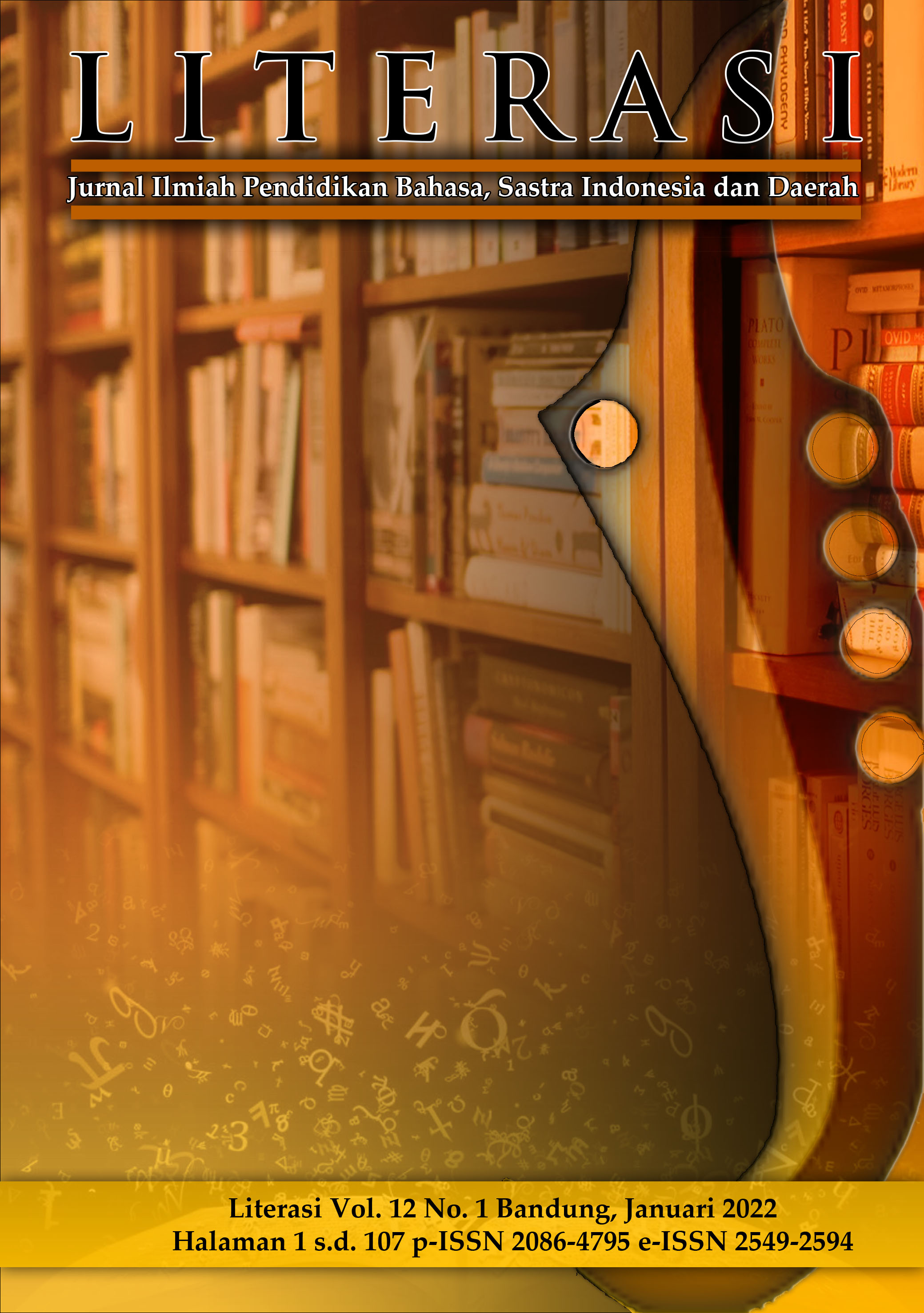 Downloads
License
Hak cipta artikel yang diterbitkan di jurnal ilmiah dimiliki oleh penerbit, bukan penulis. Hal ini berkaitan dengan koordinasi hak akses untuk cetak ulang atau penggunaan lainnya. Dalam hal ini penerbit mempunyai keluluasaan untuk mempublikasikan artikel sesuai dengan kesepakanan Transfer Agreement (penyerahan hak cipta) antara penerbit dengan penulis.