REPRESENTASI SASTRA PERJALANAN DALAM KUMPULAN CERPEN SURAT DARI PRAHA DAN ANTOLOGI PUISI KEPADA KAMU YANG DITUNGGU SALJU KARYA YUSRI FAJAR
Imam Shofii

Pascasarjana Universitas Negeri Surabaya, Surabaya, Indonesia
Abstract
In recent years many books have been published containing travel stories, both trips made in Indonesia and abroad. Some are published in the form of short stories, memoirs, travel guide books, even poems or novels. This paper was raised as a form of positive response to the phenomenon. Short stories and letter poems from Praha and to you who awaited Yusri Fajar's snow work become one of the travel stories that tells about the author's journey. By using a changing perspective that is to analyze data and cases, the author uses the theory of travel writing concepts proposed by Carl Thompson in a book entitled Travel Writing (2011).
This research describes a person's journey contained in a collection of short stories and poetry anthologies entitled letters from Praha and to you who awaited the snow by Yusri Fajar. Self / foreigners experience geographical dislocations, which result in themselves being in foreign societies and cultures, namely Europe. This study examines Yusri Fajar's short stories and poetry in a travel literature framework as described by Carl Thompson. Thompson explained that there are three ways to see the travel literary pattern, namely by looking at the depiction of the world, self-disclosure, and other representations.
The results of his research are that the background of the self/foreign as an alienated person travels by force turns out to influence the travel literary pattern, namely in the depiction of the world, self-disclosure and other representations. From the literary pattern of the journey it can be seen that the self has a layered world, namely between Indonesia and Europe. The existence of this layered world at the same time indicates the problems experienced by the self/foreign, namely the problem of inferiority before the Europeans and the self/foreign desire for their homeland.
Downloads
Download data is not yet available.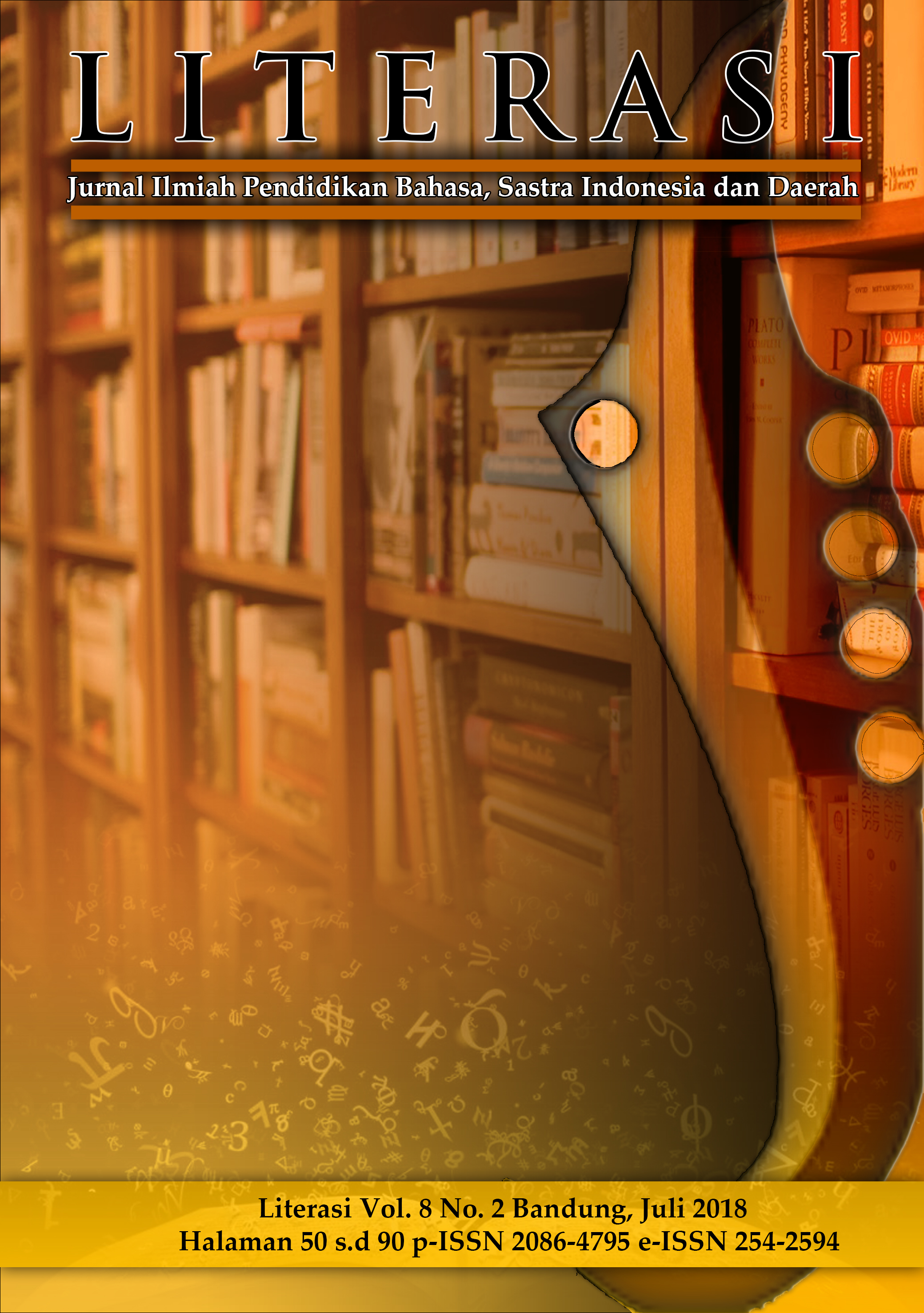 This work is licensed under a Creative Commons Attribution 4.0 International License.
Hak cipta artikel yang diterbitkan di jurnal ilmiah dimiliki oleh penerbit, bukan penulis. Hal ini berkaitan dengan koordinasi hak akses untuk cetak ulang atau penggunaan lainnya. Dalam hal ini penerbit mempunyai keluluasaan untuk mempublikasikan artikel sesuai dengan kesepakanan Transfer Agreement (penyerahan hak cipta) antara penerbit dengan penulis.