PENDIDIKAN SEKS UNTUK REMAJA DI KAWASAN SARITEM KOTA BANDUNG
Keywords:
pendidikan seks, Saritem, Komunikasi Antar Pribadi
Abstract
Sex education for adolescents is needed in order to provide a correct understanding of sex. This study aims to analyze sex education by families through an interpersonal communication approach to adolescents in the Saritem area of ​​Bandung city. This research was conducted with a qualitative approach. Data collection techniques with passive participant observation, in-depth interviews, documentation, and literature study. The results of the study show: The implementation of sex education is as follows: 1. The time for delivery of sex education is not certain but only as needed; 2). Seeing the right momentum; 3). Sex education material must be given comprehensively; 4) presented at a young age; 5) packaged in sharing, dialogue; 6), the child is positioned as an interlocutor; 7) without having to wait for events; 8), and adjust to the needs of the child. The role of parents in providing sex education is that of knowledge providers, evaluators, educators, companions, and monitors in sexual matters. Sex education is given according to the needs of the child without having to start with an event. Delivery is delivered by sharing and interaction is established in a warm atmosphere, by getting closer to children can create good social relations. Actions, are expected to obey parents as conveyed in sex education.
Downloads
Download data is not yet available.
References
Adi, F., & Solihin, O. (2022). PERAN KOMUNIKASI KELUARGA DALAM PENYIAPAN KEHIDUPAN BERKELUARGA BAGI REMAJA UNTUK MENCEGAH MASALAH GIZI PADA BALITA (STUNTING). Agregasi, 10(November), 108–119. https://doi.org/DOI : 10.34010/agregasi.v10i2.8134
Ali, M; Asrori, M. (2016). Psychology of Youth Development of Students. Bumi Aksara . Bumi Aksara.
Aprisye, A., Sudirman, S., & Yani, A. (2019). Perilaku Seksual Remaja Dalam Mengakses Media Sosial (Pornografi Sex Chat) Di Sma Negeri 3 Palu. Jurnal Kolaboratif Sains, 1(1), 502–513.
Azis, I. N., Sari, M. K., Tiara, R., Hoerudin, R., & ... (2022). Pribadi Yang Terbuka: Komunikasi Interpersonal Pekerja Seks Komersil di Saritem Bandung. … Ilmu Komunikasi, 1. http://ejurnal.undana.ac.id/index.php/JIKOM/article/view/6442%0Ahttps://ejurnal.undana.ac.id/index.php/JIKOM/article/download/6442/3965
Bialystok, L., Wright, J., Berzins, T., Guy, C., & Osborne, E. (2020). The appropriation of sex education by conservative populism. Curriculum Inquiry, 50(4), 330–351. https://doi.org/10.1080/03626784.2020.1809967
Creswell, J. W. (2016). Pendekatan Kualitatif, Kuantitatif dan Campuran (4th ed., Issue ID). Pustaka Pelajar.
Erni, A. (2017). Komunikasi Interpersonal Keluarga Tentang Pendidikan Seks Pada Anak Usia 1-5 Tahun Amina Erni Pendahuluan. Jurnal Dakwah Dan Komunikasi, 2.
Gunarsa, D. S. (2012). Psikologi Remaja. BPK Gunung Mulia.
Nadeak, B., Pd, M., Naibaho, L., Pd, S., Hum, M., Sormin, E., Si, S., Pd, M., Deliviana, E., Psi, M., & Servizio, J. C. (2020). Sexuality in Education Begins in The Home (Pendidikan Seksual Berawal Dalam Keluarga). Comunita Servizio, 2(November), 1. http://ejournal.uki.ac.id/index.php/cs/article/view/1651
Natuna, D. A., & Achmad, S. S. (2016). Pendidikan Seks dalam Keluarga Menurut Pandangan remaja. Proceeding 7th International Seminar on Regional Education, 1, 486–495.
Nurbaya, S., & Qasim, M. (2018). Penerapan Pendidikan Seks (Underwear Rules) Terhadap Pencegahan Kekerasan Seksual Pada Anak Dan Orang Tua Di Sd Negeri 52 Welonge Kabupaten Soppeng. Media Kesehatan Politeknik Kesehatan Makassar, 13(2), 19. https://doi.org/10.32382/medkes.v13i2.612
Rahmawati, A., & Khamdani, F. (2021). Pendidikan Seksual Pada Anak Usia 7-9 Tahun Di Sd Negeri Glawan Kabupaten Semarang. Jurnal Pengabdian Masyarakat Kebidanan, 3(1), 36. https://doi.org/10.26714/jpmk.v3i1.6858
Shapiro, S., & Brown, C. (2018). Sex Education Standards Across The States. Sex Education , 1–7. https://cdn.americanprogress.org/content/uploads/2018/03/22132717/SexEducationBrief-Fig-Sources.
Solehati, T., Septiani, R. F., Muliani, R., Nurhasanah, S. A., Afriani, S. N., Nuraini, S., Fauziah, S., Pratiwi, S. D., Alam, S. P., Hermayanti, Y., Kosasih, C. E., & Mediani, H. S. (2022). Intervensi Bagi Orang Tua dalam Mencegah Kekerasan Seksual Anak di Indonesia: Scoping Review. Jurnal Obsesi : Jurnal Pendidikan Anak Usia Dini, 6(3), 2201–2214.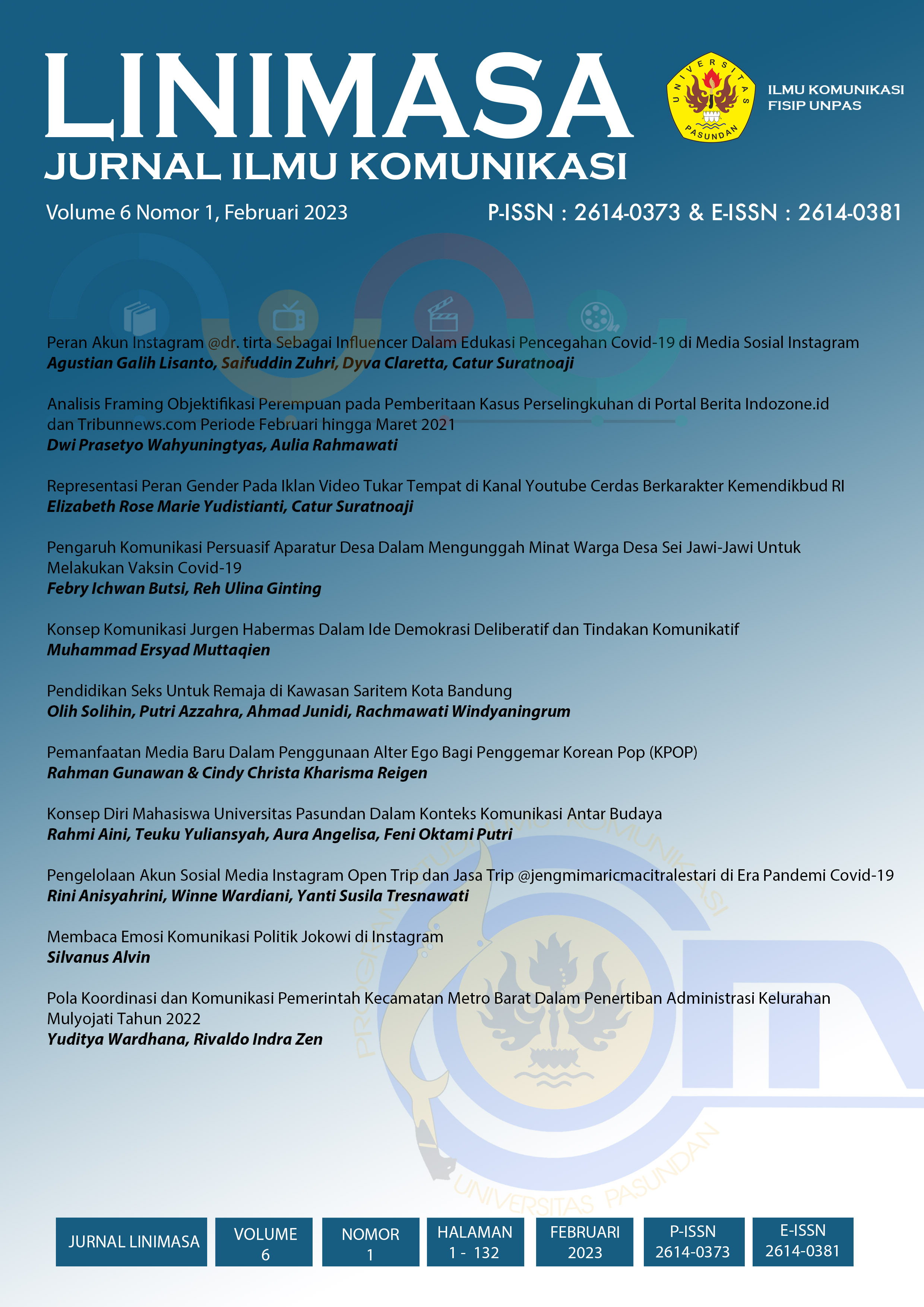 Downloads