PENGELOLAAN AKUN SOSIAL MEDIA INSTAGRAM OPEN TRIP DAN JASA TITIP @jengmimarikmacitralestari DI ERA PANDEMI COVID-19
Keywords:
Communication Management, Open Trip, Entrusted Services, Instagram, Pandemic.
Abstract
The Covid-19 pandemic has changed life patterns, such as the tourism sector which has been badly affected due to restrictions on human movement. The Indonesian government implements IMR or New Habit Adaptation as an effort to keep active by implementing health protocols. Tourist trips by foreign tourists and domestic tourists have decreased as a result of restrictions on human movement and activity. Open Trip services and outward shopping entrusted services have decreased. However, tourism service actors and the creative economy must continue to maintain their business. Jastip and opentrip business owners in a state of survival continue to promote through social media. Open Trip business owners and Titip Services from the Instagram account @jengmimarikmacitralestari also carry out promotions on Instagram social media. The purpose of this research is to find out how to manage Instagram Open Trip accounts and Titip Services @jengmimarikmacitralestari in the Era of the Covid-19 Pandemic. The research method is qualitative with a case study research tradition approach. The case study on the Instagram account @jengmimarikmacitralestari is because there is a peculiarity of the case with the owner of the Instagram account Open Trip and Titip Service which is managed by the account owner who is very strong in promotion on Instagram social media. During the pandemic, it was a testing period for account owners in their business to be able to stay in business and continue to manage their Instagram accounts. The data collection technique is through in-depth interviews with the account owner, making observations on the Instagram social media account @jengmimarikmacitralestari, and literature review.
Downloads
Download data is not yet available.
References
Adom, D., Attah, A. Y., & Ankrah, K. (2016). Constructivism Philosophical Paradigm: Implication for Research, Teaching and Learning. Global Journal of Arts Humanities and Social Sciences, 4(10), 1–9.
Bakhare, R. (2018). A study on Customer Engagement - Content Marketing Via Social Media a Branding Strategy. 13, 1–5.
Damanik, D., & Wibowo, F. S. (2018). Implementasi Strategi 4P Dalam Meningkatkan Frekuensi Public Event Di Harris Hotel and Conventions Bekasi (Hhcb). National Conference of Creative Industry, September. https://doi.org/10.30813/ncci.v0i0.1248
Davahli, M. R., Karwowski, W., Sonmez, S., & Apostolopoulos, Y. (2020). The hospitality industry in the face of the COVID-19 pandemic: Current topics and research methods. International Journal of Environmental Research and Public Health, 17(20), 1–22. https://doi.org/10.3390/ijerph17207366
Deny K. Moelyadi, I. (2020). Travel Choice Component: Is The Price Important For Open Trip Tourists? Jurnal Manajemen, 24(2), 266. https://doi.org/10.24912/jm.v24i2.647
Dominici, G. (2009). From Marketing Mix to e-Marketing Mix: a literature overview and classification. International Journal of Business and Management, 4(9). https://doi.org/10.5539/ijbm.v4n9p17
Fransiska, V., & Paramita, S. (2020). Live Shopping dalam Industri Komunikasi Digital melalui Instagram. Prologia, 4(1), 67. https://doi.org/10.24912/pr.v4i1.6435
Hashim, N., & Hamzah, M. I. (2014). 7P's: A Literature Review of Islamic Marketing and Contemporary Marketing Mix. Procedia - Social and Behavioral Sciences, 130, 155–159. https://doi.org/10.1016/j.sbspro.2014.04.019
Hens, H. (2018). Antara Open Trip dan Private Trip , Mana Lebih Seru ? Open Trip. Liputan6.Com. https://www.liputan6.com/lifestyle/read/3694317/antara-open-trip-dan-private-trip-mana-lebih-seru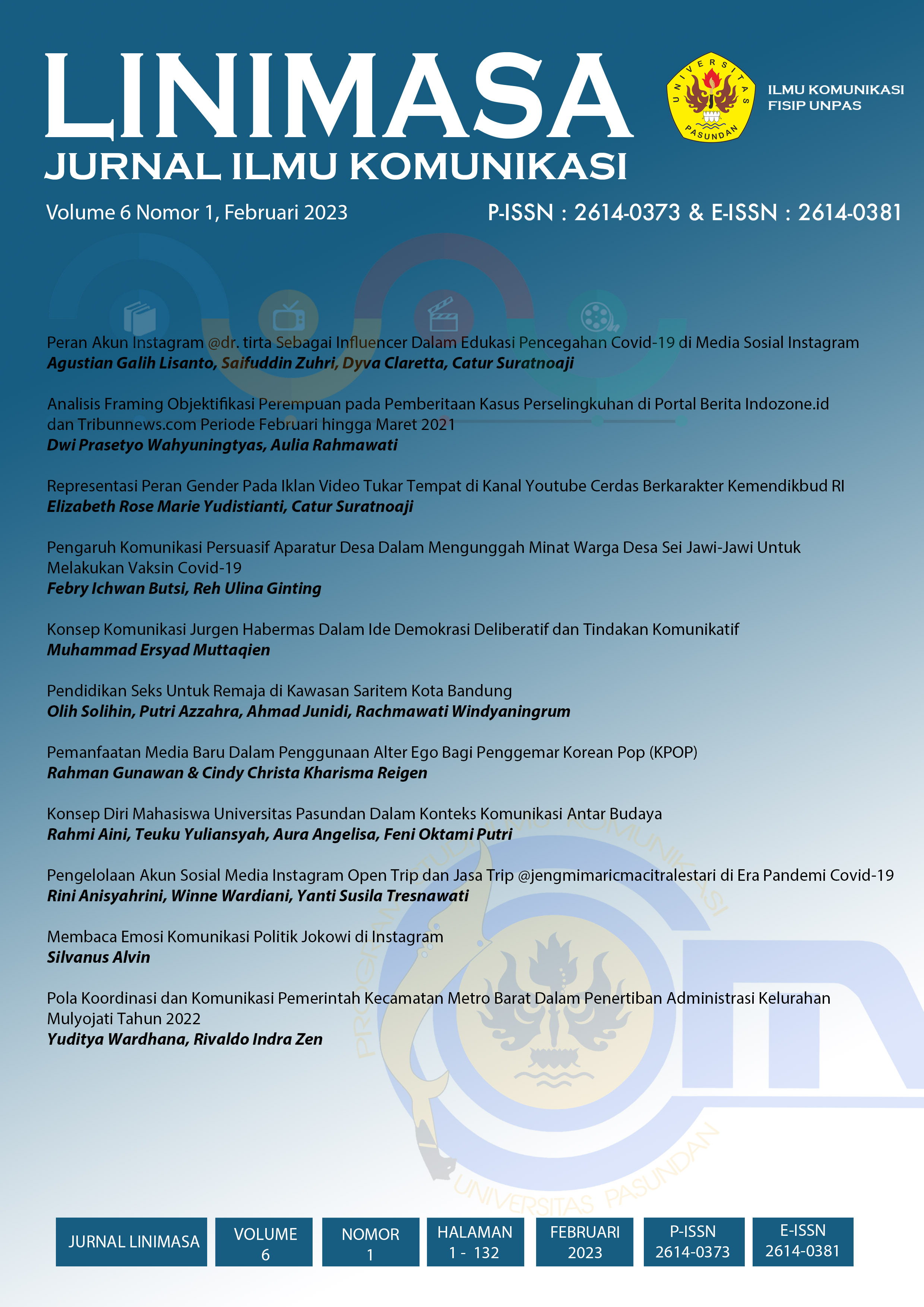 Downloads