ANALISIS FRAMING OBJEKTIFIKASI PEREMPUAN PADA PEMBERITAAN KASUS PERSELINGKUHAN DI PORTAL BERITA INDOZONE.ID DAN TRIBUNNEWS.COM PERIODE FEBRUARI HINGGA MARET 2021
Keywords:
framing, infidelity in relationship, news, objectification, women
Abstract
Regardless the role of women as perpetrators or victims in the society cases, the mass media often portrays women as the parties who always cause problems. This study aims to determine the objectification and representation of women in the news framing in the news of Nissa Sabyan has an affair with Ayus Sabyan on the news portal Indozone.id and Tribunnews.com for the period February to March 2021. The analysis will use the framing analysis method from Pan & Kosicki on eighteen corpus. The results of the study indicate that there are similarities in the news themes presented on the two news portals, that female actors have a greater responsibility for the occurrence of infidelity in relationship. However, there are differences in conveying the news, where Indozone.id tends to put Nissa Sabyan as pelakor (perebut lelaki orang) or a label for woman who flirts to men who already have a partner. While Tribunnews.com portrays Ayus with good images. The objectification of women on the two news portals is shown through the choice of words such as "tidak harus cantik", "gatel", and "wanita cantik"which indicate there are standart to categorize women. Furthermore, the mass media choose to compare Nissa Sabyan and Ririe Fairus by using the words "lebih memilih", "dibandingkan", "daripada" for Ayus statement to end his marriage status. Rather than doing that, the mass media should comparing infidelity and marriage by giving narations that Ayus wants to continuou his relationship with Nissa Sabyan than to keep his marriage with Ririe Fairus.
Downloads
Download data is not yet available.
References
Badara, A. (2013). Analisis Wacana: Teori, Metode, dan Penerapannya pada Wacana Media. Jakarta: Kencana Prenada Media Grup.
Dewi, G. P. S. (2018). Libidinal Perempuan Sebagai Pemicu Objektifikasi Perempuan di Media Sosial Instagram. Universitas Sultan Ageng Tirtayasa.
Eriyanto. (2002). Analisis Framing: Konstruksi, Ideologi, dan Politik Media (1st ed.). Yogyakarta: LKiS Pelangi Aksara.
Eriyanto. (2011). Analisis Wacana: Pengantar Analisis Teks Media. Yogyakarta: LKiS Printing Cemerlang.
Fahima, S. (2020). Konstruksi Jurnalisme Berspektif Gender (Analisis Framing Berita Kekerasan Seksual pada Perempuan di Media Daring Magdalene.co). Universitas Islam Negeri Syarif Hidayatullah.
Hardin, M., & Whiteside, E. (2010). Framing Through a Feminist Lens: A Tool in Support of an Activist Research Agenda. In Doing News Framing Analysis: Empirical and Theoretical Perspectives (1st ed., pp. 312–330). New York: Routledge.
Kasenda, A., & Sari, H. P. (2014). Representasi Media Massa Tentang Perempuan dalam Budaya Patriarki ( Analisis Isi Kolom Berita " Nah Ini Dia !" Pada Harian Pos Kota Periode 1 November – 30 November 2013 ). Jurnal Ilmu Sosial Dan Ilmu Politik, (November), 1–20.
Lase, F. J. (2015). McDonaldisasi Melalui Praktik Jurnalisme Hibrida di Kompasiana. Jurnal ILMU KOMUNIKASI, 11(2), 135–150. https://doi.org/10.24002/jik.v11i2.414
Leasfita, A. (2018). Strategi Seleksi Berita Pada Redaksi Media Online Pasangmata.com. Jurnal Komunikasi Stikom Prosia, 13(01), 1–9. Retrieved from http://www.stikomprosia.ac.id/
Minic, D. (2007). Feminist Media Theory and Activism: Different Worlds or Possible Coorperation. Gender and Peace Work, 282–308. Retrieved from https://www.nenasilje.org/publikacije/pdf/20poticaja/20pieces-minic.pdf
Pan, Z., & Kosicki, G. M. (1993). Framing analysis: An approach to news discourse. Political Communication, 10(1), 55–75. https://doi.org/10.1080/10584609.1993.9962963
Puspitasari, A. H., & Muktiyo, W. (2017). MENGGUGAT STEREOTIP "PEREMPUAN SEMPURNA ": Framing Media terhadap Perempuan Pelaku Tindak Kekerasan. Palestren, 10(2), 248–272.
Rengkaningtias, A. U. (2018). Perempuan Dalam Pandangan Media: Labelisasi Perempuan Sebagai "Agent Of Problem" Pada Koran Merapi. Communication, 9(1), 35. https://doi.org/10.36080/comm.v9i1.615
Romiyati. (2020). Gender Bias in News Reports a Case of Reporting Affair Presented By Detik.Com and Nova.Grid.Id). Gramatika STKIP PGRI Sumatera Barat, 6(1), 1–12. https://doi.org/10.22202/jg.2020.v6i1.3808
Sarwono, B. K. (2014). Saatnya Media Pro Perempuan: Perspektif Gender dalam Kajian Media. Yogyakarta: Lingkar Media.
Singh, S., Pal, S., & Kunwar, N. (2009). Advantages of extra-marital relationship in Indian community. Abstract. Journal Asian of Home Science, 4(1), 97–99.
Sugiyono. (2013). Metode Penelitian Kuantitatif, Kualitatif, dan R&D. Bandung: Alfabeta.
Yusnia, B. (2020). Analisis Framing Majalah Daring Magdalene.co Mengenai Kekerasan Perempuan. Universitas Muhammadiyah Surakarta.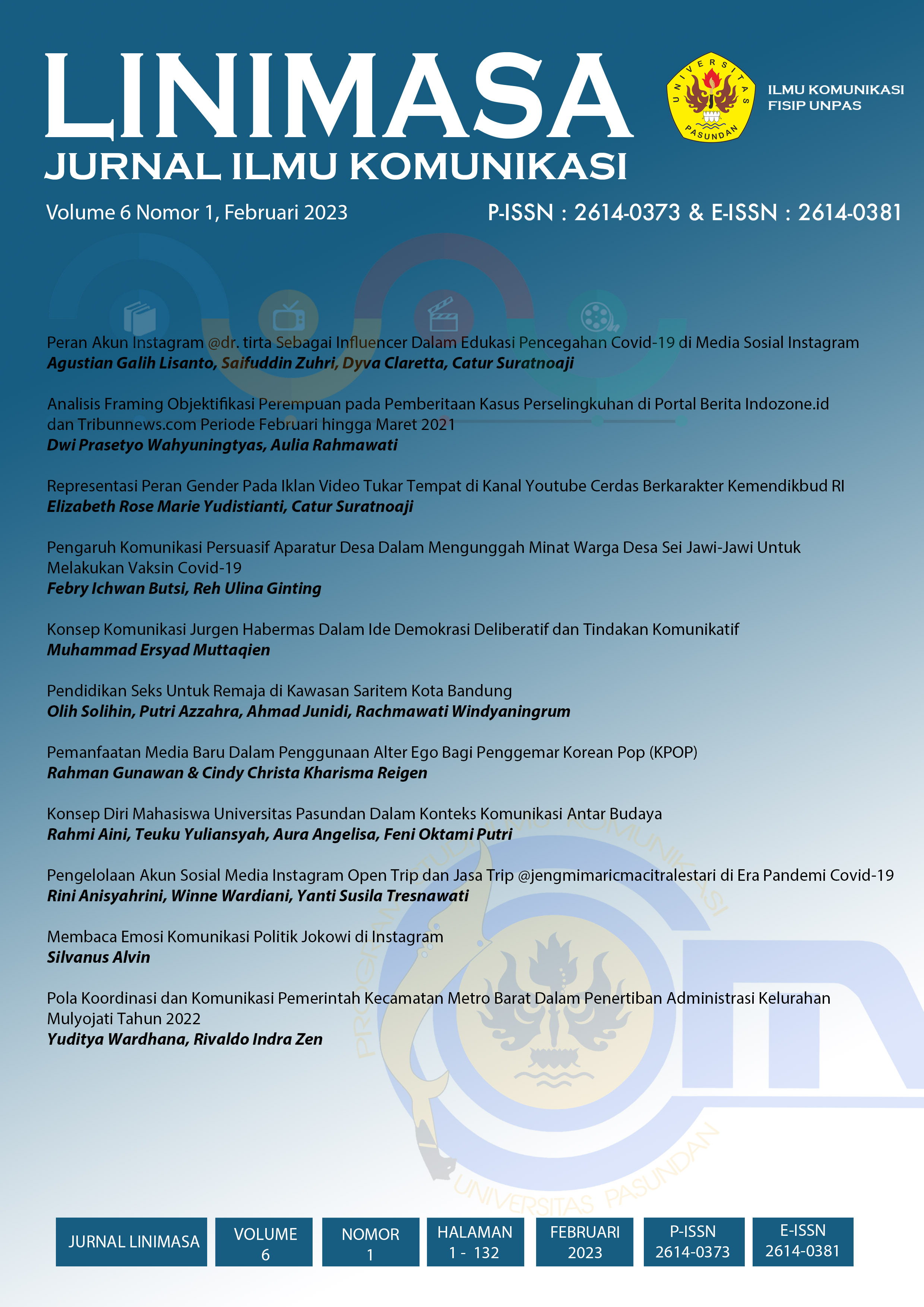 Downloads