PENGARUH KOMUNIKASI PERSUASIF APARATUR DESA DALAM MENGUNGGAH MINAT WARGA DESA SEI JAWI-JAWI UNTUK MELAKUKAN VAKSIN COVID-19
Keywords:
Komunikasi Persuasif, Vaksin Covid19, Aparatur Desa, Minat Warga
Abstract
This study aims to find out how much influence persuasive communication carried out by Sei Jawi-Jawi village officials in building residents' interest in carrying out the Covid-19 vaccine and to find out how residents' awareness of the implementation of the Covid-19 vaccine in Sei Jawi-Jawi village. This type of research is simple linear regression research using survey methods and data analysis using simple linear regression analysis. Total population is 4032 people. The sample size used the Slovin formula random sampling and the sample size was 98 people. Then the sampling using stratified random sampling, because the sample taken has an age limit. The results of data analysis showed the effect of persuasive communication on residents' interest in vaccines. Based on the results of the t test, it was found that the value of t count > t table, namely 7.444 > 1.985. This means that there is an influence between persuasive communication on residents' interest in vaccines. From the results of the coefficient of determination it was found that persuasive communication by Village Officials had a 36.6% influence on the Interests of Sei Jawi-Jawi Villagers in carrying out Covid-19 Vaccination while the remaining 63.4% was influenced by other factors outside of this study . Persuasive communication by village officials had quite an effect on the interest of Sei Jawi-Jawi Village residents in carrying out the Covid-19 Vaccination.
Downloads
Download data is not yet available.
References
Arikunto, S. (2019). Prosedur penelitian suatu pendekatan praktik.
Bungin, B. (2005). Metode Penelitian Kuantitatif: Komunikasi, Ekonomi, dan Kebijakan Publik serta Ilmu-ilmu Sosial Lainnya. Jakarta: Kencana.
Creswell, J. W., & Miller, D. L. (2000). Determining validity in qualitative inquiry. Theory into practice, 39(3), 124-130.
Masruuroh, L. (2020). Komunikasi Persuasif Dalam Dakwah Konteks Indonesia, Scopindo Media Pustaka.
Nawawi, H., & Martini, M. (2005). Penelitian terapan. Gadjah Mada University Press.
Putri, G. S. (2020). Keraguan Pada Vaksin Covid-19, Bagaimana Masyarakat Bersikap. Kompas.com. (Diakses tanggal 2 Juli 2022)
Rahmat, J. (2000). Psikologi Komunikasi. Bandung, Indonesia: Remaja
Sugiyono, D. (2013). Metode penelitian pendidikan pendekatan kuantitatif, kualitatif dan R&D.
Vandawati, Z. & Sugeng, B. (2021). Penanganan Pelayanan Kesehatan di Masa Pandemic Covid-19, Jakad Media Publishing.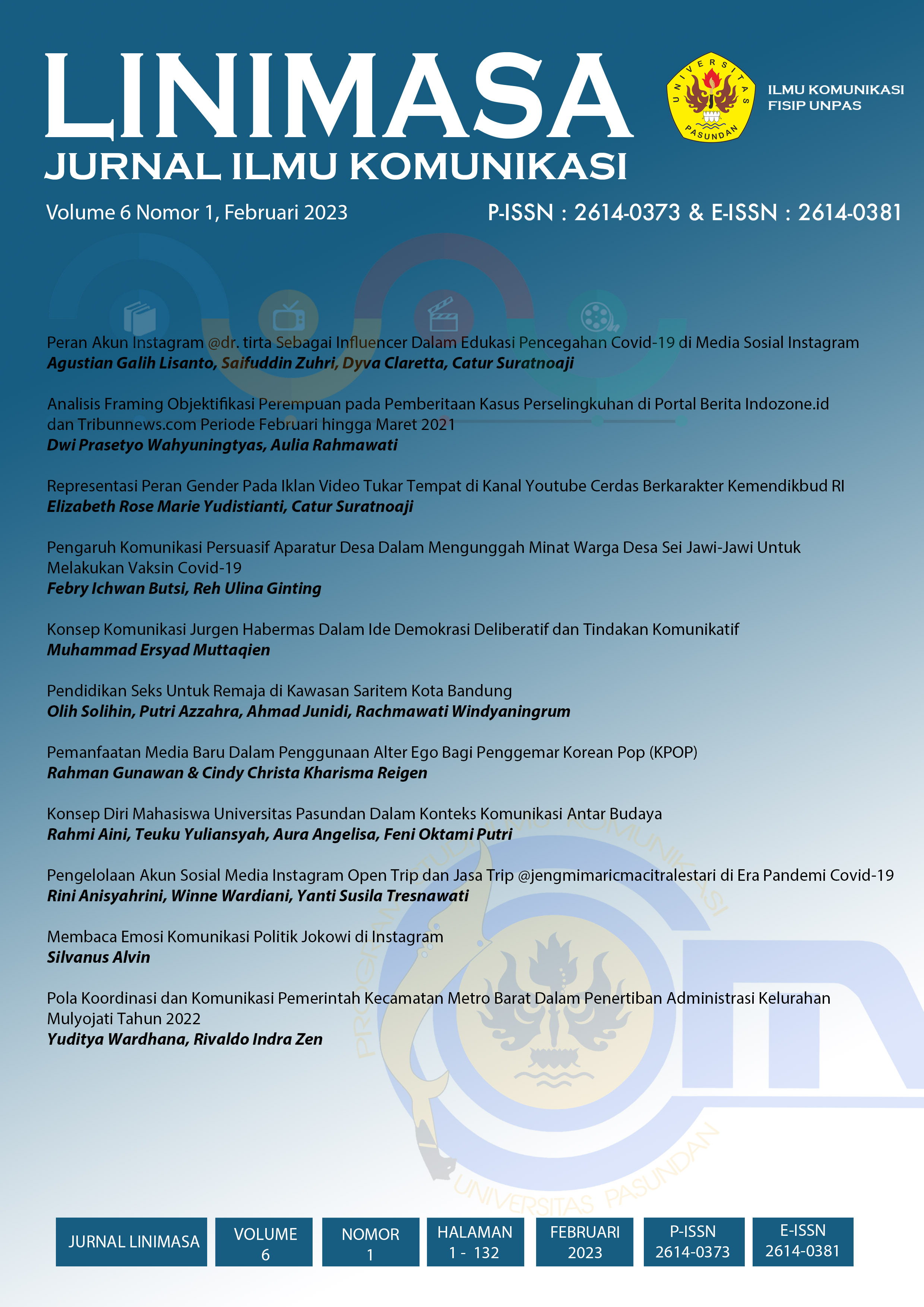 Downloads