PERAN AKUN INSTAGRAM @dr.tirta SEBAGAI INFLUENCER DALAM EDUKASI PENCEGAHAN COVID-19 DI MEDIA SOSIAL INSTAGRAM
ANALISIS ISI KONTEN INSTAGRAM @dr.tirta
Keywords:
Keywords : Social Media, Instagram, Influencers, COVID-19, Content analysis.
Abstract
In the current COVID-19 pandemic, social media and its influencers have a big role in disseminating information. As an influencer, @dr.tirta uses it to educate on COVID-19 prevention through the content he creates. Informal education through social media that occurs on the basis of a sense of care and responsibility to followers on Instagram. This study uses a qualitative content analysis method according to Holsti. This study aims to look at the content about COVID-19 education uploaded to the @dr.tirta Instagram account about COVID-19 prevention education. The results in this study indicate that the COVID-19 prevention education content created by the @dr.tirta account has two categories, namely the COVID-19 information category and vaccine information. Uploading content with @dr.tirta's direct and firm style of delivery is one of the factors for the @dr.tirta account to become one of the most noticed influencers during the pandemic era. The content created is easier because @dr.tirta also uses common language that is easily accessible to ordinary people.
Downloads
Download data is not yet available.
References
Anjani, S. dan Irwansyah. 2020. "Peranan Influencer Dalam Mengkomunikasikan Pesan di Media Sosial Instagram", Polyglot, 16(2):203
Djalante, R., Lassa, J., Setiamarga, D., Sudjatma, A., Indrawan, M., Haryanto, B., ... & Warsilah, H. (2020). Review and analysis of current responses to COVID-19 in Indonesia: Period of January to March 2020. Progress in Disaster Science, 6, 100091.
Imam Subrayogo, 2001. Metodologi Penelitian Sosial-Agama. Bandung:Remaja
Rosda Karya
Juwita, R. (2019). Artikel Konsep Dasar Pendidikan.
Li, Q., Guan, X., Wu, P., Wang, X., Zhou, L., Tong, Y., ... & Feng, Z. (2020). Early transmission dynamics in Wuhan, China, of novel coronavirus–infected pneumonia. New England journal of medicine.
Nasrullah, R. (2015). Media sosial: Perspektif komunikasi, budaya, dan sosioteknologi. Bandung: Simbiosa Rekatama Media, 2016
Parker, C. M., Saundage, D., & Lee, C. Y. (2011). Can qualitative content analysis be adapted for use by social informaticians to study social media discourse? A position paper.
Sugiyono, P. D. (2013). Metode Penelitian Kuantitatif, Kualitatif, dan R&D. Bandung : Alfabeta.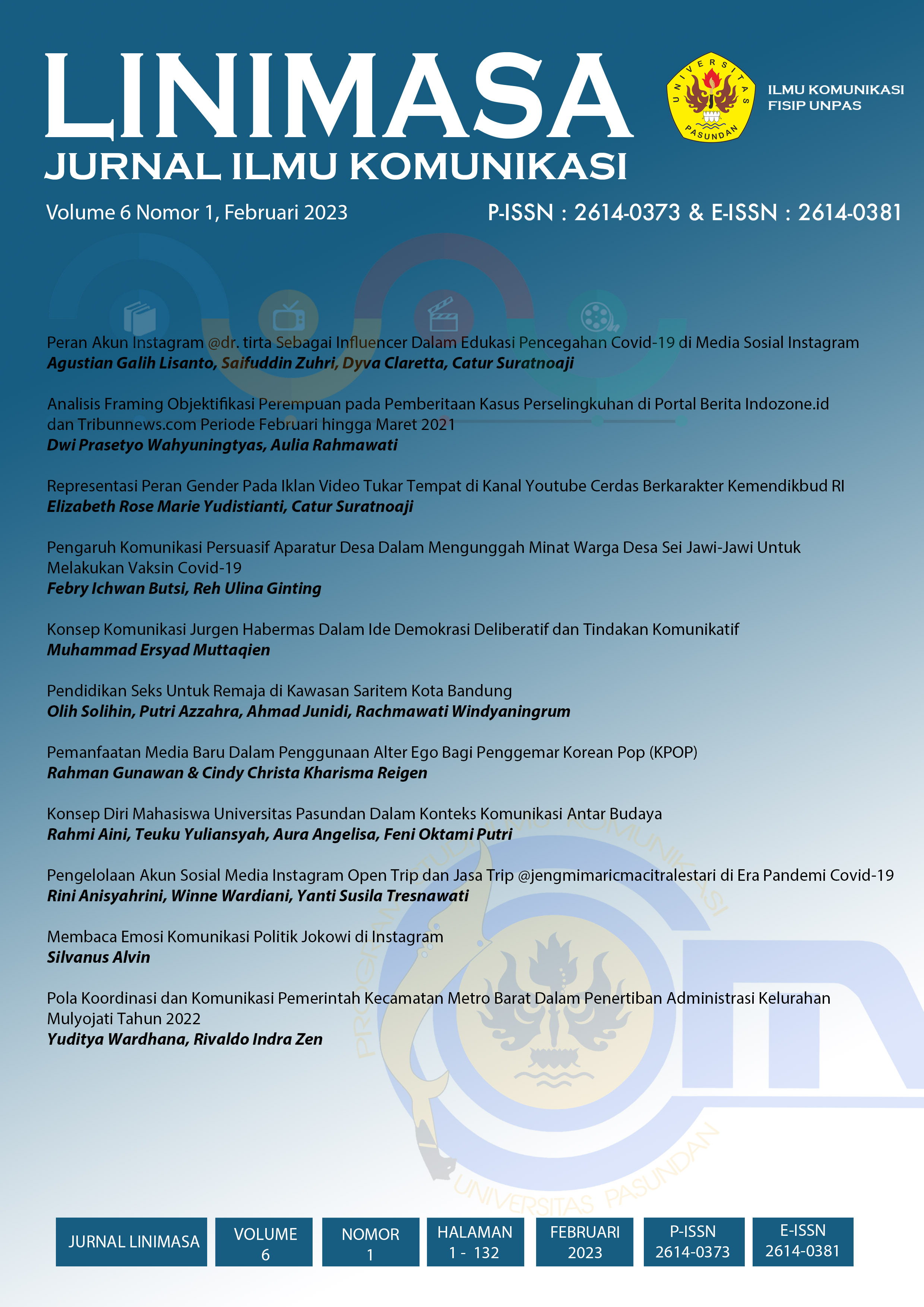 Downloads