PEMANFAATAN MEDIA BARU DALAM PENGGUNAAN ALTER EGO BAGI PENGGEMAR KOREAN POP (KPOP)
Keywords:
Kpop, alter ego, Twitter, media sosial, media baru
Abstract
The development of technology and information nowadays is very fast, especially in communication. The use of social media is increasingly mushrooming not only to interact and communicate but also to use social media as a manifestation of other personalities, one of which is what Korean pop (Kpop) fans do. They create a small community with fellow Korean pop idol group (Kpop) fans then use another name or the alter ego of each idol character he idolizes where they can mingle, communicate and even wage war between fans without knowing each other's real personal data because utilize new media to interact with each other. The purpose of this study is to conduct content analysis in what happens to the use of ego- counter accounts via the Twitter social media platform. In addition, the research method used is a descriptive qualitative approach, namely the analysis is carried out by interpreting messages or tweets on the Twitter platform by the alter ego account.
Downloads
Download data is not yet available.
References
Daftar Pustaka
Alyusi, S. D. (2016). Media Sosial Interaksi, Identitas, Dan Modal Sosial (1st ed.). Jakarta: PRENADAMEDIA GROUP.
Eliani, J., Yuniardi, M. S., & Masturah, A. N. (2018). Fanatisme dan Perilaku Agresif Verbal di Media Sosial pada Penggemar Idola K-Pop. Psikohumaniora: Jurnal Penelitian Psikologi, 3(1), 59–72.
Iradati Putri, Gradini. 2016. Fenomena Komunikasi Komunitas K-Popers Pekanbaru. Jom FISIP Vol.3 No.1 Februari 2016
Kurnia, A. 2017. Fenomena Akun Anonim di Media Sosial Sebagai Sumber Informasi dan Ekonomi (Analisis Wacana pada Akun Instagram Lambe Turah). Journal Communication Spectrum, Vol. 4 No. 2 Februari - Juli
Nurhadi, Z. F. (2015). Teori-teori Komunikasi. Bogor: Ghalia Indonesia.
Nurhadi, Zikri Fachrul. Dkk . 2019. Model Komunikasi Tentang Presentasi Diri Grup K-pop Cross Cover Dance Grup EX(SHIT). Jurnal Komunikasi dan Media Vol.4 No.1 Agustus 2019
Putri Agnesia, Natazha. (2019) Fan war K-pop dan keterlibatan penggemar dalam media sosial Instagram. Jurnal Unair
Puspita, Yesi . 2015. Pemanfaatan New Media dalam memudahkan komunikasi dan transaksi pelacur gay. Jurnal Pekommas, Vol. 18 No.3, Desember 2015:203-212
Ri'aeni, Ida Dkk. 2019. Pengaruh budaya Korea (K-Pop) terhadap remaja di Kota Cirebon.
Communication Vol.1 Januari 2019
Tania, Adelia.S.R, Dkk. (2020) Media Sosial, Identitas, Transformasi, dan Tantangannya.
Jakarta: Intrans Publishing Group
Internet
Alter Ego Definition. Retrieved 25 May 2021, from http://www.healthguidance.org/entry/11252/1/Alter-Ego-Definition.html.
Altered Ego. Retrieved 25 May 2021, from https://www.psychologytoday.com/us/articles/200611/altered-ego
Idntimes.com (2019) 3 Alasan Positif Seseorang Perlu Akun Anonim di Media Sosial. https://www.idntimes.com/life/inspiration/widya-lestari-n/3-alasan-positif-seseorang- perlu-akun-anonim-di-media-sosial-c1c2/1 (Diakses 08 November 2020)
Infokomputer.grid.id (2019) Pengguna Twitter di Indonesia Paling Banyak Pria daripada Perempuan https://infokomputer.grid.id/read/121705568/pengguna-twitter-di- indonesia-paling-banyak-pria-daripada-perempuan?page=all (Diakses 08 November 2020)
Kpopchart.net (2020) https://Kpopchart.net/2020/09/indonesia-masuk-daftar-negara-dengan-
jumlah-penggemar-Kpop-terbanyak-di-twitter.html (Diakses 08 November 2020)
Mahayana M.Hum dkk. (ed) Budaya Korea : hal-hal yang perlu Diketahui (2016), Buku pengantar Korea seri ke -10, INAKOS (The International Association Of Korean Studies In Indonesia), Pusat Studi Korea Universitas Gadjah Mada https://issuu.com/inakos/docs/file_buku_pengantar_korea_ke-10_don
Overseas.mofa.go.kr (2020) Hallyu: Gelombang Korea ( 한 류 :Korea Wave)
http://overseas.mofa.go.kr/id-id/wpge/m_2741/contents.do (Diakses 08 November 2020)
Rara C, Ageng dan Diana, Dina. 2019. Peran Media Massa Terhadap Perubahan Perilaku Remaja Di Komunitas Kpopers Batam. www.journal.uniga.ac.id
Rappler.com (2017) Memahami demam K-pop di Indonesia. https://www.rappler.com/world/bahasa-indonesia/memahami demam-k-pop-indonesia (Diakses 08 November 2020)
Tekno.tempo.co (2019) Survei Pengguna Internet terbesar, Jakarta hanya urutan ketiga. https://tekno.tempo.co/read/1207647/survei-pengguna-internet-terbesar-jakarta-hanya- urutan-ketiga (Diakses 08 November 2020)
Tekno.kompas.com (2016) Mengintip Sejarah Pendirian Twitter yang Penuh Intrik https://tekno.kompas.com/read/2016/03/21/18021707/Mengintip.Sejarah.Pendirian.Tw itter.yang.Penuh.Intrik?page=all. (Diakses 08 November 2020)
The 'Batman Effect': How having an alter ego empowers you? Retrieved 25 May 2021, from https://lsa.umich.edu/psych/news-events/all-news/faculty-news/the–batman-effect— how-having-an-alter-ego-empowers-you.html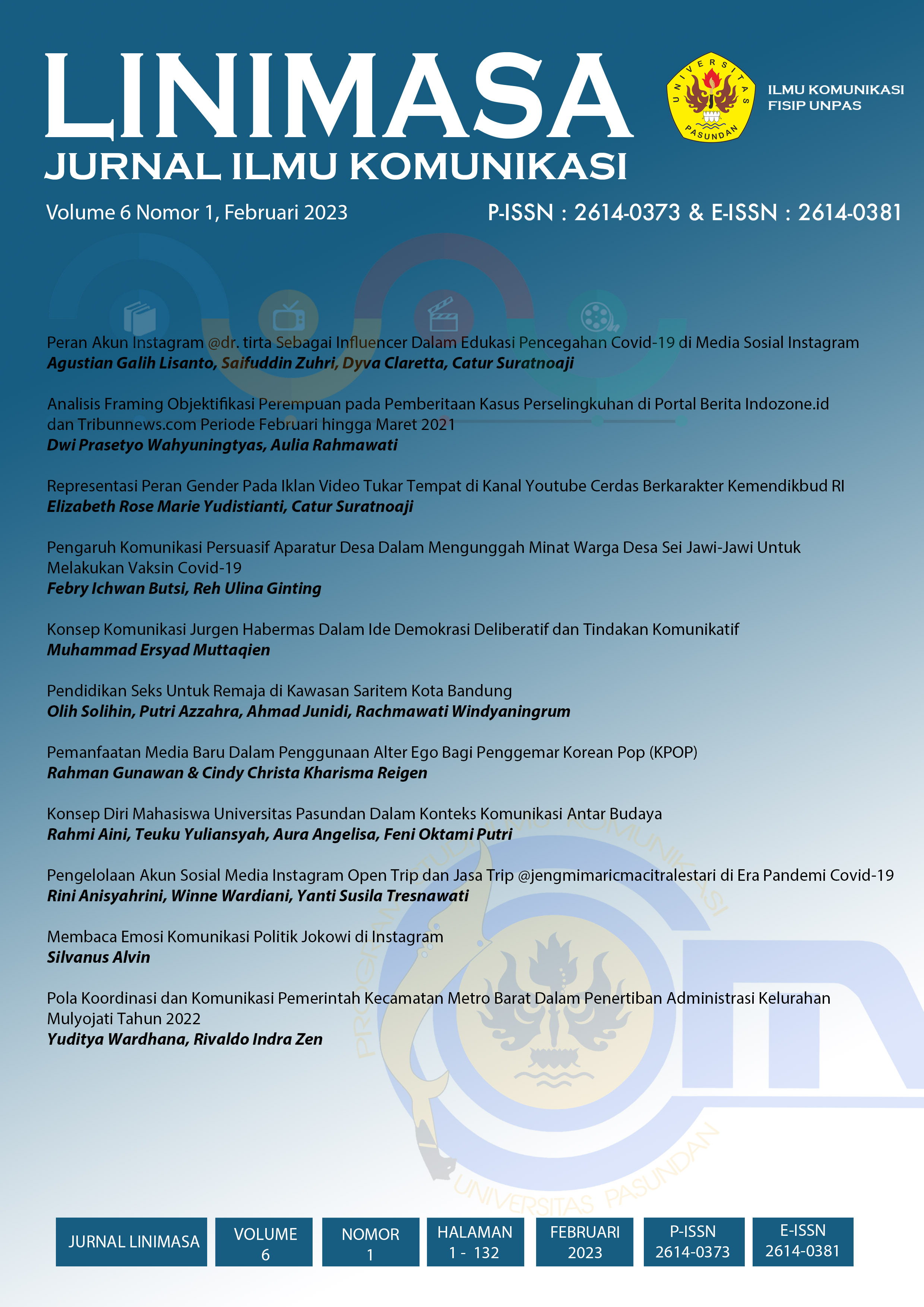 Downloads